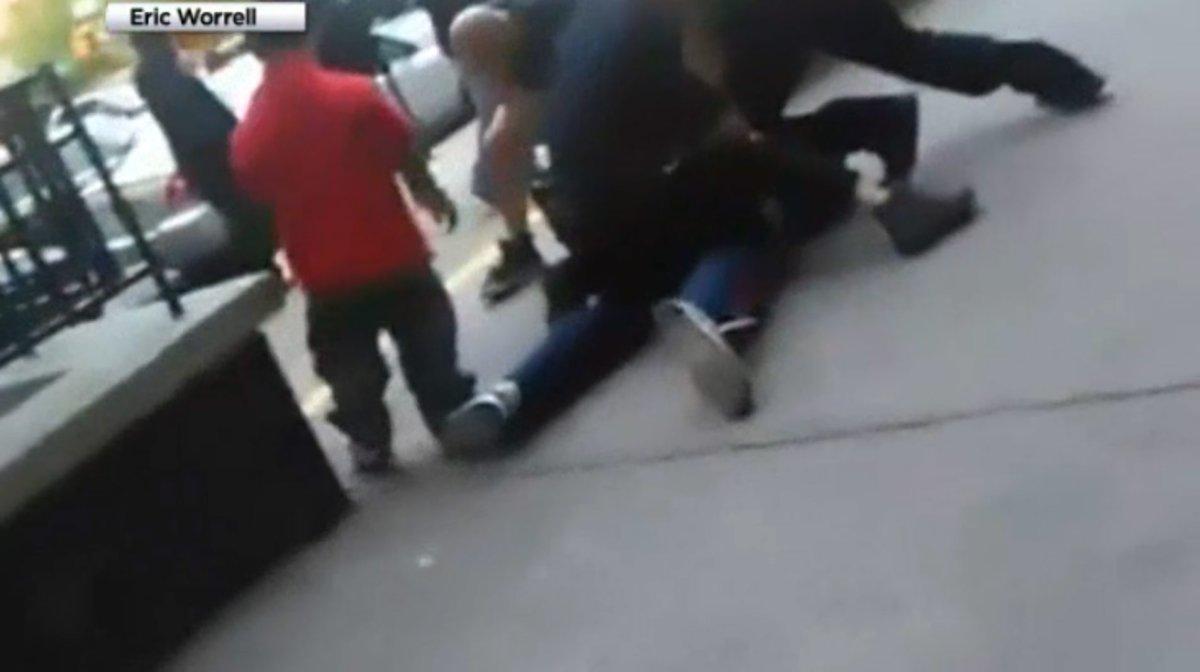 An NYPD cop was stripped of his gun and shield Friday after video emerged showing him pointing his weapon at bystanders filming him — and then punching one of them in the face, cops said.
The plainclothes officer was nabbing a suspected illegal dirtbike rider at an apartment building at W. 134th St. and St. Nicholas Ave. in Harlem around 6:40 p.m. Thursday when he whipped out his silver handgun, aiming it at the onlookers, the video shows.
Here's the video:
In another video, the same cop is seen cracking one of the amateur videographers with a right hook outside the building, and tackling him to the ground.
The 32nd Precinct officer, whose name was not released, has been placed on modified duty while the episode is investigated, cops said.
The 21-year-old man seen being cuffed in the video, Dayshawn Bettway, was suspected as one of two men on dirtbikes circling cops as they stopped a gray Hyundai sedan down the block minutes earlier, an NYPD spokesman said.
 Police later learned the car had been reported stolen in Connecticut. The car's driver and another man escaped in the confusion.
A sergeant and an officer responded to the scene and spotted Bettway running into the building's lobby.
He was charged with assault after allegedly body-slamming an onlooker who opened his door to see what was going on. He was also charged with reckless endangerment and resisting arrest, police said.
The man seen being punched in the video, 19-year-old Jahnico Harvey, was arrested and charged with menacing, disorderly conduct and resisting arrest, a police spokesman said.
Via source
Related Articles
---