---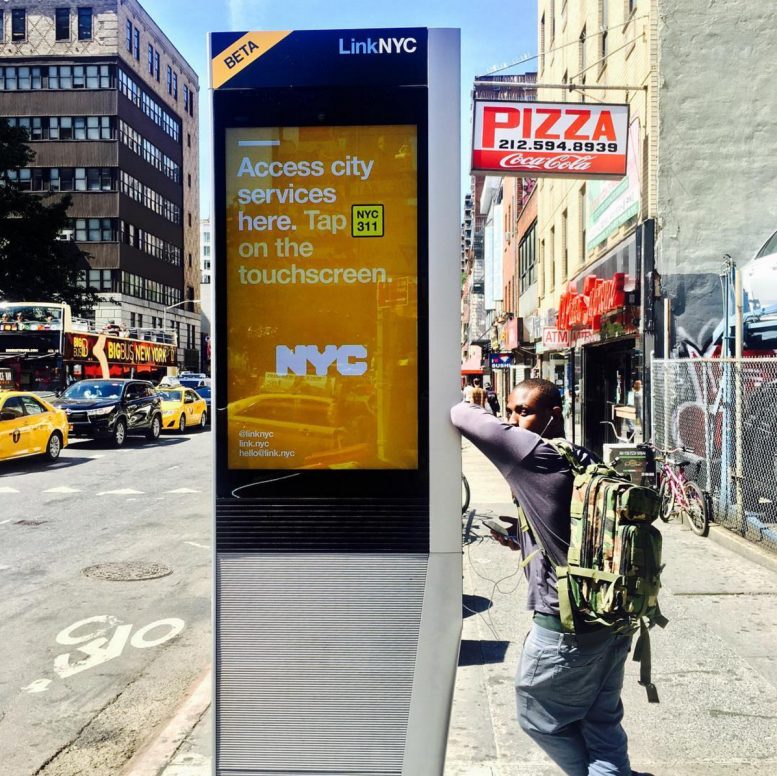 A disability rights group filed a complaint Thursday against the city for creating WiFi kiosks across the city that are inaccessible to the blind. Theis gradually installing 7,500 kiosks across the five boroughs in place of old pay phones, but the nonprofit Disability Rights Advocates says blind people are unable to use them.
The complaint was filed on behalf of several blind New Yorkers who can't use the kiosks and the National Federation of the Blind against the city's information and technology department, its commissioner Anne Roest, and CityBridge LLC, the consortium of three companies that makes the kiosks.
"Considering that LinkNYC is such an innovative program, it is astounding that the City and this private consortium of tech companies failed to build accessibility into the Links from the start," said Michelle Caiola, Managing Attorney at DRA's New York office, in a press release. "People with disabilities should not be an afterthought."
Blind New Yorkers have said the kiosks come with no audible instructions on where or how to use their audio jacks in the first place, and that the 911 button isn't even accessible without help. They cannot access the kiosk's features without screen reader software or braille, they said.
Mindy Jacobsen, a plaintiff in the case, is a blind woman who teaches people who are losing their vision how to use computers. She walks by a kiosk every day wanting to use it, according to the complaint. She explained that she is experienced in using TalkBack, which is an accessibility feature on Android phones. But the kiosks have no comparable feature.
"While these Links have an audio jack, there are no audio instructions to follow for access," she said. "A blind person cannot even use the 911 emergency buttons unless they have help."
The complaint calls for the city to stop installing inaccessible kiosks and add accessibility to kiosks that have already been installed.
"We take accessibility seriously — the LinkNYC franchise agreement requires compliance with the ADA and any other applicable laws related to accessibility," a spokesperson for NYC's information technology department told the Wall Street Journal.
CityBridge responded with the following comment:
CityBridge is committed to making LinkNYC accessible to all New Yorkers and visitors. We have been working with the Mayor's Office for People with Disabilities (MOPD) since the beginning of the project, incorporating braille, wheelchair accessibility, a tactile keypad, and a rim around the 911 button into the design. We are actively collaborating with MOPD on software updates that will incorporate new accessibility features and that will improve ease of use for the blind, including better 911 audio cues, talkback features, and mobile applications, among others, and we will continue to work with the City to make updates to LinkNYC to ensure accessibility for all.
Via source
Related Articles
---