---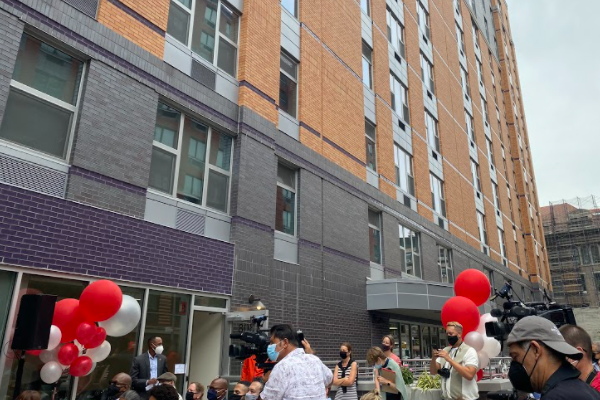 The Center for Urban Community Services (CUCS), one of the nation's largest supportive housing services providers.
Along with New York State and City today celebrated the opening of the $77 million Hannigan supportive housing residence.
The Hannigan, named after CUCS founder Tony Hannigan, is located at 310 W. 127th Street in Harlem. This newly constructed building provides 116 homes and on-site support services to low-income individuals and families, and individuals and families previously experiencing homelessness, including those with complex psychiatric and medical needs.
"Under Tony's guidance, CUCS became one of the largest and most effective providers for New York's most vulnerable community," said Joe DeGenova, CUCS Chief Executive Officer "I am beyond thrilled to celebrate the opening of the Hannigan, which embodies Tony's legacy and all that he worked for over three decades."
Keynote speakers at the opening celebration included Joe DeGenova, CUCS CEO and President; Tony Hannigan, CUCS founder; Congressman Adriano Espaillat; Gale Brewer, Manhattan Borough President; Commissioner Steven Banks, Department of Social Services; and Acting Assistant Director Brenda McAteer, Bureau of Housing Services, NYS  Office of Temporary and Disability Assistance.
"It is a grand honor to have this wonderful building named "The Hannigan", said  Tony Hannigan, Founder of Center for Urban Community Services (CUCS). "Today we celebrate its opening and congratulate all those who now call this home."
"I'm delighted to join New York State and City leaders today for the opening of The Hannigan, a supportive housing residence that will have a significant impact on the lives of many constituents throughout Harlem," said Congressman Adriano Espaillat. "I've said it before, and I'll say it again: safe, affordable housing is a right, not a privilege – and by providing essential social services, the Hannigan development will ensure stable, affordable housing is available to more of our residents and while serving as a safe haven for many members of our community. On behalf of my constituents, and the hundreds of residents whose lives will be changed by this project, I applaud the Center for Urban Community Services (CUCS) for leading in this transformational effort, as well as the state and local officials that worked tirelessly to make today's announcement possible."
"Preventing and addressing the citywide challenge of homelessness means providing more than just a roof, which is why we're doing everything we can through our Turning the Tide plan to transform the City's approach to homeless services that built up over decades, develop and strengthen programs to help the New Yorkers we serve get back on their feet, and create permanent housing including supportive housing that will provide a pathway to greater stability for so many," said Department of Social Services Commissioner Steven Banks. "We are incredibly proud of our long-standing partnership with CUCS in support of our City's most vulnerable – and The Hannigan exemplifies our continued commitment to providing the kinds of high-quality services and supports our clients need and deserve as they stabilize their lives, which is more important than ever as we emerge from this unprecedented crisis. At The Hannigan, we will together build on the progress we've made helping tens of thousands of households experiencing homelessness secure permanent housing, which includes already connecting more than 15,000 New Yorkers who were residing in shelter with supportive housing units just like this – and we remain laser-focused on continuing to use every tool at our disposal so that individuals getting back on their feet can access the services they need to remained stably-housed for the long-term. Tony Hannigan has devoted his life to transforming lives so it is fitting that this project that will transform the lives of so many human beings is named for him."
New York State Office of Temporary and Disability Assistance Commissioner Mike Hein said, "We cannot adequately address housing instability in New York State without also confronting the underlying issues that often contribute to an individual experiencing homelessness.
With its on-site services, including crisis prevention and intervention, the Hannigan will afford individuals who suffer from mental health and other serious medical issues the support they can use to live in a stable, independent setting.
This development is yet another example of how the Homeless Housing and Assistance Program is helping to ensure all New Yorkers have access to safe, affordable homes."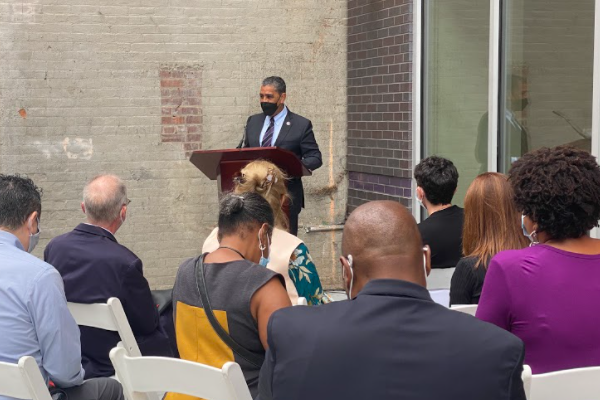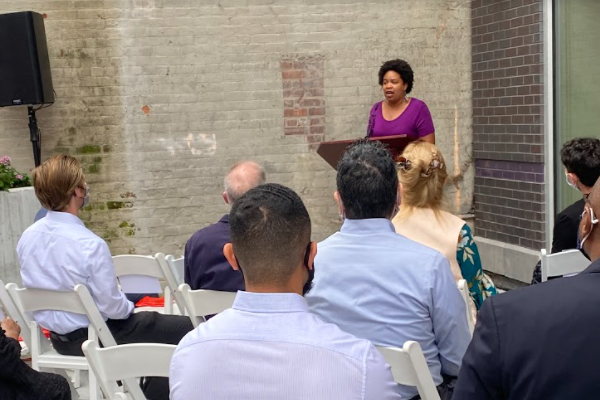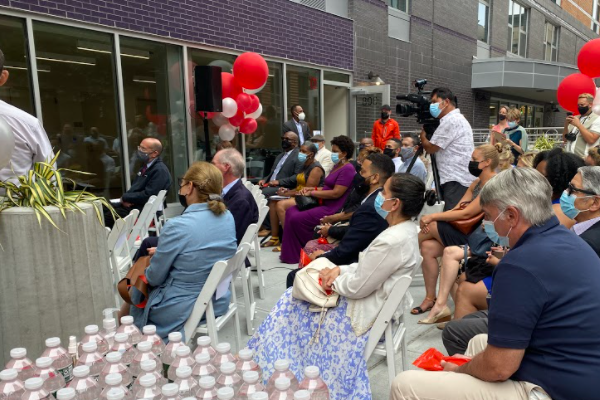 "Key to the Mayor's housing plan is providing the most vulnerable New Yorkers with quality affordable housing and the support they need to thrive," said HPD Commissioner Louise Carroll. "The Hannigan pairs on-site supportive services with the stable foundation that comes with an affordable home for 116 individuals and families to put them on the path to a brighter future. We want to thank the Center for Urban Community Services and all our partners for coming together to make this wonderful project a reality."
"The opening of the Hannigan and more supportive housing residences is exactly what New York City needs right now: stable, affordable housing that affirms the dignity of our most vulnerable. Thank you to the Center for Urban Community Services (CUCS) and those involved in this project for working to provide housing, resources and support to New Yorkers who have or are experiencing homelessness, " said Manhattan Borough President Gale Brewer.
"Today we join CUCS and the Harlem community in celebrating the opening of The Hannigan. It is appropriate for such an impactful development to be named after CUCS Founder Tony Hannigan – a truly dedicated leader in the affordable and supportive housing industry whose contributions will resonate within our communities for generations," said HDC President Eric Enderlin. "With 116 affordable homes for formerly homeless and low-income households, extensive supportive services, and a variety of on-site amenities, this development will provide lasting benefit to all its residents. I would like to congratulate all our partners on this significant achievement and welcome all the residents to their new homes."
"High-quality supportive housing facilities such as The Hannigan play an integral role in our City's holistic approach to supporting our neighbors experiencing housing instability, providing New Yorkers in need with tailored services and resources to help them get back on their feet," said HRA Administrator Gary Jenkins. "Tony Hannigan and our partners at CUCS have been instrumental in our efforts to transform and expand upon our City's vast supportive housing network, which has already provided more than 15,000 New Yorkers who were previously residing in shelter with a pathway to stability in a safe and dignified setting, and we extend our deepest gratitude to Mr. Hannigan for his decades of unwavering service in support of some of our City's most vulnerable residents."
The Hannigan offers on-site services, available to all tenants, including crisis prevention and intervention, entitlement and legal assistance, household management and coaching, and employment assistance.
Primary medical care and psychiatric services are provided at the residence's on-site medical suite through CUCS' acclaimed Janian Medical Care program.
The building also offers amenities such as 24-hour on-site security, teaching kitchen, rooftop recreation area, laundry facilities, computer lab, a gym, and bike storage.
With the opening of The Hannigan, CUCS continues its ongoing collaboration with the City of New York in support of New Yorkers in need, including individuals experiencing homelessness.
Working in partnership with the NYC Department of Social Services, at this location CUCS will help build on the important progress the de Blasio Administration has made connecting more than 15,000 New Yorkers to supportive housing placements through the City's aggressive expansion of supportive housing programs over the past several years.
The Hannigan exemplifies this Administration's commitment to providing the kind of high-quality supports and services that vulnerable New Yorkers need and deserve as they re-stabilize their lives.
Major funding for the development of the building came from the New York State Office of Temporary and Disability Assistance's Homeless Housing and Assistance Program (HHAP), the New York City Department of Housing Preservation and Development's Supportive Housing Loan Program (SHLP), the Office of the Manhattan Borough President, and the New York City Housing Development Corporation. CUCS also received a New York State Energy Research and Development Authority award for the residence. Raymond James served as the Low-Income Housing Tax Credit syndicator, providing $28.3 million in Low-Income Housing Tax Credit equity through J.P. Morgan Chase.
Rental subsidy is awarded by the NYC Human Resource Administration (HRA) through the New York City 15/15 Supportive Housing Initiative. The Department of Homeless Services, working with HRA, assists in referring potential tenants to the project. Ongoing operating support is from the New York City Department of Health and Mental Hygiene.
The Center for Urban Community Services | CUCS helps New Yorkers rise from poverty, exit homelessness, and be healthy. It excels at developing programs that link housing, healthcare, support services and training to 50,000 individuals and families annually. www.cucs.org
---