---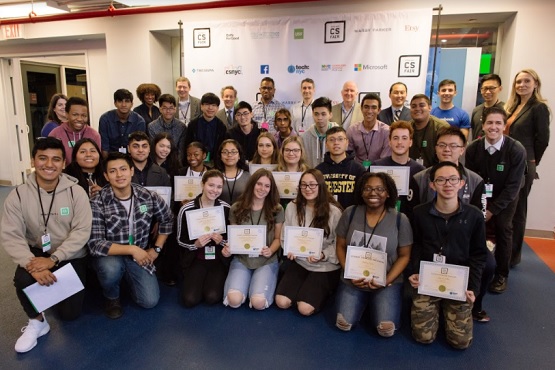 On Wednesday, more than 2,000 New York City high school students gathered at the 2018 NYC Computer Science Opportunity Fair (CS Fair) at the Fort Washington Avenue Armory to get a firsthand look into cutting-edge CS careers and education programs, take part in hands-on activities, and, for students from six high schools, pitch their ideas to tech industry veterans. The event was the largest high school computer science fair in New York City history.
A highlight of the Computer Science for All initiative — which brings high-quality CS education to every student in the New York City public school system — the CS Fair is designed to promote computer science for students traditionally underserved in CS, and underrepresented in technology careers, including young women and students of color. Students from 60 schools in all five boroughs participated in the event.
In addition to the fair's 65 booths representing companies, colleges, and extracurricular CS programs, "Lightning Talks" featured speakers from WayUp, E-Line Media, Major League Hacking, Weight Watchers, J.P. Morgan, Microsoft, and others, sharing stories about their work and their personal journeys through tech. In the Startup Experience, representatives from NYC tech startups walked groups of students through the process of launching an idea into a company.
"Not only is the CS Fair a great resource for students, it's also a clear sign that New York businesses, nonprofits, and government officials recognize how important it is to support the next generation of tech talent," said Julie Samuels, Executive Director of Tech:NYC. "Teaching students the skills they need to succeed in high-growth industries is key to our economic future, and it's an encouraging sign that this event attracts more students, schools, and sponsors each year."
High schoolers from Tottenville High School (Staten Island), Young Women's Leadership School of Astoria (Queens), Information Technology High School (Queens), Brooklyn Tech (Brooklyn), Collegiate Institute for Math and Science (Bronx), and Urban Assembly Maker Academy (Manhattan) also presented their best CS projects in the Student Showcase. These teams were selected as finalists in the Games For Change Hack League competition and showcased games they created in response to challenges relating to connected cities and news literacy. Judges from the tech industry, including Fred Wilson, CSNYC founder and Partner at Union Square Ventures, gave out honors to teams from all schools.
"The CS Fair is a great opportunity for students from every background to get exposure to the tech companies and jobs that will shape the future," said Wilson. "This year's CS Fair was the biggest we've ever seen, with more students and sponsors than ever before, showing how much enthusiasm there is for computer science and STEM in New York."
Teams from Tottenville High School won Best Presentation, Most Complex, and Best Use of CS Concepts; the team from Young Women's Leadership School of Astoria won Best Aesthetics; the team from Information Technology High School won Greatest Technical Challenge; the team from Brooklyn Tech won Most Creative; the team from Collegiate Institute for Math and Science won Crowd Pleaser; and the team from Urban Assembly Maker Academy won Greatest Social Impact.
Other judges for the Student Showcase included Tarika Barrett, VP of Programs at Girls Who Code; Devindra Hardawar, Senior Editor at Engadget; Peter Hua, Senior Engineer at Dropbox; Phil Weinberg, Deputy Chancellor at NYC Dept of Education; and Olga Zeltser, Managing Director at Morgan Stanley.
New NYC Schools Chancellor Richard Carranza also stopped by the CS Fair to distribute honors to winners of the student showcase and to give a short talk to students about the importance of computer science. He emphasized promoting diversity in CS and STEM education and jobs.
"We in New York City are not only going to provide computer science for all, but we are going to make sure those that have careers here look like New York City, with more women and more people of color," said Carranza during his talk to students. "We are going to lead the nation in computer science instruction right here in New York City."
The CS Fair was presented by nonprofits CSNYC, Tech:NYC, and TEALS (Technology Education and Literacy in Schools), a Microsoft Philanthropies program. The event was also presented in partnership with major sponsors Etsy, Microsoft, and Warby Parker; CS4All partner Oath for Good; contributors Facebook, Two Sigma, and Union Square Ventures; and supporters Justworks, Quotidian Ventures, and the NYC Department of Education's CS4All initiative.
Related Articles
---