---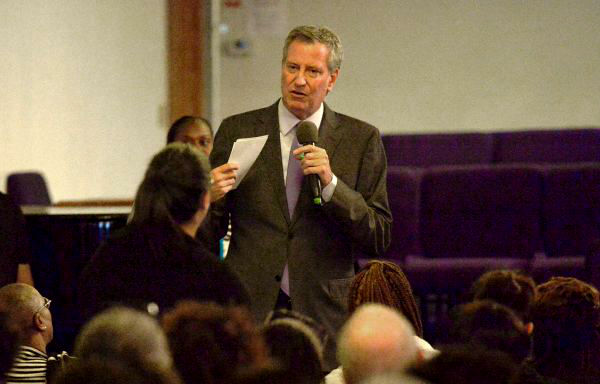 City Limits reports a night before Mayor de Blasio was to unveil the first budget of his second term, NYCHA residents and their allies made a plea for more funding than the mayor has pledged.
Dozens of developments across the city lost heat and hot water in January, including at East Harlem's Taft Houses, where pipes froze for weeks.
That spurred the de Blasio administration on January 18, 2018, to commit $13 million to addressing the heating emergency. According to a press release, the funding will be used to hire 57 repair staff, rent three mobile boilers for emergency heating, repair and seal 9,600 windows, and, to prepare for next winter, purchase five new mobile boilers and replace and install boilers at five outer-borough developments.
On Wednesday, the mayor further announced that, as part of the preliminary budget he will release Thursday, he'd commit $200 million for long-term heating system upgrades at 20 different developments, including three—Taft, Rangel, and Robinson—in upper Manhattan.
On Wednesday evening, Harlem and East Harlem public housing residents, citywide and local elected officials, and advocates gathered to discuss steps forward for NYCHA after a winter of crisis. De Blasio was set to unveil his fiscal 2019 preliminary budget on Thursday afternoon.
Attendees at the forum, organized by local district leaders LaShawn Henry and Keith Lilly, generally agreed that this $200 million should only be the first of larger commitments to NYCHA made this year made from the city, state, and the federal government.
While federal disinvestment in public housing over several decades is greatly to blame for NYCHA's crisis, state and city disinvestment have also played a role, as pointed out by Victor Bach of the Community Service Society at the forum.
De Blasio has already broken with predecessors by making notable investments in NYCHA, including $300 million in heating and plumbing since 2014, $1.3 billion over 13 years for roof repair, another $555 million to repair brickwork over time, and by waiving payments to reduce $100 million a year in operating costs, according to a city press release.
---