---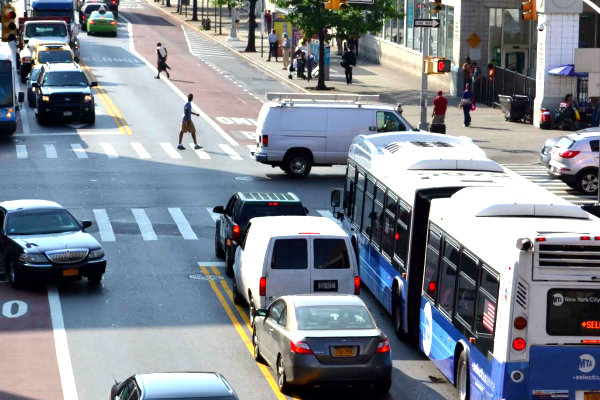 New York City Economic Development Corporation (NYCEDC) today announced that New York City has been awarded $55 million in New Markets Tax Credits (NMTC) from the U.S. Department of Treasury. The credits will be allocated to NYC Neighborhood Capital Corporation (NYCNCC), a community development entity administered by NYCEDC. The $55 million NMTC allocation provides an exciting opportunity to leverage private investment and provide low-cost financing to advance community-focused real estate development projects, create jobs, and strengthen historically underserved areas throughout the City of New York.
"We are thrilled to be able to receive this award for a second time and look forward to the new opportunities it will bring," said James Patchett, President and CEO of NYCEDC. "New Markets Tax Credits provide an exciting opportunity to leverage private investment and low-cost financing to advance community-focused projects, create jobs, and strengthen traditionally underserved areas throughout the five boroughs."
NYCNCC's NMTC allocation will be solely awarded for projects within New York City's five boroughs, whereas most other community development entities (CDEs) located in New York have a national or state-wide reach. The Community Development Financial Institutions (CDFI) Fund was created in 1994 to expand the availability of credit, investment capital, and financial services in distressed urban and rural communities. The NMTC Program, administered by the CDFI Fund, provides tax credits that advance economic development in order to spur private investment in distressed communities.
Out of 214 applicants, NYCNCC was one of 73 CDEs selected to receive $3.5 billion in NMTCs under this round of awards since the NMTC program launched in 2001.
"It's a privilege to deploy $55M in NMTCs to promote equitable economic development in New York City neighborhoods. Our board's analysis and discussions help us gain a holistic understanding of local economies, so we can choose projects that support healthier and safer communities," said Gordon Bell, Executive Vice President of the Bedford Stuyvesant Restoration Corporation.
"The New Markets Tax Credits allocation is essential to bringing community-focused projects that will benefit thousands of residents within the boroughs. Being able to invest in underserved neighborhoods for the second time, continues to show our support in economic opportunities for current and future generations of New Yorkers," said Nancy Biberman, President of the Women's Housing & Economic Development Corporation (WHEDco).
"Neighborhood Housing Services of Staten Island congratulates the NYC Neighborhood Capital Corporation on having been awarded $55M in New Markets Tax Credits by the U.S. Treasury Department. Allowing for the opportunity to make equity investments in low-income communities and challenged middle neighborhoods realizes the dream of sustainable communities through well-conceived economic development," said Alfred Gill, Executive Director of Neighborhood Housing Services of Staten Island.
"With the community focused projects we were able to complete in 2017 and 2018, I truly believe this investment will uplift underserved communities and improve the quality of life for New Yorkers throughout the city," said Seth Bornstein, Executive Director of the Queens Economic Development Corporation.
NYCNCC was first awarded $55 million in NMTC allocation in 2016. The award helped finance five impactful projects in underserved communities in New York City.
These projects were the:
Rockaway Beach Medical Arts Center in the Rockaways
The Madison Square Boys & Girls Club in Central Harlem
The Village ShopRite Grocery Store in Soundview, Bronx
The GMDC Manufacturing Center in Ozone Park, Queens and
The Building 127 Manufacturing Center at the Brooklyn Navy Yard
For more information or to learn how your project can benefit from NYCEDC's NMTC program, visit our website or contact the EDC Strategic Investments Group at 212.618.5737 or StrategicInitatives@edc.nyc.
New York City Economic Development Corporation is the City's primary vehicle for promoting economic growth in each of the five boroughs. NYCEDC's mission is to stimulate growth through expansion and redevelopment programs that encourage investment, generate prosperity and strengthen the City's competitive position. NYCEDC serves as an advocate to the business community by building relationships with companies that allow them to take advantage of New York City's many opportunities. Find us on Facebook or follow us on Twitter, or visit our blog to learn more about NYCEDC projects and initiatives.
---