---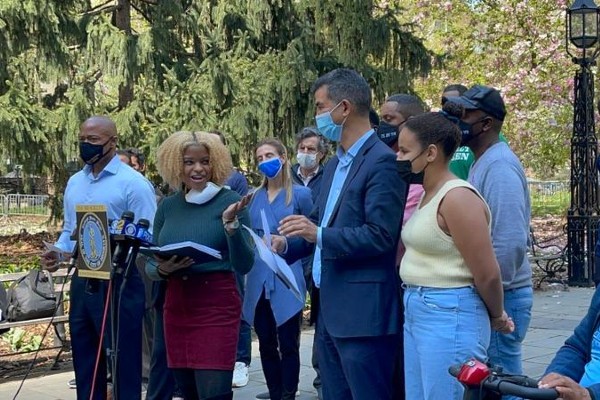 Today, Wednesday, April 21st, 2021, uptowns Council Member Ydanis Rodriguez held a press conference alongside Borough President Eric Adams.
The press conference included Office of the Public Advocate Jumaane Williams, and a coalition of leaders in the New York City sports community to discuss the details of Intro 1959, establishing the Mayor's Office of Sports, Wellness and Recreation, and which will be voted on April 22nd.
The Bill is currently supported by Brooklyn Borough President Eric Adams, Manhattan Borough President Gale Brewer, Public Advocate Jumaane Williams, Speaker Corey Johnson, and a collation of different sports groups and institutions.
The Mayor's Office of Sports, Wellness, and Recreations would be responsible for creating strategies and initiatives to support youth sports activities throughout the city of New York and to create a pipeline for disadvantaged children to be placed in competitive sports programs and competitions.
New York City is home to some of the best sport training programs in the country, yet children from underserved communities are often unable to achieve full potential because they are hampered by their socioeconomic status and lack of access.
Creating this office is the first step in dismantling the barriers that keep talented, young working-class New Yorkers from achieving their sports and athletics dreams.
The bill requires the establishment of an advisory board as part of the office, which would be tasked with analyzing demographic and social investment data to ensure that city resources and initiatives are being equitably distributed, among other duties and responsibilities.
The Advisory board would be composed of 17 members chosen from the public, private, and non-profit sectors, as well as from higher education and sports institutions located in the City.
The Office of Sports, Wellness, and Recreations would consult with the city's official marketing, tourism, and partnership organization to promote the city as a base for professional sports teams; provide access to sports-related opportunities for students, and promote the role of sports in education and recreation; make recommendations for the growth of professional, amateur, and scholastic sports recreation; and coordinate sports initiatives with other city agencies, including the Department of Education, the Department of Health and Mental Hygiene, and the Department of Parks and Recreation.
Furthermore, the Mayor's Office of Sports and Recreations would help increase and exceed the current number of youth that are connected with competitive sports opportunities.
They will receive the support needed to continue expanding their skills. The office will also create the opportunity for sports institutions, like the Yankee Stadium, the Mets at Citi Field, the New York Knicks at Madison Square Garden, the Brooklyn Nets from Barclays Center, The New York City Football Club, New York Red Bulls, New York Rangers, among other major sports institutions to be an integral part of this initiative.
With the Office of Sports, Wellness, and Recreations office, New York City has the potential to become a major sports global competitor.
The Bill is currently supported by various sports leaders and institutions such as the Armory Track, NY Road Runners, Nzingha Prescod, Olympic Fencer, and World Medalist, Hudson Sailing, Row New York, Bike New York, Inwood Little League, Grand Slam, BAMESO USA, Fundacion Dominicana de Deportes, Peter Westbrook Foundation, Wendy Hilliard Foundation, Ice Hockey in Harlem, Kings County Tennis League, Laureus USA, Asphalt Green, Gregorio Luperon, JB Sports, Youth Service League, Van Courtland Titans Youth Football Program Inc, Trident Swim Foundation, Uptown Soccer, Washington Heights Tennis Association.
"The Mayor's Office of Sports, Wellness and Recreations would be responsible for creating strategies and initiatives that will help the City become a major sports competitor across the country and the world. These strategies and initiatives will create a pipeline for all YOUTH in New York City to be placed in competitive sports programs and competitions. We need to make sure that students in underserved communities are able to learn and expand their skills in all sports. By providing student-athletes with appropriate programs and initiatives, we will help them regardless of their socio-economic background to reach their full potential in sports like Hockey, Tennis, Rowing, Swimming, and much more," said Council Member Ydanis Rodriguez. "This is about equity, everyone saw the disparities that were brought to light because of the Coronavirus. Many underserved communities suffer from higher rates of asthma, heart disease, and obesity. These communities became the most vulnerable because they lacked many of the resources and opportunities that are available to other neighborhoods. I would like to thank Speaker Corey Johnson and Brooklyn Borough President Eric Adams, for their leadership and their collaboration working with me and my colleagues to get this bill passed. I also want to thank Manhattan Borough President Gale Brewer, Public Advocate Jumaane Williams, my colleagues at the Council, and of course of all of the participating sports leaders and institutions standing with us today. This could have not been possible without your support."
"It's critical that we instill in our youth a love and passion of sports. Before the federal government passed Title IX of the Education Amendments Act in 1972, only one in 27 girls played sports. Today, that number has increased to 2 in 5 girls.," said Council Member and Majority Leader, Laurie Cumbo "Thanks to Council Member Rodriguez and his bill, Intro 1959, we are again actively encouraging our youth, so many of whom seem glued to their phones, to engage in sports and reap the immense benefits it has to both mind and body."
"Sports, wellness, and recreation are the cornerstone to fulfillment of school and academic prowess. When students are engaged in physical activity they have a higher capacity for learning. In addition, expanding athletic programs can have positive outcomes in children. We know young people who engage in sports have less depression and increased motivation to go to college and complete their degrees. It's important to look at enhanced opportunities for sports-related engagement as a social justice initiative," said Council Member Darma Diaz. "I am proud to support Intro 1959 because it works to expand sports-related opportunities for youth to promote the role of sports in education because expanding sports in education can improve overall health and wellness of children while at the same time increasing opportunities for children and extracurricular school-based youth activities."
"I believe it is our moral responsibility as public servants to provide as many resources for disadvantaged young people as possible. As the former Chair of the Committee on Youth Services, and a lifelong advocate for positive opportunities for young people, I appreciate the advocacy of Council Member Ydanis Rodriguez and Brooklyn Borough President Eric Adams on this very important issue," said Council Member Mathieu Eugene. "We are at a critical moment in shaping the future of our city, and I feel that our young people, especially those from underserved communities, need more activities to engage in along with a better infrastructure to support and guide them towards success. Far too often, we hear about young children who end up on a negative path, and we must do more to end this cycle. I am confident that by working together, we will continue to implement similar initiatives that improve the livelihood of disadvantaged youths and their families."
"We commend New York City Leadership on creating the Office of Sports, Wellness and Recreation to ensure that students of color receive access to youth sports activities. For Latino and other communities of color who have endured disproportionately higher distress from the pandemic, having opportunities to join competitive sports not only provides physical activity and socialization but can also be a gateway for further educational opportunities – like athletic scholarships for higher learning," said Frankie Miranda, President, and CEO of Hispanic Federation. "We applaud Speaker Corey Johnson, Councilmember Ydanis Rodríguez, and Borough President Eric Adams for supporting our community and providing crucial resources that will address equity in wellness for our historically underserved students."
---