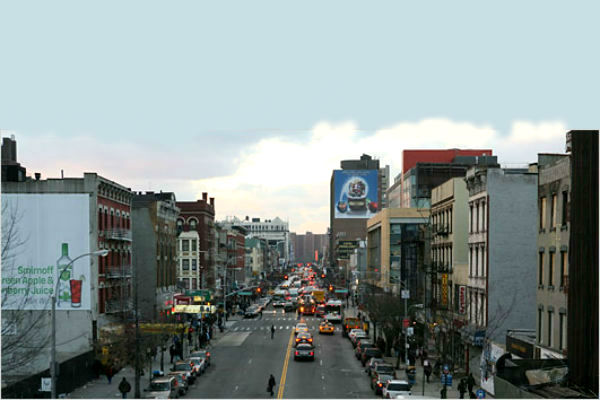 Department of Consumer Affairs (DCA) Deputy Commissioner of the Office of Financial Empowerment (OFE) Nicole Perry today, as part of National Consumer Protection Week, spoke about the growing consumer concern related to student loan debt, and encouraged New Yorkers to take advantage of free City tools and resources.
This includes DCA's Financial Empowerment Centers and DCA's "Quick Tips Once You Have Student Loans" to help better understand their student loans and how to repay them. DCA made the announcement at a press conference with multiple federal, state, and city agencies at the Internal Revenue Service (IRS).
"National Consumer Protection Week is about raising financial awareness – approximately 15 percent of NYC adults have a student loan, owing a collective student loan balance of $34.8 billion," said OFE Deputy Commissioner Nicole Perry. "I was raised to believe that pursuing a higher education was the most important thing and that the cost of my education should not be a deterrent – but the truth is the cost does matter. Student debt, no matter how much or how little, can be a challenge to navigate and manage. I encourage all New Yorkers who are concerned about their student loans to visit one of our Financial Empowerment Centers to learn about ways to tackle student debt, consider options for enrolling in repayment plans, and improve their credit."
In December 2017, OFE and the Federal Reserve Bank of New York released the Student Loan Borrowing Across NYC Neighborhoods, the first neighborhood-level examination of student loan outcomes. The report found that although New Yorkers' delinquency and default rates are slightly lower than the national average, certain NYC neighborhoods are experiencing significantly higher rates of delinquency and default despite the fact that their residents have low average loan balances. These higher levels of student debt delinquency and default also tended to be among older borrowers and those in lower- income neighborhoods. The report was developed to provide policymakers and community leaders with the information needed for effective, targeted interventions to ease the burden for New Yorkers struggling with student debt. Following the release of the report, DCA announced a series of student loan debt clinics in targeted neighborhoods to assist New Yorkers who have questions or concerns in dealing with or understanding their student loan debt.
OFE assists New Yorkers by developing and offering innovative programs and services to increase access to high-quality, free financial education and counseling, safe and affordable financial products, and access to income-boosting tax credits and savings. The City's Financial Empowerment Centers offer free, one-on-one financial counseling to help New Yorkers tackle debt, save for the future, open a bank account, improve credit, and much more. NYC Financial Empowerment Centers have served more than 47,500 clients since 2009 and have conducted nearly 100,000 counseling sessions to date. In total, Financial Empowerment Center clients have reduced over $54.9 million in debt, and increased their savings by $4.4 million. New Yorkers can call 311 or visit DCA's website to schedule a free and confidential appointment.
New Yorkers who are being contacted by a debt collector about their student loans can download DCA's Debt Collection Guide, check if a debt collector is licensed and file a complaint online at nyc.gov/dca or by calling 311. Anyone seeking to collect debts from New Yorkers is required to be licensed by DCA and must include their DCA license number in all letters sent to consumers no matter where the agency is located.
Repaying your student loan debt can be confusing. But paying late—or not at all—can have long-lasting and serious consequences. Below are tips to help you plan and protect yourself.
Federal Student Loan Debt
Make sure you know how much you owe, the terms of your loans, and your loan servicer. Visit studentaid.ed.gov to:
o Create your Federal Student Aid (FSA) ID.
o Once you have your FSA ID, log in to the National Student Loan Data System (NSLDS) to find out how much you owe.
o Using NSLDS, you can find out who owns your loans. Even if you have loans from the federal government or your college or technical school, those loans may be managed by another company called a Student Loan Servicer. These companies collect payments and manage repayment. Your loan servicer will be your primary point of contact in repaying your loans and answering questions you may have. You should contact your loan servicer who can help you pick a payment plan, consolidate, or address other needs.
Private Student Loan Debt
---
---
Keep all original documents. These loans will not be in your NSLDS report but might be available on your credit report, which you can get at annualcreditreport.com.
Note: Unlike federal student loans, private loans may not offer as many options for repayment as federal loans.
All Student Loan Debt
Make sure you understand all of the terms in your student loan paperwork. Loan terms include the interest rate on your debt and the number of years you have to pay back what you owe. Visit StudentLoans.gov for a helpful Glossary.
Important: If you're considering refinancing or consolidating your private student loans, be sure you understand the terms of any new refinance or consolidation loan.
Know your payment start date so you don't miss any payments. Some private student loans require you to make payments while you're in school. Federal student loans and most private student loans allow you to defer payment while you're in school and begin making payments six months after graduation.
Reminder: Your loan may still accrue interest even if the payments are deferred. This is the case with unsubsidized federal loans.
If you used a cosigner:
Make sure you and your cosigner agree on who will make payments for the remainder of the loan term. Your cosigner is responsible for paying the debt if you fail to pay the loan. You may be able to release your cosigner once you have sufficient income to cover the loans on your own.
Repayment and Consolidation Options
You can get an estimate of your payment plans and options using the Repayment Estimator tool at StudentLoans.gov. Log in to the Repayment Estimator using your FSA ID or simply enter estimates. You will see the various payment plans and your options. You still must contact your loan servicer to pick a plan.
If you want to lower the monthly payments on your federal student loans:
There are several income-driven repayment plan options, which tie your monthly loan payment to your income. All programs have free applications that you can complete online. Learn more at studentaid.ed.gov.
If you want to use Loan Forgiveness:
In certain situations, you can have your federal student loan forgiven, canceled, or discharged, which means that you no longer need to repay your loan.
The Federal Perkins Loan Program offers loan forgiveness for those in certain professions such as firefighting, law enforcement, nursing, teaching, and social work. Learn more about this program, including eligibility requirements, at studentaid.ed.gov.
The Public Service Loan Forgiveness (PSLF) Program forgives the remaining balance on your Direct Loans after you have made 120 qualifying monthly payments under a qualifying repayment plan while working full-time for a qualifying employer.
Make sure you understand which jobs qualify for PSLF and which loans are eligible. Visit StudentLoans.gov for a list and for the form you need to submit. If you decide to participate in the program, your employer will need to certify your employment in order for you to qualify for loan forgiveness, which kicks in after 120 qualifying loan payments.
Note: New York State offers other loan forgiveness programs for those in certain professions such as farming and social work. Eligibility requirements for these forgiveness programs vary. Learn more at hesc.ny.gov.
Reminder: If you enroll in a debt forgiveness program, you may owe taxes on the debt that is forgiven. PSLF is not considered a taxable event by the Internal Revenue Service (IRS).
If you want to take advantage of the options for deferment and forbearance of your federal student loans:
Deferment and forbearance allow you to temporarily stop making payments on your loans.
Reminder: Depending on the type of loan, the interest may still accrue when you are not making payments. If making your monthly loan payments is a struggle, enrolling in an income-driven repayment plan may be more affordable in the long run than deferment or forbearance.
Free Help
Get free professional financial counseling at an NYC Financial Empowerment Center.
If you're considering taking out additional student loans, want help repaying student loans, or are having trouble with a debt in collections, a financial counselor can help you review your options. Counselors can also help you create a budget, reduce your debt, negotiate with your creditors, understand your credit report, improve your credit score, and more. Call 311 to schedule an appointment near you or visit nyc.gov/dca to book an appointment online.
Get a free copy of your credit report and review it carefully.
Go to annualcreditreport.com or call toll-free 1-877-322-8228.
Other Resources
The Consumer Financial Protection Bureau (CFPB) has tools and resources to help you make informed financial decisions about paying for college. Visit consumerfinance.gov.
Federal Student Aid, a part of the U.S. Department of Education, is the largest provider of student financial aid in the nation. Visit studentaid.ed.gov for information about FAFSA and student loan forgiveness and relief programs.
The Department of Consumer Affairs (DCA) licenses debt collectors. Read DCA's Debt Collection Guide to know your rights and debt collectors' responsibilities when they seek to collect money. Visit nyc.gov/dca or call 311 to get the guide, check if a debt collector is licensed, or file a complaint. To file a complaint, you must live in New York City. The business can be located outside of the city.
Beware of…
Student Loan "Debt Relief" Scams
Scammers take advantage of students by falsely promising loan forgiveness through federal programs that don't exist and charging students high up-front and ongoing fees for services that are freely available. You do not have to pay to enroll in loan forgiveness or income-driven repayment plans.
For more information about DCA and its work, call 311 or visit DCA at nyc.gov/dca
Related Articles