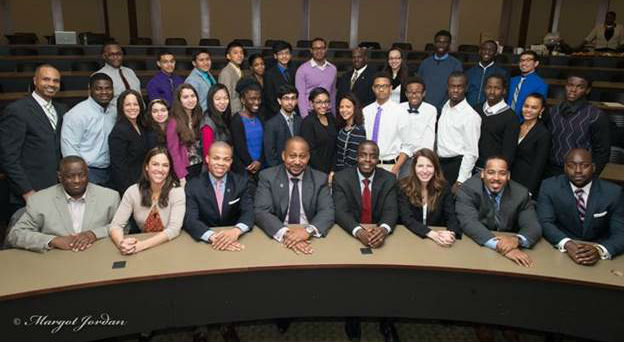 More than two dozen New York City teens in the Junior One Hundred/Pathways To Success Program gathered at Pace University on Saturday from 9 a.m. to 12 Noon to hear from an esteemed group of panelists.
The planelists included:
Joseph N. Garba, Manhattan Deputy Borough President

Cheryl L. Herman, Marketing Director, Books on Tape & Listening Library, Penguin Random House

Nii Koney, MD, MBA, Resident Radiologist, Mount Sinai St. Luke's-Roosevelt Hospital Center

Melissa Fletcher, Senior Agency Lead, Google
Hassan Peavey, Director of Third Party Planning, Estee Lauder, and
Orville Reid, Detective, Organized Crime Control Bureau, Auto Crime Division, NYPD
One Hundred Black Men of New York joined forces with Pace University for a career day that included top industry professionals from along with high ranking government officials. The panel was keynoted by Deputy Police Commissioner Benjamin Tucker.  
The Junior One Hundred is a world-class leadership and educational enrichment program that helps prepare High School students to become intellectually sophisticated citizens with a vigor for personal growth and learning.
The program features a rigorous and enriching curriculum that not only challenges scholars academically but also helps shape their perspectives on society.
The event included a welcome address by OHBM event co-Chair and Board member, Kaliv Parker, who said, "This level of engagement will allow us an opportunity to accelerate our offerings during this year's program while catalyzing new opportunities for our scholars. We are very confident that our scholars will be immensely prepared not only for college academia but for all of their next stages of life." 
Junior One Hundred/Pathways to Success Initiative programs are generously sponsored by Estée Lauder Companies, Macy's, NewsCorp, State Farm, TD Bank and Wells Fargo.
Photo credit; 1st Row (L to R): Charles Williams (Member) , Cheryl Herman, Penguin Random House , Kaliv Parker (Member), Stepfone Montgomery (Member),  Hassan Peavey, Estee-Lauder , Melissa Fletcher, Google, William Dennis (Member), Joseph N. Garba: Deputy Manhattan Borough President. 2nd Row (L to R):, Jean Duchatellier, ConEdison,  Mohammad Diomande, Vanessa Herman, Giselle Guerro,  Kathleen Guerro, Oriana Shi , Megan Jean Louis ,  Shazif Shaikh, Mikaela Berardi,  Sofia Gonzalez, Peter Andrews, Ayodele Ajanake, Diara Konate, Heather Benjamin, Dan Souffrant. 3rd Row (L to R): Edwin Engleton , Alfred Torres, Joseph Chavez, Justin Guevara ,   Brianca McKenzie, Jeffrey Caibal, Nii Koney, Orville Reid, Raiza Almanzar, Tevin Skeete , Teddy Boateng, and Fredrick Torres. Photos by Margot Jordan. 
No related posts found...