---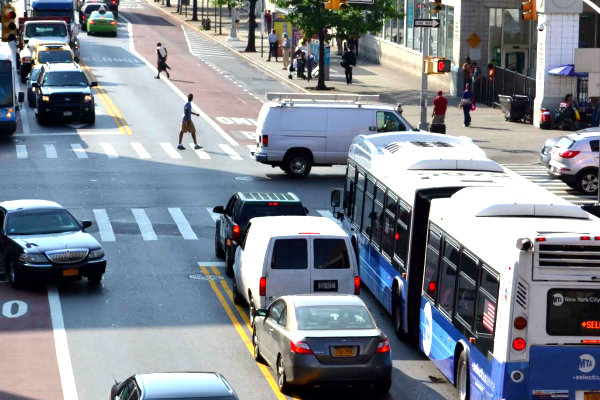 NYC Department of Small Business Services (SBS) Commissioner Jonnel Doris today announced in a new report that the City's 76 Business Improvement Districts (include the 125th BID In Harlem).
The SBS has invested more than $170 million in New York City neighborhoods.
All this is done during fiscal year (FY) 2020, boosting approximately 93,000 businesses amid the COVID-19 pandemic.
All this is done during fiscal year (FY) 2020, boosting approximately 93,000 businesses amid the COVID-19 pandemic.
The SBS FY20 Business Improvement District Trends Report highlights the collective impact of BIDs in each borough and showcases how BIDs support commercial and industrial districts across the five boroughs.
In FY20, BIDs:
Collected more than 3.4 million trash bags, removed 274,000 instances of graffiti, and employed 650 sanitation workers.
Held more than 5,000 public events, pivoting many programs to virtual settings after the onset of the COVID-19 pandemic.
Sponsored 147 public art installations, investing more than $13 million in streetscape and beautification efforts.
"Every day, Business Improvement Districts deliver critical services that help to build a safer, cleaner, and more vibrant city," said Deputy Mayor for Strategic Policy Initiatives J. Philip Thompson and Co-Chair of the Racial Inclusion and Equity Taskforce. "In the last year, they have proven to be essential partners in our recovery, and we look forward to their continued partnership as we work to lift all of our neighborhoods."
"BIDs are unique and strong partners to the City, serving as eyes and ears of their neighborhoods and creating an on-the-ground feedback loop for City agencies like SBS," said Jonnel Doris, Commissioner of NYC Department of Small Business Services and Co-Chair of the Small Business Subcommittee of the Taskforce on Racial Inclusion and Equity. "This report highlights the critical role BIDs have played to implement COVID recovery that has helped sustain communities and commercial corridors across the City."
In 2020, NYC was the epicenter of the COVID-19 crisis, triggering an immediate city-wide shutdown to prioritize the health and safety of all New Yorkers.
This led to an inevitable economic crisis, and the impact continues to be devastating to our smallest businesses.
Despite these challenges, BIDs have played a pivotal role as neighborhood champions, business advisors, and public space managers, and government liaisons, delivering supplemental services that revitalize COVID-impacted neighborhoods and foster vibrant commercial corridors.
BIDs are community-based organizations funded by a special assessment on properties in their districts.
This report describes how BIDs partnered with the City to provide lifelines to NYC businesses and neighborhoods during the various phases of business shutdown and reopening caused by the pandemic:
Providing Loan and Grant Assistance: BIDs provided one-on-one assistance to help merchants complete city, state, and federal funding applications and keep their doors open.
Helping Business Get Online: With non-essential businesses closed and restrictions on indoor and outdoor dining, BIDs worked to help small businesses build an online presence.
Managing Open Restaurants and Open Storefronts: BIDs jumped into new roles of helping restaurants design and build compliant outdoor dining set-ups for the Open Streets: Restaurants program. BIDs also played a central role in advocating for the Open Storefronts program, allowing storefront businesses to conduct retail activity on outdoor space.
Keeping People Safe: BIDs partnered with SBS to create a vast distribution network of personal protective equipment, for business owners and employees across their districts. BIDs have also specialized in their supplemental sanitation and maintenance services to disinfect street furniture and public infrastructure.
Promoting an Equitable City: BIDs are embracing diversity, equity, and inclusion in their work by, diversifying their Boards of Directors, investing in more minority- and women-owned business enterprises (M/WBEs), and ensuring that the public spaces they steward are welcoming to all.
The SBS FY20 Business Improvement District Trends Report also features comparative expenditure data and sources of BID revenue.
To view the full report and learn more about the local impact of BIDs, visit nyc.gov/bids.
"While we continue to struggle to rebuild what has been lost during the pandemic, there have been incredible partnerships, engagement, and creativity from BIDs across the five boroughs. The BIDs have done a fantastic job of continuing to provide services and improvements to their neighborhoods at this time, as COVID-19 made all aspects of life more difficult. And this year's Trends Report shows, in the best detail possible, all the work BIDs have been doing," said Robert J. Benfatto and Jennifer Tausig, Co-Chairs of the NYC BID Association.
Business Improvement Districts (BIDs) are community-based organizations that create vibrant, clean, and safe districts.
BIDs deliver services and improvements above and beyond those typically provided by the City.
These services can include street cleaning, public safety, marketing and events, capital improvements, beautification, and business development.
BIDs help to brand their districts and market small businesses on their corridor. They facilitate networking among merchants, host community events, and advocate for improvements to the district.
BIDs also serve as a liaison between local businesses and stakeholders and the City government.
In doing so, BIDs provide a collective voice for the neighborhood and help inform City policy based on their unique local knowledge.
BIDs are authorized by local law and primarily funded by a special assessment billed to property owners within a district.
SBS provides oversight and support to the City's existing BIDs and to communities interested in creating new BIDs.
SBS staff represent the Mayor on every BID's Board of Directors and work to ensure good governance, contract compliance, and transparent operations for each organization. For more information, visit nyc.gov/bids.
SBS helps unlock economic potential and create economic security for all New Yorkers by connecting New Yorkers to good jobs, creating stronger businesses, and building vibrant neighborhoods across the five boroughs.
For more information on all SBS services, go to nyc.gov/sbs, call 311, and follow us on Facebook, Twitter, and Instagram.
---