---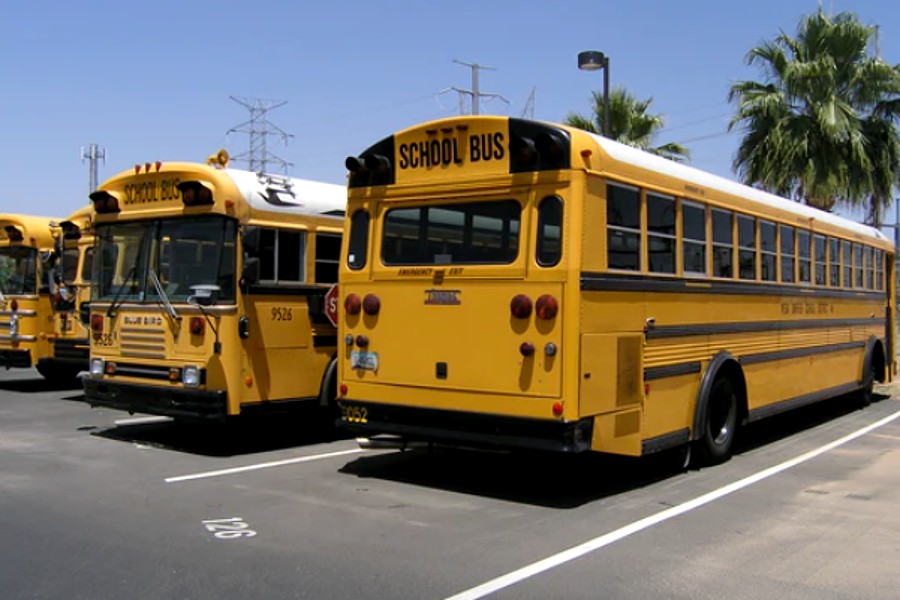 NYC Mayor Eric Adams and Schools Chancellor David C. Banks today released an action plan that would proactively notify and help support families in case of a potential strike by the Amalgamated Transit Union (ATU) Local 1181.
Which represents about half of the bus drivers and attendants who serve NYC Public School students. The potential strike could affect approximately 4,400 routes across all five boroughs, potentially impacting 80,000 students, of which 25,000 are special education students. The city's top priority remains ensuring that every student, especially our most vulnerable, can continue attending their schools without interruption.
"Ensuring our students can continue to go to school and learn every day is our top priority. We have a plan in place to help ensure that, even if a strike by school bus drivers does occur this fall, parents will still be able to get their kids to school with minimal interruptions," said Mayor Adams. "As we gear up for the school year and negotiations continue, we have outlined several contingency plans, as a precaution, that will provide students with emergency MetroCards, reimbursement for use of alternative transportation, and, in some cases, free rideshare. As with all labor negotiations, the city encourages the parties to remain at the bargaining table until they reach a voluntary agreement. We will continue to monitor the situation, engage with all stakeholders, and provide additional information to all our families when we are able. Let me be clear: Working families across New York City should not, and do not have to worry about getting their children to school every day. This administration is here to help ensure our children continue their educations uninterrupted."
"Make no mistake, this is a labor dispute that will have deep implications for some of our most vulnerable student populations and their families," said Schools Chancellor David C. Banks. "The city has consistently demonstrated good faith in its negotiations with union partners, such as the UFT and DC37. We anticipate and hope for a similar constructive approach with our bus companies and their employees. We are pushing for a resolution before the start of the school year to ensure every student gets the education they rightly deserve and remain hopeful for a resolution that is fair for workers and responsible for the city. In the meantime, we are working hard to plan for every alternative transportation service we will provide if a strike is called, and make families aware."
Should a Strike Occur
The mayor, the chancellor, and city leaders are prepared. We are mobilizing all resources, engaging partner agencies, and ensuring we leave no stone unturned in addressing the challenge of making sure our students can get to school. Our objective is to make sure our young people can get to school.
Alternative Transportation Options for Families
All impacted families will be eligible to receive Emergency MetroCards – NYC DOE is collaborating with the MTA to provide emergency MetroCards to students and families. These cards are valid on MTA buses and subways (excluding Express Bus service) and provide a total of four trips and transfers daily from Monday through Friday between 5:30 AM to 8:00 PM.
Some impacted families will be eligible for additional services, including:
Reimbursement for Alternative Transportation – The NYC DOE is establishing a reimbursement system for families who must resort to taxis, rideshares, or personal vehicles due to the strike. A reimbursement rate of 58 cents per mile has been set, with a maximum reimbursement of $200 ($100 each way) per day.
Rideshare for Affected Students and Families – Currently, the NYC DOE is planning to provide rideshare to some impacted families. Students using the rideshare option would be accompanied by a parent or guardian. Additionally, parents or guardians can use the service to be taken to work or a destination of choice within the five boroughs and be picked up from that location in the afternoon in order to pick up their student from school.
Other Transportation Options – NYC DOE leadership continues to explore other transportation options that can be quickly made available to families.
Communication to Families
We are committed to keeping our families, schools, and other stakeholders informed at every step of the way. NYC DOE will be frequently updating and informing families and developments and available alternatives if a strike is called.
The city remains hopeful that a resolution will be reached, ensuring our bus drivers can return to their crucial role in serving our community. In the meantime, NYC is prepared to support all affected families and ensure uninterrupted education for all students.
For further information or inquiries, please contact our transportation Customer Service Unit at 718-392-8855. 
---