---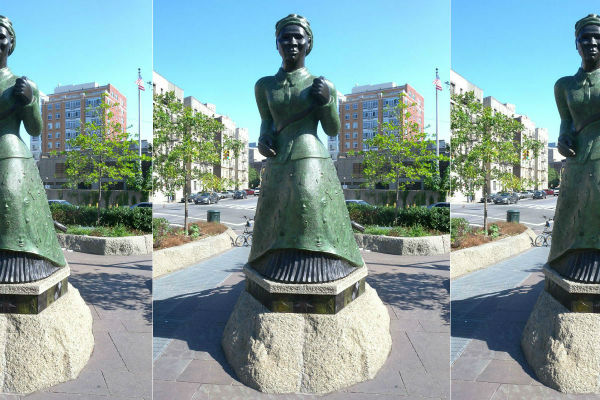 The Mayor's Office of Strategic Partnerships launched a new public-private partnership to support opportunities for hundreds of young from Harlem to Hollis to connect with local arts productions and projects that help elevate civic culture and engagement. The project is being coordinated by the Mayor's Fund to Advance New York City—together with DemocracyNYC, the New York City Department of Cultural Affairs (DCLA), and the Mayor's Office of Media and Entertainment (MOME).
The Civics and Arts Fund will work with partners across New York City's iconic art and performance institutions—from Broadway to Museum Mile to borough- and community-based groups—to connect young people to performances and creative programs that promote civic learning, engagement, and discourse. The first production to be spotlighted by the public-private partnership will be the Tony Award-nominated play and Pulitzer Prize finalist What the Constitution Means to Me
.
"New York City is home to some of the world's best art and theater, and yet it's not accessible to all," said Mayor Bill de Blasio. "With this initiative, the City is taking steps to change that. I'm excited to launch the Civics and Arts Fund today with Broadway's What the Constitution Means to Me
, and I look forward to partnering with institutions of all sizes to enrich our city and ensure that more New Yorkers will be able to experience these cultural and civic gifts."
Thanks to philanthropic support from the Association for a Better New York, the Frances Lear Foundation and several other private partners, the Civics and Arts Fund launches with $25,000 in seed funding to provide opportunities to 500 young people across the five boroughs. Additionally, the Mayor's Fund will be inviting everyday New Yorkers to help expand these opportunities for local youth and young adults to connect to selected arts programs and performances. Those interested in learning more about the partnership can go to www.nyc.gov/civicsandarts.
"Growing up, I was fortunate to be able to attend live theater and it changed my life," said Heidi Schreck, Playwright, and Performer. "It gave me an understanding of the world beyond my small town upbringing and brought me so much joy. I am deeply honored to partner with the Mayor's Fund to hopefully pass on some of that joy by making live theater more accessible to young people today."
"The arts have long been a compelling platform to educate and energize citizens around important civic and social issues," said Darren Bloch, Director of the Office of Strategic Partnerships. "At a time of expanding creative outlets and increased civic activism, we're excited to launch the Civics and Arts Fund to connect more New Yorkers to pressing social issues through the power of art and creative culture."
"The arts are essential for a healthy democracy, so we welcome this new occasion for cultural organizations and arts groups to connect with NYC's young people around the importance of civic engagement," said Cultural Affairs Commissioner Tom Finkelpearl. "Creative expression has a unique power to spark meaningful dialogue. We look forward to introducing our city's future activists, elected officials, and voters to how cultural creators help us understand social and governmental issues, opening their eyes to the opportunities civic engagement provides to shape the world we live in."
"New York City's creative industries are rich sources of content for strengthening civic engagement," said Media and Entertainment Commissioner Anne del Castillo. "We're delighted to be part of this new initiative to deepen the engagement of the City's public school students in the arts and civic culture."
"The Civics and Arts Fund is a prime example of what public-private partnerships are all about—bringing individuals and institutions together to enhance the aspects of our city that make it a flourishing, artistically diverse democracy," said Toya Williford, Executive Director of the Mayor's Fund to Advance New York City. "Together with our public and private sector partners, we'll be able to spark a passion for civic engagement in young people across New York City through art."
"The arts are uniquely situated to bring civic ideas to life for young people in our city," said Chief Democracy Officer Ayirini Fonseca-Sabune. "Through the Civics and Arts Fund, young people will have opportunities to engage with arts in new and exciting ways—and to enhance their civic understanding in the process."
Building on the City of New York's ongoing efforts to strengthen local civic engagement and bolster support of NYC's diverse art and cultural institutions, the Civics and Arts Fund represents a unique opportunity to advance two key aspects of a thriving democratic society. Since it opened on Broadway this spring, Heidi Schreck's award-winning play What the Constitution Means to Me
has thrilled audiences by exploring her relationship to her family and our nation's founding document. In addition to Schreck and others, the play's cast features two NYC high school students—Rosdely Ciprian and Thursday Williams—in their Broadway debuts.
Educational materials to supplement the experience and promote discussion will be developed in partnership with New York Theatre Workshop, the Debate Society, The Gilder Lehrman Institute of American History, and The New-York Historical Society.
"As Chair of the Senate Committee overseeing the cultural sector, I am keenly aware of how the arts and culture transform communities and engage the youth of New York City," said State Senator José Serrano. "The arts have the power to break down barriers, and throughout history, they have served as a vehicle for social and civic dialogue and change. The Civic and Arts Fund will allow our youth to engage with the arts in new and exciting ways while encouraging civic engagement and participation. Many thanks to Mayor de Blasio for his commitment to making the arts and civics more accessible to the youth in our communities."
"Powerful art spurs political change," said State Senator Brad Hoylman. "With so many generation-defining challenges facing young people today, from climate change to the fight against white nationalism, it is essential that our city give our kids the tools they need to make a difference—and exposure to the arts is an essential one. I applaud the Mayor for launching this initiative, and look forward to seeing the work that comes out of the experience in the years to come."
"The arts are a unique and powerful tool that can be used to bring communities together," said State Senator Jessica Ramos. "This Mayor's Office initiative to support young New Yorkers in connecting with local arts productions and projects will help elevate civic culture and engagement in building a strong democracy that starts with our youngest and most talented neighbors."
"As someone who continuously strives to promote civic engagement in my own work, I strongly support finding creative ways to get young New Yorkers engaged in their communities and the democratic process," said Assemblymember Mathlyde Frontus. "Utilizing the arts to engage youth in history and civics helps to foster critical thinking skills, and can promote ideas about how they themselves can be young change makers. I support the Civics and Arts Fund, and think it's a great step towards building the kind of young democratic engagement we'd like to see and that we'll need in the future."
"As an art form, the theater is unmatched in its ability to connect with the individual on a personal level. And with a focus on civic culture and engagement, theater can foster truly substantive conversations about what it means to be an American," said Council Member Helen Rosenthal. "I am thrilled to support the Mayor's Fund to connect young New Yorkers to civically minded arts productions. Productions like What the Constitution Means to Me
give us an unparalleled sense of where we are as a society, and where we are trying to go."
"Thrilled to provide educational programming for Hamilton and What the Constitution Means to Me
, the Gilder Lehrman Institute welcomes Mayor de Blasio's announcement that New York City will fund theater tickets for students that will open new perspectives on American history and culture," said James Basker, President of the Gilder Lehrman Institute. "We look forward to continuing our work with Chancellor Carranza, the Department of Education, and teachers and students in the New York City public school system."
"Young people respond enthusiastically when history and civics are brought to life through the arts," said Louise Mirrer, President and CEO of the New-York Historical Society. "The Civics and Arts Fund will engage these young people with creativity now to ensure that they are active and informed participants in our democracy in the future. We are thrilled to be a part of this effort."
"Promoting civics education through performance arts may be the best way to create a lifelong commitment to both," said Steven Rubenstein, Chairman of the Association for a Better New York. "ABNY is proud to be supporting such an important and creative endeavor to continue to grow a love of arts and engagement in our City's youth."
The Civics and Arts Fund is currently collecting ideas for future projects to be considered for spotlighting. Performances and programs eligible for support are required to provide not only exposure to a compelling singular cultural experience but also must enable and support a deeper educational experience inspired by the original work. Learn more about the partnership.
Photo credit: Harriet Tubman sculpture by Alison Saar in Harlem.
---