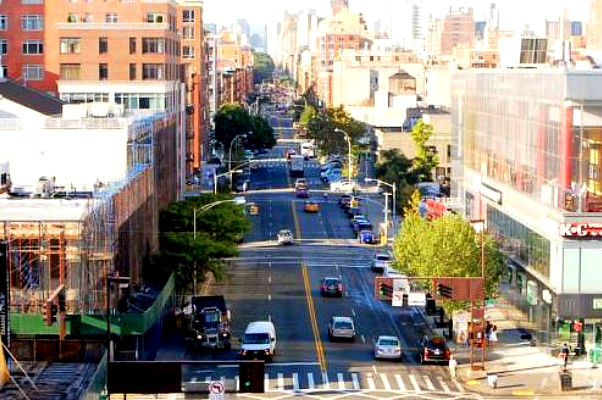 NYC Department of Small Business Services (SBS) Commissioner Gregg Bishop today announced that applications are now open for local small businesses to apply for a share of $1.8 million in grant funding and expert advice to address neighborhood changes including rising real estate costs. Longstanding, non-franchise small businesses from across the five boroughs can apply to receive up to $90,000 in grant awards. Selected businesses will use grant awards to cover the costs of projects recommended following in-depth business consultations delivered by industry experts.
The grants are the second phase of SBS' NYC Love Your Local initiative, which celebrates the small businesses that enrich neighborhoods across the city. Since the launch of phase one in February 2017, New Yorkers have shared nearly 2,000 of their favorite small businesses to the interactive, NYC Love Your Local online map to promote shopping locally.
"New Yorkers love their mom and pop shops, and the proof is in the overwhelming support for these businesses on our NYC Love Your Local interactive map and social media campaign," said Gregg Bishop, Commissioner of the Department of Small Business Services. "These grant awards are the next step in the City's commitment to ensure that neighborhood businesses remain central to the New York City experience."
NYC Love Your Local grants are open to small businesses operating for at least three years in New York City's five boroughs. Selected businesses will receive up to 20 hours of in-depth consultations from industry experts to determine how best to adapt to rising real estate costs. Eligible business improvement projects may include:
Improving operations;
Recruiting and training employees;
Updating technology;
Enhancing the business location; or
Improving financial management.
20 awardees will be selected for the first round of NYC Love Your Local grants this September. Interested businesses can apply now at nyc.gov/loveyourlocal. Applications will be open through July 17th, 2018.
Grant awards are funded in part by the New York City Economic Development Corporation (NYCEDC).
"New York City's economy is thriving, and small businesses have always been critical to that success," said James Patchett, NYCEDC President and CEO. "NYCEDC is proud to support the Love Your Local initiative, which help our small businesses grow and create jobs in their neighborhoods."
"Small businesses are the backbone of our city's economy, and the SBS' Love Your Local initiative is a meaningful and effective way to show our support," said Corey Johnson, NYC Council Speaker. "As we prepare for the launch of phase two, I encourage as many mom and pop shops to apply for these grant awards to help their businesses thrive. Local Your Local is living proof of our commitment to mom and pop shops, and I thank Commissioner Gregg Bishop and everyone at SBS for their ongoing dedication to small businesses,"
"Small businesses are the engines of our communities, bringing both economic prosperity and unique character to each neighborhood in our City," said Letitia James, Public Advocate for the City of New York. "The NYC Love Your Local initiative allows for small business to compete and thrive in competitive markets. From Brooklyn to the Bronx, I applaud NYC Small Business Services for their continued commitment to uplifting and preserving businesses across our City."
"This is a wonderful program to help promote local small businesses, which are the backbone of our borough," said James Oddo, Staten Island Borough President. "I hope to see our local businesses apply for this opportunity. Thank you to the Department of Small Business Services for your work helping local owners grow with the Love Your Local initiative."
"Small businesses are the economic engines of our diverse communities across Brooklyn," said Eric L. Adams, Brooklyn Borough President. "I commend SBS for inviting establishments across our borough to apply for grant funding, which will undoubtedly help to propel them to new heights in providing services, managing their finances, and training staff. We must continue to provide our local mom-and-pop shops with the resources and support that they need to thrive including greater publicity through easily accessible online tools. Brooklyn loves our local small businesses!"
For more information on all SBS services, go to nyc.gov/sbs or call 311.
---
---
Related Articles
---