---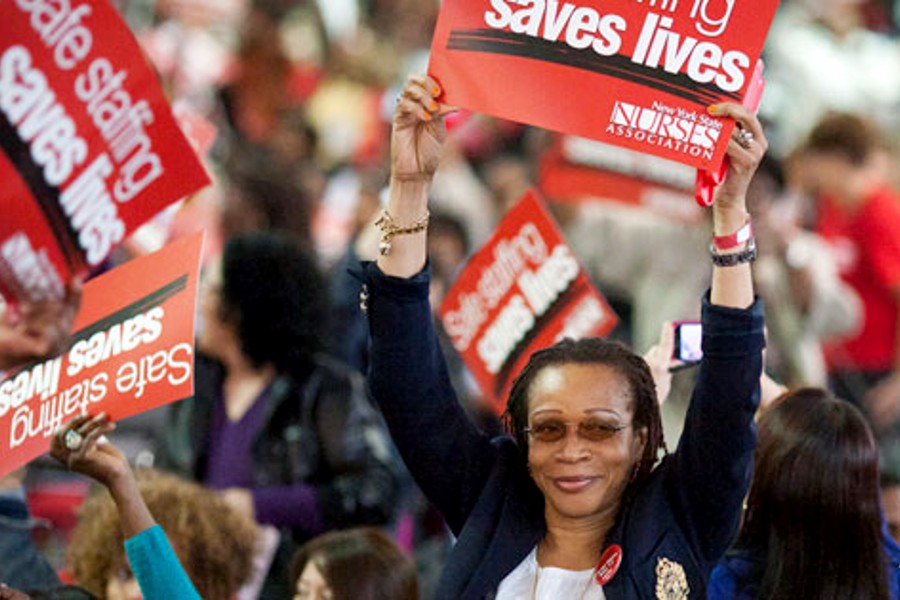 To commemorate Dr. Martin Luther King, Jr.'s birthday, hundreds of NYSNA nurses from New York City Health+Hospitals (NYC H+H) / Mayorals held a speak-out and march.
The march is on NYC H+H corporate headquarters with the message: We are nurses and we demand health equity.

NYC H+H/Mayorals nurses care for NYC's most vulnerable patients and have been essential in saving lives throughout the COVID-19 pandemic. They care for a disproportionate number of uninsured and underinsured patients. However, NYC's public hospitals are the most understaffed and under-resourced and its nurses the most underpaid in New York City.

NYSNA President Nancy Hagans, RN, BSN, CCRN, said: "Our nurses in the public sector are under-resourced, understaffed, and underpaid. They do the same life-saving work as nurses in the private sector, yet they are paid so much less—and the disparity in pay is only growing. We are all nurses. We demand health equity for our patients and communities, and we demand pay equity for the hardworking NYC Health+Hospitals and Mayorals nurses."

With a contract expiring on March 2, 2023, NYC H+H/Mayorals nurses are demanding that the City negotiate a fair contract with pay equity for nurses and health equity for patients and communities.

Dr. Judith Cutchin, DNP, RN, NYSNA First Vice President and President of NYSNA's NYC Health+Hospitals/Mayorals Executive Council, said: "Nurse retention is the worst I've ever seen it. Nurses are leaving H+H or the bedside entirely, because it's just too difficult to know that you cannot provide the level of care every patient deserves when you are always understaffed."

NYSNA Director at Large and H+H/Lincoln Hospital nurses Sonia Lawrence, RN, said: "Our public hospitals are the backbone of healthcare in NYC—we got this city through the pandemic— but we are always being asked to do more with less. I'm worried about the future, because it seems like we'll have even less funding and less nurses to care for the most vulnerable New Yorkers—unless the City acts now. Public sector nurses cannot wait months and months to settle a fair contract—we will bleed too many nurses if the City waits to negotiate with us."

NYSNA nurses were joined by allies, including New York City Councilmembers Christopher Marte, Shahana Hanif, Crystal Hudson, Amanda Farias, and Selvena Brooks-Powers; and New York Communities for Change and the Poor People's Campaign. The event was live-streamed at www.facebook.com/nynurses.

"My late mother was a nurse at Harlem Hospital for over 30 years, and when she was diagnosed with Alzheimer's disease, it felt like she didn't have the care she needed despite providing New Yorkers with care her whole career. A fair contract will give our public sector nurses the care and compassion they deserve, while they show us that same care and compassion every single day," said Council Member Crystal Hudson. "Over the last three years, nurses have handled the impossible––COVID, flu, RSV, MPV––while being underpaid, understaffed, and under-valued. On the heels of the historic wins secured by NYSNA nurses at private-sector hospitals across the City, our nurses in NYC H+H hospitals are demanding the same respect, and we have a responsibility to give them the fair contracts they deserve. Fair contracts for our nurses means greater care for our loved ones. It means equity, and it means paying our nurses more than lip service."

"We could not have overcome the height of the pandemic without our New York City nurses, who have continued to be our healthcare heroes for the last three years, " said Council Member Linda Lee, Chair of the Committee on Mental Health, Disabilities, and Addictions. "In the words of Dr. King, 'no work is insignificant, all labor that uplifts humanity has dignity', and this sentiment could not be more applicable when thinking about our dedicated nurses. I am proud to support the New York State Nurses Association in their efforts to acquire a better contract that includes pay equity for our nurses to continue providing quality care for our communities across the city."

"After almost three years of battling COVID-19 on the frontline and providing crucial services to the most underserved population in our city, public sector nurses deserve fair and equal pay and a safe and well-staffed work environment. The city must meet the demands of public sector nurses immediately and provide competitive contracts to retain and recruit the best staff in public hospitals to keep our city healthy and safe." said Council Member Chris Marte.

Council Member Mercedes Narcisse said, "Now that private sector workers throughout our city won fair contracts, it's time to advocate for our hard-working and dedicated public sector nurses. These healthcare heroes have more than earned pay equity and a fair contract. They deserve our gratitude, respect and the support of our city."

"Nurses are the backbone of our health systems and provide lifesaving care. I stand in solidarity with these workers who deserve a fair contract and greater protections. I support the New York State Nurses Association in their march for health equity for communities and fight for workplace improvements," said Council Member Carlina Rivera.

"NYSNA has put an impressive and necessary spotlight on our healthcare systems, and the work is not over yet," said Council Member Carmen De La Rosa Chair of the Committee on Labor. "With the rise of healthcare costs, it is unfathomable that our nurses do not see those profits in practice. They need safe staffing and better contracts to ensure they can continue to serve our most vulnerable."

NYC private-sector nurses at 10 hospitals recently settled new contracts and tentative agreements that made historic gains in safe staffing ratios and enforcement, maintained quality healthcare benefits and will increase wages by more than 19 percent over three years. The pay disparity between private- and public-sector nurses will grow to more than $19,500/year, which could further harm the public sector's nurse retention efforts unless NYC H+H reactivates pay parity in the NYC H+H/Mayorals contract.

New York City Health+Hospitals is the largest public health system in the United States, caring for 1.4 million New Yorkers each year, regardless of ability to pay, including 475,000 uninsured patients. NYC H+H accounts for approximately 18% of total city-wide hospital beds and provides almost half of all Level I emergency trauma care and acute in-patient mental health services. The public system provides care to a disproportionate number of uninsured and under-insured residents, and also provides a disproportionate share of expensive health services that are poorly reimbursed (Level I Trauma and Emergency services; acute inpatient psychiatric services; obstetric/L&D services; primary care; and other services). It relies on more than $1 billion in City subsidies to maintain current operations. 

NYSNA NYC H+H/Mayorals nurses work in 11 acute care hospitals, dozens of ambulatory care and primary care clinic settings, and 4 long-term care facilities. Mayoral nurses keep first responders like police and firefighters healthy and on the job, while also providing direct care health services to New Yorkers receiving assistance from agencies such as the Administration for Child Services, the Department of Social Services and other programs providing homeless services and mental health crisis services.  
The New York State Nurses Association represents more than 42,000 members in New York State. We are New York's largest union and professional association for registered nurses. NYSNA is an affiliate of National Nurses United, AFL-CIO, the country's largest and fastest-growing union and professional association of registered nurses, with more than 225,000 members nationwide.
For more information, visit nysna.org.
---