---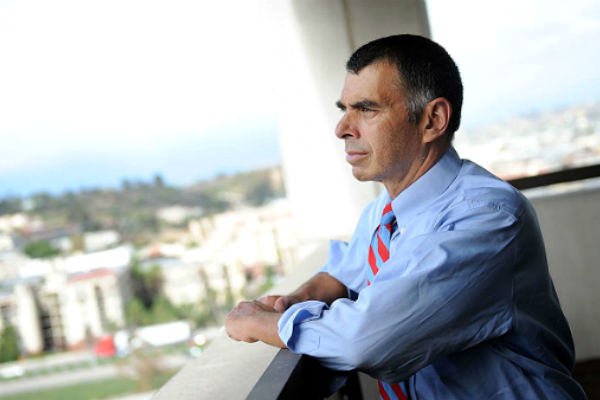 NYC Health + Hospitals today announced that its President and Chief Executive Officer (CEO) Mitchell Katz, MD has been named to City & State New York's 2022 'Pride Power 100' list.
Ranked fourth, Dr. Katz is recognized for leading the health care system through the COVID-19 pandemic, expanding access to health care by launching NYC Care for New Yorkers who are not eligible for or cannot afford other health coverage options, and for stabilizing the health care system by closing a structural deficit of approximately $2 billion. In March, the NYC Health + Hospitals' Board of Directors unanimously confirmed its support for Dr. Katz to continue as president and CEO following Mayor Eric Adams' renomination.
"It is an honor to be recognized among so many incredible LGBTQ+ advocates," said Dr. Katz. "But I want to use this opportunity to shine a spotlight on the truly inspirational health care heroes at NYC Health + Hospitals who provide responsive, compassionate, and respectful care to thousands of LGBTQ+ New Yorkers.
Health care is a human right, no matter your sexual orientation or gender identity."
City & State's 'Pride Power 100' list honors LGBTQ+ leaders in New York who serve in local and state government as well as lead the organizations, nonprofits, companies and other institutions shaping the region's landscape in the LGBTQ+ community and beyond.
This is the second consecutive year Dr. Katz has made the list and has ranked in the top ten.
Since Dr. Katz's appointment in 2018, the health system has significantly expanded access to health care, including the creation of NYC Care, a universal health access program that provides care to more than 100,000 uninsured New Yorkers.
He oversaw the creation of a modern electronic health record system, increased the number of nurses working in the system, developed a modern ambulance transport system, and launched new street outreach programs to improve the health of homeless New Yorkers.
He also led the financial turnaround of NYC Health + Hospitals by eliminating the deficit through enrolling more New Yorkers into health insurance and appropriately billing insurance plans.
Through the COVID-19 pandemic, Dr. Katz provided strategic guidance to Mayor Bill de Blasio, while directing the municipal health care system's response to the surge of patients that peaked to a maximum of 3,700 patients, requiring the tripling of ICU capacity at its 11 hospitals to save New Yorkers.
As the epicenter of the epicenter, NYC Health + Hospitals became the trusted care provider for thousands of New Yorkers, led the city's Test & Trace operation, and administered more than 1.3 million COVID-19 vaccines.
Previously, Dr. Katz served as Director of the Los Angeles County Health Agency, which combines the Departments of Health Services, Public Health, and Mental Health into a single entity to provide integrated care and programming within Los Angeles. The Agency has a budget of $7 billion, 28,000 employees, and a large number of community partners.
Dr. Katz served as the Director of the Los Angeles County Department of Health Services (DHS), the second largest public safety net system in the United States.
During this time, he created the ambulatory care network and empaneled more than 350,000 patients to a primary care home. He eliminated the deficit of DHS through increased revenues and decreased administrative expenses, and used ACA funding to pay for a new integrated electronic health system.
He moved more than 4,000 medically complex patients from hospitals and emergency departments into independent housing, thereby eliminating unnecessary expensive hospital care and giving the patients the dignity of their own home.
Before he came to Los Angeles Dr. Katz served as Director and Health Officer of the San Francisco Department of Health for 13 years.
He is well known for funding needle exchange, creating Healthy San Francisco, outlawing the sale of tobacco at pharmacies, and winning ballot measures for rebuilding Laguna Honda Hospital and San Francisco General Hospital.
He is a graduate of Yale College and Harvard Medical School. He completed an internal medicine residency at UCSF Medical School and was an RWJ Clinical Scholar.
Dr. Katz continues to practice as a primary care physician and sees patients at NYC Health + Hospitals/Gouverneur on the Lower East Side of Manhattan.
He is the Deputy Editor of JAMA Internal Medicine, an elected member of the National Academy of Sciences (previously the Institute of Medicine) and the recipient of the Los Angeles County Medical Association 2015 Healthcare Champion of the year.
NYC Health + Hospitals
NYC Health + Hospitals is the largest municipal health care system in the nation serving more than a million New Yorkers annually in more than 70 patient care locations across the city's five boroughs.
A robust network of outpatient, neighborhood-based primary and specialty care centers anchors care coordination with the system's trauma centers, nursing homes, post-acute care centers, home care agency, and MetroPlus health plan—all supported by 11 essential hospitals.
Its diverse workforce of more than 42,000 employees is uniquely focused on empowering New Yorkers, without exception, to live the healthiest life possible.
For more information, visit www.nychealthandhospitals.org and stay connected on Facebook at https://www.facebook.com/NYCHealthandHospitals or Twitter at @NYCHealthSystem.
---