---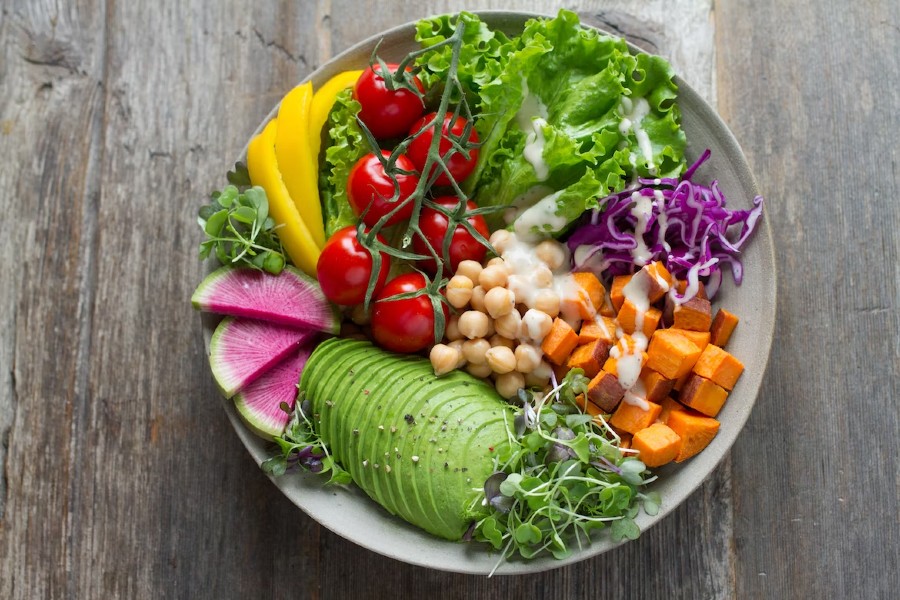 The Health Department launched a new campaign that urges New Yorkers to put plants on their plates and adopt a healthy balanced diet full of whole foods.
Whole and minimally processed plant foods like fruits, vegetables, whole grains, beans, and nuts are good for health as they are high in fiber, vitamins, and minerals and don't come packaged with high amounts of sodium, added sugar, or unhealthy fats. The campaign titled "Eat A Whole Lot More Plants" highlights how eating a diet with lots of plants is one way to improve health and can help manage and reduce risk of type 2 diabetes.
"With the "Eat A Whole Lot More Plants" campaign, we are continuing the important work of transforming New Yorkers' menus, improving their health, and building a more sustainable world," said New York City Mayor Eric Adams. "A plant-based lifestyle transformed my life, and helped put my type 2 diabetes into remission. By embracing the power of plants, and ensuring every neighborhood across our city has both the knowledge and the access to healthy foods, we can cultivate a healthier future, one plant-based meal at a time."
"Food is so important to our physical and mental health," said Deputy Mayor for Health and Human Services Anne Williams-Isom. "Putting more plants into the mix can help both your health and help us meet our environmental goals. Thank you to the Health Department for putting together this thoughtful campaign to help show New Yorkers that every little bit counts when it comes to eating healthier."
"Plants and plant-forward diets are key to our future, as a city, as a nation, and as a planet'" said Health Commissioner Dr. Ashwin Vasan. "Healthy diets, full of fresh, whole foods are key to healthier, longer lives, and to prevent a range of chronic diseases, including diabetes, heart disease, and hypertension. The city embraces its role in educating and promoting healthy diets and ensuring whole foods are accessible and available. This campaign joins a list of exciting, delightful and delicious efforts that Mayor Adams has prioritized to put plants on our plates and healthier food in our bodies." 
The campaign includes ideas to increase intake of tasty shrub grub, like fruits, vegetables, beans, nuts, and whole grains, showing, for example, that you can swap beans for meat in your favorite recipes. It also showcases several culturally diverse recipes that highlight plant-based recipes.
This new educational campaign builds on the Mayor's commitment to improve the food environment and combat climate change throughout New York City.
These efforts include:  
Structural inequities make opportunities for healthy eating challenging for many New Yorkers. Harmful examples include a lack of access to healthy foods and excessive marketing of unhealthy foods. Cost is one of the biggest barriers to healthy eating. The "Eat A Whole Lot More Plants" campaign provides New Yorkers with ways to learn more about food assistance, supporting New Yorkers in their efforts to achieve nutrition security in the face of high food costs.

Call 311 or visit nyc.gov/nutrition for free recipes, resources and food assistance.  
"A plant-based diet can do wonders for patients living with chronic diseases like type 2 diabetes and heart disease. Not only can plants treat these conditions, but in some cases they can actually reverse them," said NYC Health + Hospitals President and CEO Mitchell Katz, MD. "Plant-based meals are the primary choice for inpatients at our 11 public hospitals and that is because a diet rich in plants helps them heal faster and puts them on the right track to a healthy lifestyle once they are discharged. We are grateful to Mayor Adams for spearheading this effort."
"Eating more plants is something we can all agree on." said Kate MacKenzie, Executive Director of the Mayor's Office of Food Policy. "Whether it can help stop the spread of type 2 diabetes, cardiovascular disease, and some cancers or help us achieve our climate goals, this Administration's commitment to plant-powered eating advances this global conversation. 'Eats a Whole Lot More Plants' will provide New Yorkers with helpful resources to start, maintain and sustain healthy diets."
"Many people in New York City have already experienced the health transformation that emerges by centering whole plant foods in our daily nutrition," said Lianna Levine Reisner, President and Network Director, Plant-Powered Metro New York. "We have witnessed countless people reclaiming their lives after heart attacks and strokes, coming off medications for hypertension and high cholesterol, experiencing renewed energy and vitality at all ages, putting type 2 diabetes into remission as Mayor Adams has, and overcoming decades of trauma from gastrointestinal disorders — all of which (and so much more) can be accomplished with a plant-powered approach to food. Our city is at the forefront of a fast-growing international movement for health that will make today's public health challenges retreat into history. New Yorkers of all ages and backgrounds are becoming empowered with the knowledge and skills to choose and prepare whole plants as our food of choice, to set aside animal foods and processed foods without sacrificing the flavor and satisfaction we get from our daily meals. The city's many initiatives to improve the quality of what we and our children eat are pioneering steps toward communal well-being, helping us break free from pervasive nutrition myths in service to tremendous healing."
Dr. Michael Greger, author and founding member and Fellow of the American College of Lifestyle Medicine, said, "Eating more healthy plant foods is one of the most powerful things we can do to improve our health and protect ourselves and our families against chronic disease,"
"The benefits of plant-based diets include reducing the risk of diseases like cancer, stroke, diabetes and heart disease," said Robert Ostfeld, MD, MSc, Director of Preventive Cardiology, Montefiore Health System. "Having fresh fruits and vegetables more accessible in schools and throughout our communities, is an important step in keeping our hearts, minds, and bodies healthier. Let's all pledge to eat and distribute more apples in the Big Apple and support the health department's efforts to embed nutritional foods into our everyday diet."
"Research has shown that plant-based meals are powerful, not only for preventing obesity, heart disease, diabetes, and a host of other conditions, but also for tackling these conditions when they have arisen," said Dr. Neal D. Barnard, President, Physicians Committee for Responsible Medicine and Adjunct Professor of Medicine, George Washington University School of Medicine. "When children have access to plant-based meals in schools, they learn healthful tastes they can carry with them throughout life. When hospitals serve plant-based meals, patients carry home new tastes and new knowledge they can share with their loved ones. The innovations launched by the City of New York are a model for other cities to follow."
"Every bite you take. Every meal you create has the potential to improve your health and the health of your community. Join NYC Health Department in choosing whole plant foods daily. #rebuildhealth #rebuildcommunities," said Dr. Columbus Batiste, Interventional Cardiologist, Co-Founder Healthy Heart Nation.
Related Articles
---