---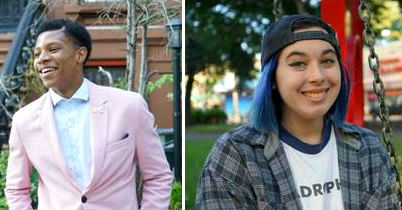 As the federal government ends funding for the national Teen Pregnancy Prevention program, the Health Department today announced an overall 60 percent drop in the teen pregnancy rate in New York City between 2000 and 2015. The decline is detailed in a new Epi Data Brief titled "Trends in Pregnancy, Sexual Behavior, and Use of Contraception among Teens in New York City." To highlight the impact of the City's teen pregnancy prevention programs, for the next six weeks, Health Department social media channels (Twitter, Instagram, Tumblr and Facebook) will feature the stories of teenagers who have participated in New York City Teens Connection (NYCTC). Created in 2015 as an expansion of Bronx Teens Connection, NYCTC provides sexual health education and teen-friendly clinical services through community partners, schools and health centers. To date, NYCTC has reached 7,000 young people, with a goal of reaching at least 15,000 teens by next June. NYCTC receives a majority of its federal funding through the national Teen Pregnancy Prevention program, and it would be in jeopardy if planned federal budget cuts take place. The stories of teens who participated in the program will be posted here. The full Epi Data Brief can be found here.
"This dramatic reduction in teen pregnancy rates is a clear indication that sexual health education programs for teenagers must be preserved and expanded," said Health Commissioner Dr. Mary T. Bassett. "The planned federal funding cut to the Teen Pregnancy Prevention program is a tragic and unjust move that would jeopardize the historic progress achieved by this city and others around the country. We cannot risk turning back, and we must do all we can to continue the progress we've made in promoting and protecting the reproductive health of New Yorkers."       
"The good news is that we have seen a drop in teen pregnancy rates over the years. However, inequities still persist with higher rates in some neighborhoods as compared to others. This is why our NYC Teens Connection Program is so important," said Deputy Commissioner Dr. Aletha Maybank. "Our amazing teens and partners are leading the way in preventing unintended teen pregnancy in their neighborhoods. Far too often their voices go unheard and underappreciated. Our social media campaign, under #NeighborhoodVoicesNYC, will elevate their stories to share the amazing work they are doing.
Main Findings
The Epi Data Brief shows greater declines in pregnancy rates among Black, Latino, and Asian/Pacific Islander teens when compared with White teens. Additionally, the use of hormonal birth control and long-acting reversible contraception (LARC) increased among sexually active female public high school students. Teen pregnancy rates also fell among teens in East and Central Harlem, South Bronx and North and Central Brooklyn. The Epi Data Brief uses statistics from the Bureau of Vital Statistics and the NYC Youth Risk Behavior Survey (YRBS), a biennial, self-administered, anonymous survey conducted among New York City public high schools students. 
Other highlights include:
Pregnancy rates dropped 60 percent among teens overall – 67 percent among 15- to 17-year-olds and 56 percent among 18- to 19-year-olds.

Teen pregnancy rates declined across all racial/ethnic groups between 2000 and 2015 and disparities between groups narrowed.

Pregnancy rates declined 61 percent among Black and Latina teens, 70 percent among Asian/Pacific Islander teens and 43 percent among White teens.

From 2010 to 2015, declines in teen pregnancy rates were similar (46 percent to 49 percent) across neighborhoods of all poverty levels (low, medium, high, or very high).

From 2001 to 2015, the prevalence of public high school male and female teens who ever had sexual intercourse decreased from 51 percent to 27 percent citywide.

From 2009 to 2015, among sexually active female teens in public high schools, use of hormonal birth control (HBC) or long-acting reversible contraception (LARC) increased from 17 percent to 26 percent.

Condoms were the most common contraceptive method used, either alone or in combination with other methods. Between 2009 and 2015, condom use decreased from 73 percent to 63 percent among sexually active teens.
"Sex education and contraception work," said Assembly Health Committee Chair Richard N. Gottfried. "As the Federal government attacks evidence-based public health policy, we must expand successful education and outreach programs that engage teens and their communities in making responsible choices."
"The drastic drop in the teen pregnancy rate it in New York City is directly correlated to our youth having greater access to age-appropriate sex education," said State Senator Gustavo Rivera. "It is outrageous that the federal government is stripping funding from programs that help our youth make responsible decisions about their sexual activity and be better equipped to protect themselves and their partners."
NYC Teens Connection
NYC Teens Connection (NYCTC) is an adolescent sexual health program that engages youth, community-based organizations, schools, local colleges, clinics, and City agencies in a comprehensive effort to reduce unintended teen pregnancy. NYCTC trains teachers, clinical providers and other youth-serving organizations to implement evidence-based teen pregnancy prevention programs that are highly effective in decreasing unintended teen pregnancy. NYCTC also links partnering schools and organizations to local "teen-friendly" clinics that provide high-quality, free or low-cost sexual and reproductive health services to teens and young adults. More information can be found here.
Additional low- to no-cost reproductive health services are available at the City's eight Sexual Health Clinics,which provide emergency contraception or "quick start" oral contraceptive pills. The Depo-Provera birth control shot is also available at the Fort Greene clinic. The Sexual Health Clinics operate Monday through Friday, with Saturday hours available at the Riverside and Fort Greene clinics. Our services are fast and easy to access. Clinic services are available on a walk-in basis, six days per week, to anyone 12 years of age and above, without parental notification and without regard for ability to pay or immigration status.
The Center for Health Equity
Founded in 2014, the Health Department's Center for Health Equity amplifies the agency's work to eliminate health disparities and improve health outcomes in neighborhoods with disproportionately high rates of chronic disease and premature death. The division takes a number of approaches to invest in key neighborhoods, eliminate social barriers to good health and advance health equity throughout New York City. The Neighborhood Health Action Centers link residents with local primary care and community services. The Action Centers also provide space for community-based organizations and Health Department staff to work together to advance neighborhood health. For more information on the Center for Health Equity, visit www.nyc.gov/health/CHE. Follow the Center for Health Equity on social media using #NYCHealthEquity.
Office of School Health Programs and Services
The Connecting Adolescents to Comprehensive Health Care (CATCH) program provides limited reproductive health services (pregnancy testing, emergency contraception, some birth control methods, education and referral to community-based teen-friendly health centers) through Office of School Health nurses, nurse practitioners, and physicians. CATCH is currently available at 50 high school campuses serving over 70,000 high school students.
The overall goal of the School-Based Health Center (SBHC) Reproductive Health Project (RHP) is to reduce unintended teen pregnancies in New York City schools with SBHCs by ensuring that they provide comprehensive reproductive health services, including onsite dispensing of contraceptives. As of October 2017, there were 82 SBHCs in New York City serving over 100,000 high school students.
For local condom providers and to learn more about condom use and sexual health, call 311, visit NYC Condoms or the NYC Condom – Get Some! Facebook page, or download our free NYC Condom Finder.
Find information about safe birth control options and where to get them by searching Teen Health: Birth Control at nyc.gov/health.
Related Articles
---