---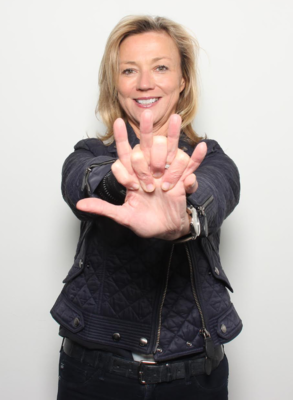 NewYork-Presbyterian Hospital's Dr. Holly Andersen (above), Director of Education and Outreach for the Ronald O. Perelman Heart Institute, one of the nation's most respected cardiologists and leading heart health advocate.
On June 1st, 2017, was the launch of the #HandsOnlyCPR campaign, an ambitious community awareness, education and activation effort to encourage all New Yorkers to take just one minute to learn the three basic steps of life-saving Hands Only CPR – Check, Call, Compress — and get others to join the Hands Only CPR movement. The message of the campaign, which kicks off National CPR Awareness Week, is simple, but powerful: "Everyone Can Save a Life."
Cardiac arrest kills one person every two minutes. Without CPR, 92% die before making it to the hospital. Every minute without CPR survival decreases by ten percent. New Yorkers can help lower these unacceptable numbers by viewing a compelling instructive video created for the #HandsOnlyCPR campaign, which shows how simple it is to perform Hands Only CPR:
First, CHECK to see if the person is breathing;
then CALL 9-1-1; and
then begin chest COMPRESSIONS.
The video can be found on the WWW.HANDSONLY.NYC , on Facebook (Hands Only CPR) and Instagram (@HandsOnlyCPR).
Everyone can join the crusade against unnecessary cardiac arrest deaths by spreading #HandsOnlyCPR on social media. They can view and then share the #HandsOnlyCPR educational video on Facebook with the caption "#ICanSaveALife with #HandsOnlyCPR" and tag Hands Only CPR, and post photos of themselves doing the #HandsOnlyCPR pose — hands clasped and extended outward — on Instagram and Facebook. Actress Nicole Kidman is showing her support for the campaign by striking the #HandsOnlyCPR pose, and hundreds of New Yorkers have already joined her.
"Your hands are powerful. Your hands can save a life. As a cardiologist, I am always frustrated to learn of athletes dying on the playing field unnecessarily and resuscitating people brought to our ER who have no brain viability. Take one minute to learn Hands Only CPR. Know what to do." said Dr. Andersen. "We expect the #HandsOnlyCPR campaign will prevent needless deaths each year by empowering people to take action."
Other elements of the #HandsOnlyCPR campaign include powerful testimonials from cardiac arrest survivors and those who saved their lives by performing CPR, community education efforts, special events and PSAs.
For more information and to get started today as a #HandsOnlyCPR advocate, visit WWW.HANDSONLY.NYC.
Related Articles
---