---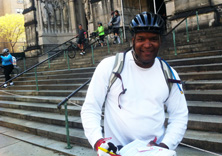 NYC Century Bike Tour Showcases Riding in NYC, Raises Funds for Safety
Event also Features 'Foodie Fondo' and Expanded Finish Fest in Central Park In Harlem Meer in Harlem.

Transportation Alternatives' 26th Annual NYC Century Bike Tour kicks
off Sunday, September 13th, showcasing the best biking in Manhattan,
Brooklyn, the Bronx and Queens. This year's tour includes the Second
Annual Ride for Vision Zero, whose participants have raised more than
$200,000 for safer streets in New York City. It also features the
first-ever Foodie Fondo, an exclusive 55-mile gastronomic tour led by
restaurant owners Henry Rinehart of Henry's Restaurant and Andrew
Tarlow of Marlow & Sons. This year's expanded Finish Festival is open
to the public.
Participants in the NYC Century Bike Tour have the option to ride 35,
55, 75 or 100 miles. All of the routes showcase the diversity of New
York's neighborhoods, the city's growing network of bike lanes and
opportunities for more safe streets infrastructure. To illustrate
bicyclists' right to the road, there are no street closings during the
tour – cyclists ride with traffic and obey traffic laws.
NYC Century Bike Tour, including Ride for Vision Zero and Foodie Fondo
Sunday, September 13th, starts at 5:30 am in Central Park, 6 am
in Prospect Park
In Central Park: Harlem Meer. Enter park at 110th Street and Lenox Avenue
In Prospect Park: Park Circle Intersection of Prospect Park Southwest
and Parkside Avenue
FINISH FEST: At Central Park's Harlem Meer, from 11 am to 5 pm,
including complimentary bodywork and yoga classes for Century riders
and snacks and fun for the public.
The NYC Century Bike Tour is made possible by the generous support of
our sponsors, Bicycle Habitat, Brooklyn Brewery, the Law Office of
Vaccaro & White, Kiwi Energy, Turner Construction Company, Con Edison,
Geico, Nuun & Company, Green Mountain Energy, Purity Organic, KIND
Snacks, Spinlister, Jamis Bicycles, Cedar's Mediterranean Foods,
Brompton, NYCeWheels and Kontos Foods.
More information is available at http://nyccentury.org/
Related Articles
---