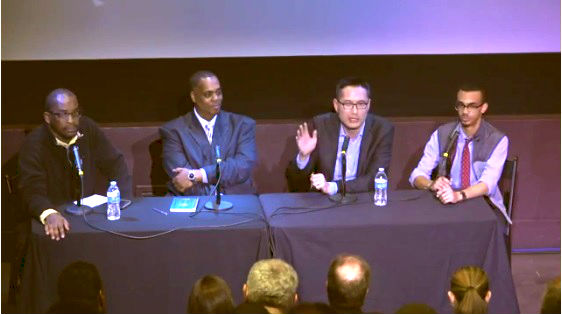 The New York City Department of Small Business Services, along with New York City Economic Development Corporation, today announced the launch of Neighborhood Challenge.
Neighborhood Challenge is a partnership between the city's technology industry and nonprofit community to enhance commercial districts.Interested nonprofits and tech companies will meet and build partnerships at a kick-off event on March 28th, 2017.
Partners will propose, through an application process, innovative ideas for technology and data solutions to address commercial district needs. Finalists will be selected based on their proposals and will compete in a pitch competition before a panel of judges from the public and private sectors. Winning teams will be eligible to receive up to $100,000 in funding to develop and implement their proposed tech solutions within one year. More information and reservations to attend the kick-off event are available online at nyc.gov/neighborhoodchallenge. Applications will be available on the same website on March 28th, 2017.
"We're bringing together local nonprofits and leaders in the tech industry to support vibrant commercial districts across our city," said Gregg Bishop, Commissioner of the NYC Department of Small Business Services. "By incorporating creative technology solutions into the delivery of neighborhood services and operations, we can make New York City an even greater place to live and to operate a business."
"Technology is creating new opportunities in every sector of our city's economy – including our great network of small business," said NYCEDC President James Patchett. "With this year's Neighborhood Challenge we're tapping some of New York's top innovators to make our commercial corridors stronger, greener and more resilient, and help small business owners address 21st century challenges."
Neighborhood Challenge is open to all nonprofits and tech companies across New York City. Applications should target a single commercial district or neighborhood and a specific need. Nonprofits and tech companies must apply by submitting a proposal as a team. The proposal should leverage data that assists the nonprofit's operations or decision making in meeting the needs of their commercial district and local stakeholders.
Proposals may assess, measure, or address issues in the following areas:
Capital construction impact mitigation
Community engagement and stakeholder outreach
Management of public space and streetscape amenities
Quality of life conditions and tracking
Real estate development and land use changes
Retail/office vacancy tracking and commercial leasing
Sanitation and district maintenance
Small business assistance and promotion
Street vendor siting and fine reduction
Sustainability and energy efficiency
Transportation, transit, and parking
Key Dates:
Interested nonprofits or tech companies should RSVP and attend the Neighborhood Challenge kickoff event on March 28th, 2017. The event will provide an overview of the competition format, a lighting round of 90-second talks presenting nonprofits' commercial district challenges and tech companies' interests and experience, and an opportunity for organizations to team up with a nonprofit or tech counterpart. The event will be held from 3:00 PM to 6:00 PM at The Hub @ Grand Central Tech (335 Madison Avenue, 4th Floor, New York, NY 10017)
Proposal teams will then submit an application by May 14th, 2017.
Selected finalists will participate in the Neighborhood Challenge Pitch Competition in June 2017
To RSVP for the Neighborhood Challenge Kickoff and for more information, please visit nyc.gov/neighborhoodchallenge.
"The Neighborhood Challenge initiative is an innovative program that is helping New York City maximize our technology industry's potential to improve lives," said Queens Borough President Melinda Katz. "Non-profits and tech companies in Queens should participate in this exciting competition. Our borough has so much to offer in terms of developing technological methods for addressing neighborhood needs."
"Bringing New York City's non-profit and tech communities together to improve our neighborhoods is an excellent goal," said Council Member James Vacca, Chair of the New York City Council Committee on Technology. "The Neighborhood Challenge encourages participants to drill down to the very local level and figure out how the improve New York City community by community. I'm encouraged by these efforts and look forward to the results of this competition."
"As the Chair of the City Council's Small Business Committee, I am always encouraged when we are able to invest in non-governmental entities to help make our city a better place to do business and provide additional economic opportunities," said Council Member Robert Cornegy. "I wish all of the candidates the best and look forward to learning more about the winning proposals."
---
---
For more information on all SBS services, go to nyc.gov/sbs or call 311.
Related Articles
---