---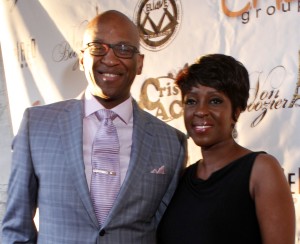 By Dontré Conerly
In a fun-filled, lively ceremony held at Studio XXI in Chelsea, two of New York's very own were the latest to receive honors this week from the Inspired in New York Series for their many years as innovators and trendsetters in the music and media industries.

Manhattan native, Cheryl Wills, and Long Island son, Donnie McClurkin, were each lauded for their achievements in their respective fields: she, an award-winning journalist and anchor of NY1 News; he, an acclaimed gospel singer and minister with several awards to his name.
Each received Proclamations from NY State which praised their work and named the day "Cheryl Wills Day" and "Donnie McClurkin Day," respectively; but the legal speak printed on their commendations paled in comparison to the words expressed by family and long-time friends.
Harlem's own, George Faison, gave a moving tribute to Wills, whom he watched grow up and become one of NYC's most recognizable and respected journalists. In addition to the breadth and depth of her reporting, he praised her inextricable links to the community. Wills is not only a native New Yorker; she is the daughter of Clarence Wills, the first black firefighter at Engine 1/Ladder 24 – the oldest engine company in Manhattan. Research into her family history also revealed that she is the great-great-great granddaughter of Sandy Wills, who served in the Civil War as a member of the United States Colored Troops. This research gave way to a book, "Die Free: A Family Heroic Tale," and the addition of "author" to her numerous accolades.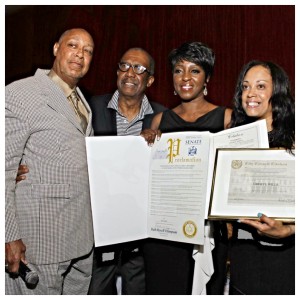 Before taking to the stage to, jokingly, lambast organizers for hosting him in a nightclub (he won't, readily, visit places that serve alcohol and upon entering made a swift dash past the bar), McClurkin was introduced by fellow gospel artist, Kathy Hazzard, whom he's known since he was nine years old. Hazzard regaled the audience with stories from their 45-year friendship, recalling how, even as a pre-teen, McClurkin possessed a fierce tenacity to become a minister and musician. Their lifelong friendship has moved Hazzard from "friend" to "sister," an important designation for a man who recently lost both parents and an aunt in the span of ten months.
"We don't have friends," he said. "We have family, and those people we engage as family."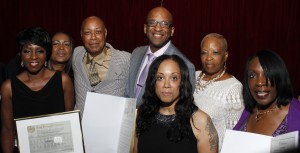 Neither McClurkin nor Wills suffers a shortage of family; he counts his congregation of Perfecting Faith Church as innumerable extended family and Wills is an honorary family member to all who watch her broadcasts. Through their faith, they both share family ties to their spiritual Father, and openly expressed that love in an impromptu rendition of "I Love You, Jesus," which McClurkin led, with the vocal backing of all in attendance.
Related Articles
---