---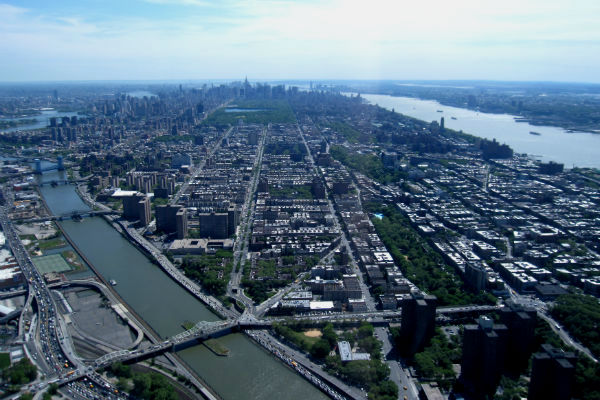 YIMBY's 2019 New Building Report, released this time last year, showed a major jump in applications from 2017 into 2018, with new residential units filed with the Department of Buildings rising from 20,393 to 34,039.YIMBY's 2020 New Construction Report shows that citywide gains continued into 2019, with total units filed increasing to 36,467, a jump of 2,428 or 7.1%. The full report is available in spreadsheet format at the link for $199.
In 2019, YIMBY predicted stability for the year ahead based on trends in affordable housing, as well as another commercial "supertall or two," which New York did get in the form of the 1,322-foot filing for JPMorgan's 270 Park Avenue. Affordable and peripheral housing also drove the borough-by-borough trends in growth from 2018 into 2019, with gains occurring in Brooklyn, The Bronx, and Queens offsetting small drops in submissions from both Manhattan and Staten Island.
Brooklyn's raw new unit count was 12,527, up 5.6% from 11,864 in 2018. The Bronx overtook Queens for the second spot, with 9,321 units, up 25% from 2018's total of 7,449. Queens gained 8,357 new unit filings, up 7.1% from 7,798.
Manhattan saw 5,434 new units filed, a 7.9% drop from 2018's count of 5,902. And Staten Island's count fell 19.3%, from 1,026 to 828.
While residential filings were up overall, hotel filings took a major hit. New rooms filed dropped 31.2% year over year, from 5,519 to 3,797.
Shifting hotel markets appear to have been driven by legislative changes, and developers like Sam Chang have announced impending retirement due to the sweeping reforms of late. Despite said announcement, Chang was responsible for a very major hotel filing on December 23rd in Manhattan, totaling 974 rooms or 26% of the total new citywide count for the year in a single building.
In terms of overall height, 2019 gained substantially on 2018. Last year, new permits were filed for 56 buildings of 200 feet or higher, and 150 of 100 feet or higher, up from totals of 39 and 123 in 2018, respectively. Despite the increase in dispersed bulk, the gains in filings at the top of the skyline were limited to 270 Park Avenue and only four other skyscrapers in excess of 500 feet. Two of those were on Manhattan's far West Side, at 610 West 30th Street (545′) and 451 Tenth Avenue (535′), the tallest was in Hunters Point South at 1-15 57th Avenue (608′), and the last could become the tallest in all of Flushing, at 71-12 Park Avenue (530′).
Beyond the actual filings, and more visually impressive, the supertall boom of the mid-2010s has finally reached its crescendo as the buildings resulting from said frenzy reached their peaks within the skyline. All of the major new residential supertalls along 57th Street topped-out in 2019, as did One Vanderbilt. Closer to street level, work is also well underway on two new Hudson Yards supertalls, and crews are busy disassembling 270 Park Avenue's extant antiquated structure.
What comes next?
While overall development remained resilient in 2019, an avalanche of legislative changes have severely impacted the city's commercial property market, particularly the hotel sector. With so much uncertainty dominating the city into 2020, a drop in multi-family filings would seem to be the likeliest outcome of the newly-hostile climate now taking hold in City Hall and elsewhere.
Despite the negative political outlook and worsening quality of life indicators, New York City remains a global magnet and in this capacity there will always be demand. Though the Mayoral thrust for more housing is running into increasing roadblocks as  judges across the city have also joined in shutting down new development at sites like Two Bridges and Inwood, the advancing numbers in peripheral markets are perhaps a sign that no matter how hard some politicians may try, for now, the Five Boroughs' new housing pipeline is unstoppable.
Besides the flux underway in the overall commercial property market, plans for several new supertall office towers were also unveiled in 2019. While their possibilities ranged from the somewhat plausible 350 Park Avenue to pie-in-the-sky Penn15, the duo of proposals unveiled by YIMBY this year highlight the continued growth in prospects between Hudson Yards and Midtown East. Although residential numbers could shrink somewhat in the coming year, there are a bevy of hulking office supertalls already rising or nearing completion across Midtown Manhattan and its various submarkets, and with companies like Facebook committing to Hudson Yards and the vicinity, the tech boom's impact on New York City's office market could be a continued positive force for new development into the early 2020s.
Overall, it would appear that 2020 could feature some abatement in new filings compared to 2019, but any adjustment would be coming off numbers that are fairly impressive and leave room for some decrease without massive detriment reports by NY Yimby.
---