---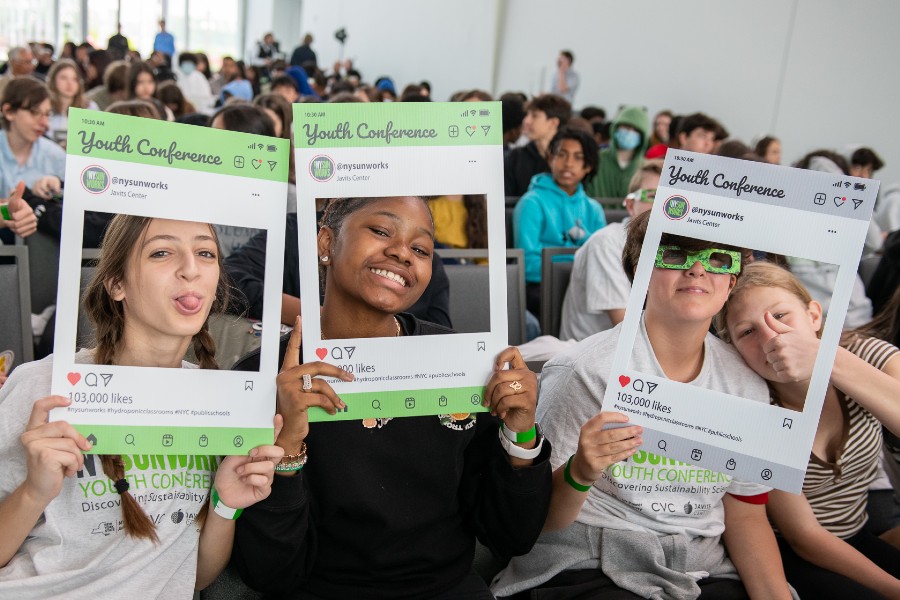 NY Sun Works hosted 900 young people from Harlem to The Hudson yesterday at their 12th Annual Discovering Sustainability Science Youth Conference.
The event took place at the Jacob K. Javits Convention Center in New York City.
Back in-person for the first time since 2019, the yearly day-long event featured guest speakers from the climate science and sustainability community, ted-talk style presentations from students showcasing their hydroponic farm lab experiments and findings, a Career and College Networking event for high students in the elective workforce certification course and interactive activities for all ages.
"We are overjoyed to finally come together in person after three years of virtual conferences with our partner schools to celebrate science and our student's accomplishments as they engage in learning about climate, sustainability, and food justice through our state-of-the-art hydroponic farm technology," said NY Sun Works Executive Director Manuela Zamora. "Our curriculum enriches the science classroom, taking it to the next level in a transformative and innovative way that empowers our young people to become proactive advocates and stewards of their communities and sparks an interest in STEM education and careers."
The conference took place at the iconic New York City structure Jacob K. Javits Convention Center,  the 1.6-million-square foot facility is one of the largest convention centers in the US and in recent years it has added a feature that put the facility on the path to sustainability – a 7-acre green roof – complete with farm, orchard, and beehives, which students and guests toured during the conference. 
The Javits Center CEO Alan Steel welcomed the students with remarks "What you are doing today is important but what you will do tomorrow is even more important. The world needs you now more than ever before."
The event was sponsored by Con Edison, New York Power Authority (NYPA), Clean Path NY and CVC.
"Hydroponic gardens provide a remarkable learning space for urban youth eager to explore non-traditional farming and discover the value of producing food in a healthier and more sustainable and efficient manner," said NYPA Acting President and CEO Justin E. Driscoll. "The Power Authority has helped bring 23 of these labs to New York City schools over five years of partnership and it's rewarding to hear students talk so powerfully about their experiments and show interest in careers focused on science, technology, engineering and math (STEM). These skill sets are integral to the clean energy and sustainability economy of today and our future."
"Con Edison is proud to sponsor this year's NY Sun Works Youth Conference that inspires the next generation of innovators and sustainability experts in STEM fields," said Joe White, distributed generation ombudsman for Con Edison. "We all have a role to play in the clean energy transition. The students participating in today's conference will make an enormous impact in helping New York reach and sustain its climate and environmental goals."
"Clean Path NY is proud to support NY Sun Works and the next-generation green economy," said Amy Varghese of Clean Path NY. "Climate education is an essential part of building resilient, healthy neighborhoods – and that starts with our youngest New Yorkers. Together, we're working toward a stronger New York with renewable energy, clean air, green jobs, and community-driven investments that lay the foundation for a sustainable future."
At the conference, prominent leaders in government and climate action addressed hundreds of students, encouraging them to cultivate their passion and curiosity in the fields of sustainability, food insecurity, and urban agriculture to help find solutions to worldwide problems in the future.
"New York City needs great thinkers like all of you right here! Young people like yourselves are finding new solutions to big problems like food insecurity and climate change – right in your classrooms," said Director of the NYC Mayor's Office of Urban Agriculture Qiana Mickie. "Growing food and healthy soils in innovative ways is what is needed to make this a more sustainable and healthier planet for everyone. I see you all as not just students, but as new leaders who care about our planet and people. I encourage you to work with intention, and kindness, and cultivate your spark. Continue to innovate, learn, and bring that back to your classroom and your community."
Director of Diversity in Career Pathways at the Sustainable Forestry Initiative Jerri Taylor spoke about the Black Faces in Green Spaces initiative and gave advice from her own experience: "Our parents teach us to listen. Our teachers teach us to raise our hands. Our textbooks teach us to follow a method to solve a problem. It seems that everything we wish to attain in the world comes with rules. But what I discovered is that if I stuck to the rules society placed on me, I would not be in this green space. Remember: You are unique. You are an exception to any rule placed on you by society." 
Students also heard from New York City Council Speaker Adrienne Adams and Gotham Greens Co-Founder and Urban Farming Entrepreneur Viraj Puri through video messages. 
"Your incredible organization is empowering the next generation of leaders to create a greener, more sustainable future for our city," said New York City Council Speaker Adrienne Ad"It has been incredible to see the amount of progress and impact that New York Sun Works has been able to make and exposing students and teachers to science of sustainability and this amazing form of farming known as controlled environment agriculture and hydroponics," said Gotham Greens Co-Founder and Urban Farming Entrepreneur Viraj Puri. "I really encourage so many of you to continue to work in controlled environment agriculture and sustainability; and to inspire entrepreneurs, scientists and engineers to come up with innovative solutions for our climate crisis."ams. "To our students from Manhattan, Queens, Brooklyn and the Bronx – I hope you have a great conference, full of curiosity and joy; we can't wait to see what you showcase through your research and investigations." 
NY Sun Works delivers inquiry-based K-12 science and sustainability education through the lens of urban farming. The goals are to support each school's long-term capacity to deliver a high-quality science program; optimize students' learning experience in the hydroponic classroom; and expand access to fresh produce for students and their families, while covering the Common Core, Scope and Sequence and EfS science standards. Hydroponic technology is indoor vertical farming that enables the cultivation of plants in an indoor environment. Rather than from the sun, plants receive energy from LED lighting that is tailored specifically to the energy needs of the plants. Partner schools receive ongoing professional development training for science educators and weekly visits from a hydroponic specialist to guide teachers in hydroponic systems maintenance, provide planting, harvest, and produce distribution support; and clean, prep, and troubleshoot systems. 
NY Sun Works
NY Sun Works is a not-for-profit organization that builds hydroponic classrooms in city schools to teach the science of sustainability through urban farming. Through our comprehensive curriculum, we engage K-12th grade students and educators in hands-on, standards-based sustainability and climate education. We are dedicated to bringing high-quality education to the communities where it's most needed and envision a generation of environmental innovators, empowered to create solutions to 21st-century climate challenges. Our first hydroponic classroom opened in 2010; today, we're partnered with over 250 schools and reach over 100,000 students annually in New York City and the metro area.
Photo credit: Sun Works.
Related Articles
---