---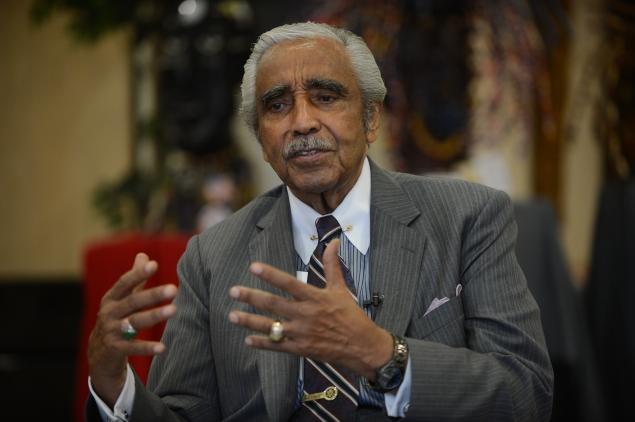 In the wake of too many gun-related tragedies afflicting communities across the nation, New York Congressman Charles B. Rangel (D- Manhattan and the Bronx), together with Congressman Hakeem Jeffries, (D- Brooklyn and Queens), introduced a House resolution (H.Res.541).The resolution that would designate the month of June as National Gun Violence Awareness Month to promote nationwide efforts that can help prevent shootings, especially during the summer months when crime spikes in most areas of the country. Introduced on November 30th, which marked the 22nd anniversary of the enactment of the Brady Handgun Violence Prevention Act, the resolution also highlights the current lack of congressional action on preventing gun violence due to partisanship.
"No one should have to worry about losing a loved one to another tragic shot. More than 20 years have passed since the enactment of the Brady Bill, yet there are still too many shootings wreaking havoc in our nation. When will we say enough is enough? We must put an end to this now,"said Congressman Rangel. "There are commonsense measures that people on both sides of the issue can support. Our legislation won't end the gun epidemic but it can help save a precious life."
According to data from the Brady Institute, 108,000 Americans are shot and 32,514 of them die every year in various forms of gun violence, which include murders, shootings, suicides, suicide attempts, unintentional shootings and police interventions. Young people are not immune to the violence, with 48 children and teens shot every day in the United States. Many of these deaths occur in mass shootings, which are defined as events in which four or more people are killed or injured by gunfire. There have been nearly 300 mass shootings so far this year.
Unfortunately there has not been much progress in enacting stronger federal gun laws since the Brady Bill was signed into law by President Bill Clinton in 1993 after a six-year legislative battle. Named after Jim Brady, President Ronald Reagan's press secretary who was shot during the assassination attempt, the bill created a five-day waiting period and background checks on handgun purchases, preventing the sale of nearly two million guns to prohibited people since.  Yet there are still significant loopholes that make it too easy for Americans to obtain firearms.
Congressman Jeffries said, "The inability of Congress to address the gun violence epidemic is a stain on our democracy. There are more than 285 million guns in circulation in this country, many of which are in the hands of those who wish to do us ill. It's a national problem that requires a national solution. The designation of June as gun violence awareness month is an important step in that direction."
The Rangel-Jeffries proposal follows the example of a similar resolution that was unanimously passed by the New York State Legislature as part of its five-year push to reduce gun violence across the State. Since the first annual Gun Violence Awareness Month in June 2013, New York City, where 80% of gun violence in the state occurs, has seen all violent and gun related crime reduced by 5.6% as of the end of 2014. Highlights of the month's efforts include PSA's from city and state leaders, sermon Sundays in which religious leaders across the state devote one Sunday in June to anti-violence promotions, and community town halls to discuss gun violence.
"New York State has set a bold example for our country by bringing heightened awareness to gun violence and has seen positive results," said Rangel. "We must put aside our partisan differences and galvanize national support and efforts of community leaders to make our communities safer. The objectives set forth in Gun Violence Awareness Month represent an important first step in achieving this goal, and I urge Congress to pass this bill."
The goals of National Gun Violence Awareness Month are: (1) promote greater awareness about gun violence and gun safety; (2) concentrate annual heightened attention to gun violence during the summer months, when gun violence typically increases; and (3) bring citizens and community leaders together to discuss ways to make the communities safer.
Some alarming facts and figures mentioned in the text of the resolution are:
Annually on average 32,514 people die from gun violence;
Annually on average over 108,000 people including;
17,000 children in the United States are shot in murders, assaults, suicides and suicide attempts, unintentional shootings, or by police intervention;
Annually on average 2,677 children die from gun violence;
on average 31 people in the United States are murdered with guns every day and 151 are treated for a gun assault in an emergency room;
1 in 3 people in the United States know someone who has been shot;
Every day on average 55 people kill themselves with a firearm, and 46 people are shot or killed in an accident with a gun;
The United States firearm homicide rate is 20 times higher than the combined rates of 22 countries that are our peers in wealth and population; and

A gun in the home is 22 times more likely to be used to kill or injure in a domestic homicide, suicide, or unintentional shooting than to be used in self-defense.
Related Articles
---