---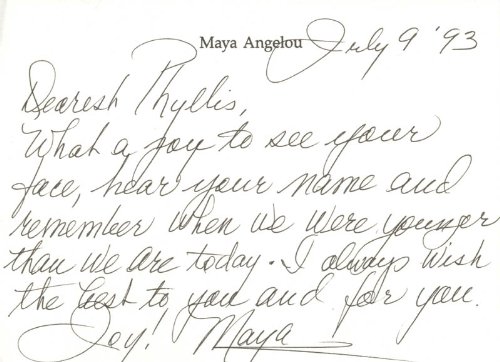 The New York Public Library is paying tribute to the life of Maya Angelou with a free exhibition of her papers.
The artifacts are on display at the Schomburg Center for Research in Black Culture in Harlem.
Some of the items include letters to famous friends, rare prints of her poetry, and the original handwritten manuscript of Angelou's first novel "I Know Why the Caged Bird Sings."
"She's an amazing, amazing woman from the most humble of backgrounds, and to become the writer, cultural historical figure that's she's become, I think that she's a great example of someone who has risen above all difficult circumstances," said Debra Ochoa, who visited the exhibition.
The exhibit, called "Phenomenal Woman: Maya Angelou 1928-2014," will run through the end of June (source).
Photo credit is of autographed card from Maya Angelou to comedienne Phyllis Diller that is not in the Schomburg collection but the Amazon.cm collection .
---