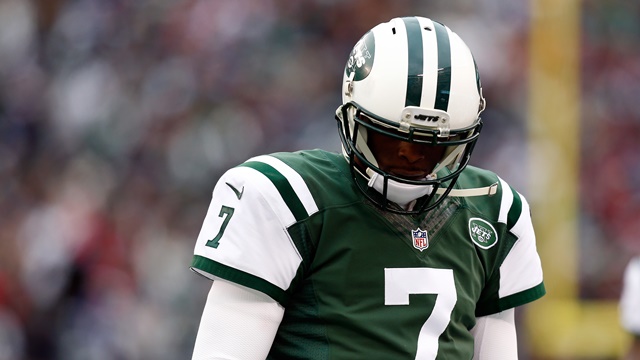 'Tis the season for holiday giving and holiday cheer. NFL and other professional sports teams around the nation are getting involved in their communities to spread happiness and necessities. The New York Jets are no different, and last week they set to help out a local New York food bank distribute items to families in need.
Henry Belin, chairman of the board of directors of the Food Bank for New YorkCity in West Harlem, expressed his gratitude for the Jets showing their support over the last several years.
"This is awesome. The Jets have come out here to help us distribute food and put some smiles on the faces of some hungry people in our neighborhood. One in five New Yorkers, one in five children go without food. So for the Jets to come and bring this visibility to the work that we do on a daily basis is incredible.

"We work hard to try to give out at least 400,000 meals a day through our member agencies and the Jets have really made a difference by coming out. They have been doing this for years and we really appreciate the sacrifice that they have made on their day off."
Jets defensive lineman Leger Douzable, punter Ryan Quigley and tight end Zac Sudfeld were on hand to offer help and bring smiles to the faces of people who are in need. And when people are in need, it's more often than not that a small act of kindness like this can take away their hopeless feelings, if only for a minute. All three players were moved by the reaction to them being there.
"It's a blessing to come out here and show families that we do care," said Quigley. "To do it with my teammates shows you what kind of organization that we are. We really do care."

"It's absolutely awesome," said Sudfeld. "We come to Harlem and it's always a blast. You get to interact with people who come in and they are so grateful. To be able to give back, especially this time of year, it's a great opportunity for us and an event we as players love doing."

"I think it's a monumental thing for a team that a lot of people look up to," Douzable said. "One of the biggest cities in the United States, to actually be out in the community and give back says leaps and bounds about the Jets organizations and what they stand for."
It doesn't just say a lot for the Jets, although they likely select who goes and who doesn't, but it says a lot about the players themselves. As Quigley said, they really do care. And for some reason, that's surprising to a lot of people. Sometimes people think that these players go out and do charitable things because the organization they play for tells them to. Sometimes that might be true, but in the majority of cases you will find the players are willing participants who are happy to give back to the people who support them.
So even if it's a small gesture like a smile or hug, spread the love this holiday season. The world is a big, scary place, but when you know others care, it feels nice and cozy (source).
Photo credit: EAST RUTHERFORD, NJ – DECEMBER 21: Quarterback Geno Smith #7 of the New York Jets looks on from the sideline against the New England Patriots during a game at MetLife Stadium on December 21, 2014 in East Rutherford, New Jersey. (Photo by Jeff Zelevansky/Getty Images)
Related Articles