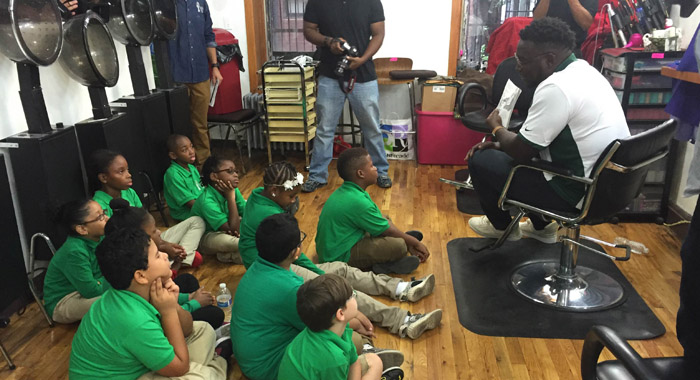 Jarvis Jenkins helped unveil the newest location of Barbershop Books Tuesday morning at the International Hair Studio in Harlem. The program is designed to help connect men to boys' early reading experiences by providing children's books in barbershops. After introducing himself to 10 third-grade students from P.S. 208, Jenkins read Captain Underpants and fielded questions afterwards.
"It went well. The kids were interactive, which was the main point," he said. "I wanted them to come in and interact and talk about some of the stuff they like and pinpoint some main points to let them know that education is important."
Related: Support Harlem World Magazine's non-profit work at Harlem World Cares HERE.
The Clemson, SC native said his love for reading stemmed from his grandmother, who used to read him Dr. Seuss' Cat in the Hat. Alvin Irby, founder and Chief Reading Inspirer of Barbershop Books, came up with the idea when he saw one of his students waiting to receive a haircut. He believes that Jenkins, being an NFL player, helps promote the mission of his initiative.
"Today's event was amazing," Irby said. "Jarvis did a great job. He obviously loves reading and had fun engaging with the kids talking to them about the book. The kids had a great time. It's a really funny story. Children love Captain Underpants so I'm really pleased how everything turned out. It's great to see the Jets team and Jarvis really supporting this program."
Irby's program will expand to 12 more cities including Philadelphia, Chicago, Los Angeles, Atlanta, Newark and Baltimore, and Jenkins thinks this is just the beginning.
"Me and my agency did some research, and I told them once I got here that I wanted to interact with the youth and attack illiteracy," he said. "I wanted to let them know that there's other stuff than iPads, PlayStation and Xbox and actually get them some sense of learning outside of school. We pinpointed Barbershop Books and we have a couple locations we're going to get to, but we started with this one."
To close the event, Jenkins signed autographs and handed out Jets apparel including hats, wristbands, keychains and stickers.
"It was a look of excitement, a look of awe, a look of this is really amazing," Irby said about the kids' facial expressions. "I'm sure they're going to go back to their school and classes with all their Jets gear and everybody is going to be really jealous that they didn't have a chance to come here and be a part of this experience."
Via source
---
---
Related Articles
---