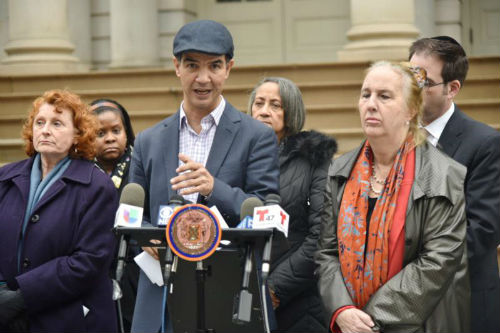 On Tuesday April 3rd, 2018, at 10AM, New York City elected officials and three of CUNYs Latino Studies institutes, along with other partners, will release the "Latinos United in Action- New York Latin@s" Report and announce the second annual Summit on Latinos to be held on June 1st, 2018.
Last year in June 2017, Latin@s leaders in New York convened the first annual Summit on Latin@s (SOL), to discuss the conditions of the Latin@s population in New York City and to collectively craft recommendations to address some of the most salient and difficult problems facing this large and broad community.
The day-long search conference gathered hundreds of individuals and representatives from a broad base of community-based organizations, labor groups, academic institutions and elected officials. Participants summed up their discussions with a series of recommendations meant to tackle issues affecting New York City Latin@s in the areas of education and youth, civil rights and political engagement, immigration, economic security, business development, access to healthcare, workforce development and workers' rights, criminal justice and police-community relations, and inter-ethnic/race relation and coalition-building.
The purpose of the summit was to develop and strengthen a shared voice, goals and agenda that empower Latinxs to speak with greater force on political and social matters for the collective progress of our communities and that of our city as a whole. The purpose of the report is to broadcast broadly those actions and recommendations and to sharpen our focus on these issues.
The SOL conveners, the Center for Puerto Rican Studies (Centro), the Dominican Studies Institute (CUNY DSI), the Jaime Lucero Mexican Studies Institute and the New York City Council are organizing a second summit, to be held on June 1, 2018, at Hunter College's Silberman School of Social Work.
Attendees include: uptown Council Member Ydanis Rodriguez (pictured speaking above), Carlos Menchaca; Assemblywoman Carmen De La Rosa, The NYC Council Black, Latino, and Asian Caucus; Dr. Edwin Melendez, Director, Center  for Puerto Rican Studies (Centro); Dr. Ramona Hernández, Director, Dominican Studies Institute (CUNY DSI); José Higuera López, Interim Director, Jaime Lucero Mexican Studies Institute.
Tuesday, April 3, 2018 at 10:00AM
Steps of New York City Hall, New York, NY 10007, (212) 639-9675, www1.nyc.gov/
Related Articles
---