---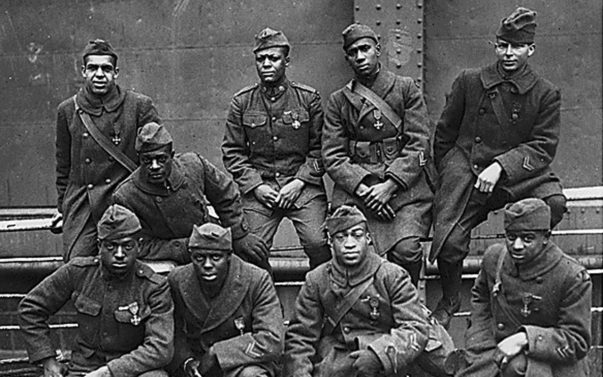 Five New York Army National Guard Soldiers from the 369th Sustainment Brigade will travel to France to take part in World War I centennial commemorative events Sept. 19-26, 2018.
The 369th Sustainment Brigade carries the lineage of the 369th Infantry Regiment; a segregated African-American National Guard unit from New York City which distinguished itself in combat during World War I.
The 369th Soldiers will be taking part in World War I commemorative ceremonies along with representatives from Active Army, National Guard, and Army Reserve units which fought in World War I, reports source.
Detachments from the New York National Guard's 42nd Infantry Division and 27th Infantry Combat Brigade Team have taken part in previous commemorations.
During World War I the 369th Soldier's bravery and skill in combat earned them the nickname Hellfighters from the Germans and they carried the nickname Harlem Hellfighters back home with them.
During their campaign in World War I the 369th Soldiers were present in the battles at Champagne – Marne, Meuse – Argonne, Champagne, Alsace and were in action for 191 days, the longest of any American unit and suffered about 1,500 casualties, also the highest of any U.S. regiment. The unit fought as part of a French Army division.
The units Soldiers received 171 individual medals from the French Army and the regiment earned a unit award of the French Croix de Guerre.
"There is a lot of history in the brigade overall, we went to every deployment this nation requested us to go to from World War I," said Andrew Lampkins, the Command Sgt. Major of the 369th Sustainment Brigade.
Photo credit Soldiers of the New York Army National Guard's 369th Infantry Regiment arrive back in New York harbor on Feb. 12, 1919 after serving in France during World War I. The 369th was an African-American unit in a segregated Army which had served under French Army command but earned so many awards for heroism that they became known as the Harlem Hellfighters. Photograph via source
---