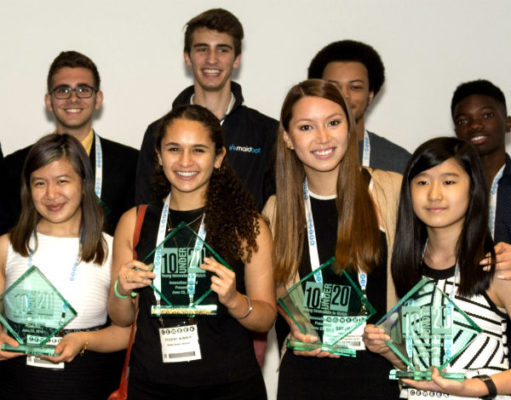 New York City is home to brilliant minds at the forefront of innovation and technology and, if you can believe it, many of these people are under the age of 20.  For the third year in a row, CE Week, in partnership with Living in Digital Times, is calling for young digital innovators in NYC to join an esteemed legacy of students who have already changed the world, one prototype or app at a time, in the Young Innovators to Watch Competition.
Living in Digital Times, the creators of the awards, officially announces that they are now accepting applications for this year's Young Innovators to Watch Regional Competition to support and highlight New York City's high school and college students who are leading STEAM (science, technology, engineering, arts and math) innovation.  The awards are made possible through the generosity of participating sponsors in the tech community.
"Often, students involved in science and tech, especially young girls, start to lose interest in junior high school," said Robin Raskin, founder of the Young Innovators to Watch award competition.  "It's important that we motivate students to continue their passion for STEAM and celebrate their efforts in changing the technological landscape. We are proud that our industry chooses to support this cause."
Student winners (individuals or small groups may apply) will be honored for their outstanding achievements in tech innovation at this year's CE Week, New York City's largest consumer electronics and technology event, on July 12, 2017.  In addition to this incredible honor and invaluable exposure to some of the most influential professionals in the technology industry, each winner will also receive a $1,000 scholarship and high-tech prize package from the award's sponsors. Past sponsors have included Kay Family Foundation, Lenovo and Samsung.
"It's a no-brainer for us to use CE Week's platform to present these awards," said Eric Schwartz, Executive Producer-CE Week/Managing Director-NAPCO Media. "For many years we have showcased innovative companies that wouldn't be where they are without the creative minds behind them, so it is our duty to encourage the youth of New York City to continue innovating and keep the momentum going."
In 2016, winning projects ranged from a robotic maid to a pill dispenser to help older loved ones remember to take their medication.  Past winners also challenged social issues such as police brutality with a crowd-sourcing app that allows people to report police misconduct in real time, and school bullying with an app where students can anonymously post problems in their school community.
One of last year's Young Innovators to Watch Award recipient, Emma Yang (student at The Brearley School), recalls, "It was an amazing experience to be part of the group of awardees, who each had unique stories and extraordinary achievements. The award gave me the opportunity to learn from other great innovators in New York and opened the door to a network of experts." For this year's applicants, Emma says, "Most importantly, the Young Innovators to Watch Award gives you the opportunity to be recognized for your work and I encourage all young innovators in New York to apply for this enormous recognition and opportunity."
Eligibility: Students ages 13 to 19, currently enrolled in high school or a two or four-year accredited college or university in the five boroughs of New York City, or permanent New York City residents who are either enrolled in high school or a two or four-year accredited college or university elsewhere in the United States are eligible to participate.
Entries may include, but are not limited to, web apps, mobile apps, data visualizations or visualization tools, social games, or products considered a component of the "internet of things," which may include wearable technology and tech-enabled consumer products. Projects may have been developed as a result of school, extracurricular or outside-of-school activities, including hackathons, community events, consulting projects or entrepreneurial activities.  Projects that were the result of a team effort may be submitted and all members of the team must meet the age requirements for the Award.  
How to Enter: Students can enter the 2017 Young Innovators to Watch NYC Regional competition using the simple online application.
Deadline: Applications will be accepted up until June 1, 2017 at 11:59 p.m. EST.
How Winners Are Chosen: From all eligible entries, winners will be selected by a panel of esteemed judges, including educators and technology experts.  Winning entries must demonstrate exceptional creativity, user design, scalability, civic mindedness and exemplify an application of STEAM and related fields.   
---
---
Award Ceremony: Winners will be presented their awards by Miguel Gamiño, Chief Technology Officer of NY, live on stage at a special event during CE Week 2017.  The ceremony, which is open to the media, will take place on July 12th , 2017, at the Metropolitan Pavilion, 125 West 18th, Street, New York from 3 to 5 p.m. EST.
For more information, visit www.ceweekny.com .
For more information, visit www.LivinginDigitalTimes.com.
Photo credit: Cropped photo from.
Related Articles