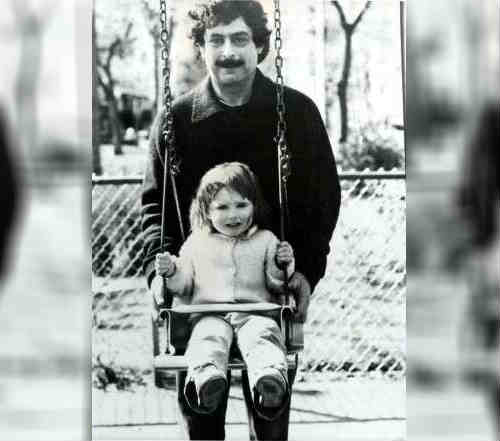 NY Post reports that three decades ago, he was the ultimate face of evil — a monster who beat his illegally adopted 6-year-daughter, Lisa Steinberg, into a coma, then smoked freebase cocaine until it was too late to save her.
The little girl's fatal beating on Nov. 1, 1987, would make front-page headlines, prompt outcry over the state of the child welfare system and land Joel Steinberg nearly 17 years behind bars.
Today, Steinberg is living the quiet life of an aging loner in Harlem, hitting up strangers for cigarettes and Wi-Fi connections as he ekes out a living as a disbarred lawyer.
Most days, he shuffles around the corner to ask the neighborhood's produce vendor for handouts of rotting fruit and vegetables to use as fertilizer on the garden outside his rear ground-floor apartment.
"You have to remember I'm a pariah, so it's not that easy for me," Steinberg, 76, said during an exclusive interview with The Post last week.
"If you go out there and put a picture of me in the paper, I can't take a subway for two weeks because some fat person will decide to say, 'I know you, and you're a piece of s- -t.' . . . And then I turn around, and he punches me in the f–king nose."'
To New Yorkers who know about his heinous crime, Steinberg deserves far worse than a sock in the face.
On the 30th anniversary of Lisa's fatal beating, he remains remorseless, steadfastly denying any guilt for ending her life.
"What did she die of? She died of pulling the plug," he said, referring to the brain-dead child finally being taken off life support four days after he brutalized her.
Steinberg even disgustingly claims that he can't come to grips with Lisa's death because it's just too painful — for him.
"One of the things I do, instead of suppressing the memory, I keep the memory alive," he said.
"And what I notice, and what people have pointed out to me, I speak as if Lisa were alive. I don't accept her loss. I don't accept it as a loss. I accept it as a memory."
---
---
Then he once again proves that his evil knows no bounds.
Asked if he had anything he wished he could say to Lisa, Steinberg answered in a cold tone that dripped with sarcasm: "Yeah, I'll never kill you again, and I'll never beat you up every day, and I'll never make you a torture tot in a house of horror" — the last phrase something he also mentioned during a 1997 parole hearing.
Steinberg, a former Air Force lieutenant and graduate of New York University Law School, was 46 when he committed the vicious and heartless acts that turned him into one of the city's most notorious bogeymen.
Around 6 p.m. that November evening, he was getting ready to head out for a business dinner when Lisa went into the bedroom of the Greenwich Village apartment where she lived with Steinberg, his girlfriend Hedda Nussbaum and another adopted child, a baby boy.
Lisa's fatal mistake was having the audacity to ask her daddy if she could go with him.
Steinberg soon emerged carrying Lisa's body into the bathroom and handing her to Nussbaum, then a 45-year-old former children's book editor. Nussbaum laid the girl on the floor.
When Steinberg returned around 10 p.m., he had Nussbaum convert the cocaine left in their apartment into freebase and spent the next several hours smoking it.
At 6:33 a.m. the next day, Nussbaum called 911 and said Lisa wasn't breathing, then opened the door to cops, who saw the woman had two black eyes, busted lips and a nose that was flattened and split down the middle.
Meanwhile, Lisa was comatose and filthy, her hair a matted, ratty mess and her feet covered in layers of grime.
The couple's other illegally adopted child — Mitchell Steinberg, age 16 months — reeked of urine and was drinking from a bottle of spoiled milk while tied to a makeshift playpen in the family's squalid, cluttered living room.
"Out of the whole apartment, the fish tank was the cleanest thing," Joseph Petrizzo, a city welfare worker, would later testify in court.
Lisa was rushed to St. Vincent's Hospital, where doctors found her covered in old and fresh bruises and her brain swollen from blunt trauma to her head. They quickly decided she was the victim of extensive abuse, and both Steinberg and Nussbaum were arrested on attempted murder charges.
The tragic girl was declared brain-dead Nov. 4 and removed from a ventilator at 8:40 a.m. Nov. 5. Her heart stopped beating 15 minutes later.
The charges against Steinberg and Nussbaum were quickly upgraded to murder, with Nussbaum eventually offering to testify against Steinberg, who went on trial in October 1988.
With no eyewitness to the blows that killed Lisa, prosecutors presented a circumstantial case based largely on the testimony of Nussbaum, against whom all charges were dropped.
During seven days on the witness stand that were televised live by local stations, Nussbaum tearfully described years of abuse at Steinberg's hands, suggesting that she was a victim herself — of battered women's syndrome.
She said Steinberg admitted to her that he had abused Lisa, saying he told her, "I knocked her down, and she didn't want to get up again."
For a motive, prosecutors pointed to the paranoia caused by Steinberg's daily freebase habit.
The defense tried arguing that Nussbaum killed Lisa in a jealous rage, then pretended she was crazy to cut a deal and avoid punishment.
Jurors acquitted Steinberg of murder but convicted him of first-degree manslaughter, and he was sentenced to the maximum 8¹/₃ to 25 years in prison.
Despite being a near-model prisoner, he was denied parole five times, after repeatedly claiming his only role in Lisa's death was failing to seek prompt medical care. He finally got mandatory parole June 30, 2004, then spent time in a Harlem halfway house and a Times Square hotel before landing in his apartment in 2006.
Related Articles