---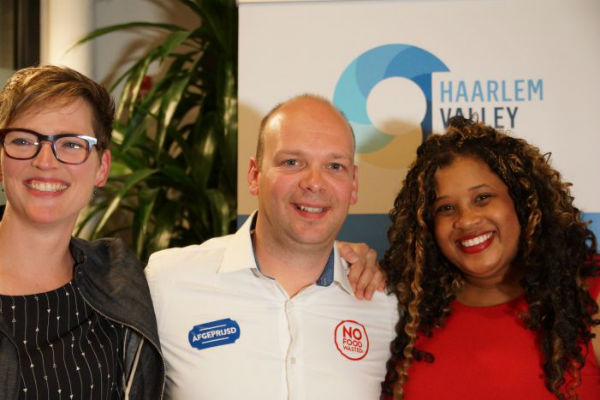 Last Tuesday night on May 30th, 2017, at 9pm local time, Dutch startup NoFoodWasted received good news: founder August de Vocht won the Haarlem2Harlem Pitch Event in New York! His story about NoFoodWasted, the platform against food waste, resonated best with the jury and the crowd: "I don't know how they did it, but I know for a fact there's a ton of competition out there. It's all about team and execution and these guys nailed it!" says Mesut Celebi of Startupbootcamp. NoFoodWasted took on two Dutch startups  and three startups from the US, to celebrate the friendship between Haarlem, the Netherlands and Harlem, New York.
NoFoodWasted's solution is simple and effective: supermarkets mark down products that are close to their best-before date, they upload these products in the Best-before app (Afgeprijsd-app) and consumers can put these products on their shopping lists at the exact moment they are writing them. NoFoodWasted brings supermarkets and consumers together in the fight against food waste. De Vocht managed to reach and excite the crowd during his pitch: his statement "It's a win for the entrepreneur, a win for the consumer and a win for the environment, and that makes us all winners" was even met with cheers. Despite this, De Vocht did not expect to win: "Not at all. Of course, I hoped that I would, but the competition was fierce. It is a great motivation though – it gives me the energy to go on, to look beyond!"
The event was organized by Silicon Harlem and Present Your Startup – Haarlemvalley. Valerie Vallenduuk, co-founder of Present your Startup, is pleased too: "I'm very proud that a Dutch startup won this year!" It's the first time a Dutch startup wins this New York event.
The Haarlem2Harlem Pitch Event is the newest addition to a series of prestigious prizes for NoFoodWasted: in September, NoFoodWasted won Present Your Startup; in November, De Vocht was a finalist for TedX Amsterdam; and in February of this year NoFoodWasted was awarded the NRC Live award for Startup with the most Impact. The Guardian placed the Best-before app second in their list of top ten best apps against food waste and Ted Ideas named it one of five clever ways to fight against food waste.
The Best-before app is available in the Netherlands and is used by more than 190 supermarkets throughout the country.
Via source
---