---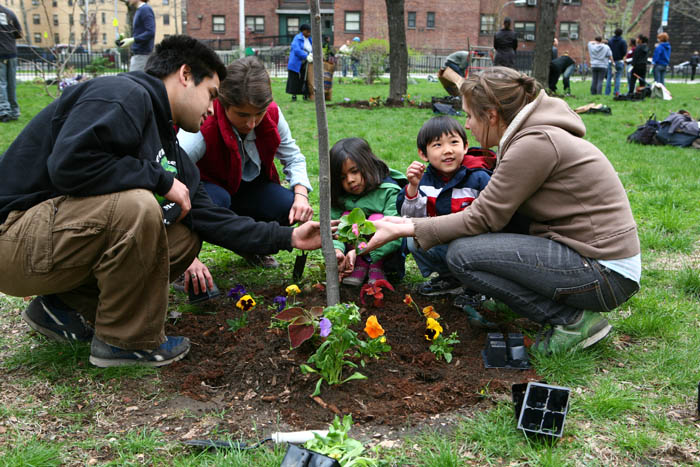 Got big plans for Earth Day? It's right around the corner, Wednesday, April 22, but feel free to celebrate all week long with these 10 great ideas for teaching kids about Earth Day and what they can do to help take care of our planet.What can you do for Earth Day? The answer is: anything that is meaningful to you and for the environment!
1. Take a walk. If an organized walk or run is too intimidating, you can still get outdoors for a walk around the block or park with family and friends.
2. Plant a garden. Grab the kids, a shovel, and some seeds and hit the dirt with your family. Whether you plant one tomato plant in a pot or a large garden of fruits and veggies, gardening with your kids wil teach them about the cycles of nature and the beauty of growing your own food. Plant native plants. They use less water because they're used to the local conditions, while imported plants often need water levels that are much higher.
3. Reduce, reuse and recycle all day long. Buy as little as possible and avoid items that come in lots of packaging. Support local growers and producers of food and products – these don't have to travel as far and so reduce greenhouse gas emissions. Take your drink container with you, and don't use any disposable plates or cutlery. Recycle all the things you do use for the day or find other uses for things that you no longer use. Carry a cloth bag for carrying things in and recycle your plastic bags.
4. Bring it home. Earth Day is the perfect day to talk to your kids about the green steps you take around the house to protect the planet and how they can help. Turning off lights and faucets, recycling, keeping the heat and air down low, and cleaning green are great ways to teach your kids about your family's impact on the planet, and the steps that you can all take to minimize it.
5. Household Hazardous Waste Collection. Collect paint, used auto products like motor oil and batteries, solvents, etc in your brownstone or apartment. You may be surprised at what you will find.
6. Write an Earth Day article. Write an article about the work your community, school, business or group, and send it to us with photos at harlemworldinfo@yahoo.com.
7. Plan a neighborhood cleanup. Many individuals and groups use the Day to clear neighborhood streets of litter that has accumulated. Ask neighbors or local businesses to donate gloves and bags for clean-up groups and organize bag pick ups. Once the everything has been collected the trash and placed the recycled bags and take to recycle areas to trash (call your community board if you have any questions). It's a wonderful community project. Great for scout troops, rotary clubs and the like. Founder Danny Tisdale used to do this every month when he was president of the 118th Street Block Associaiton, its a great communty building event
8. Educate Yourself About The Environment – If you aren't exactly sure what the environmental issues are, or specific ways that you can protect the environment, spend Earth Day educating yourself. Use one of the oldest recycling methods around: go to your local library and check out some books about the environment, and look through its magazine and newspaper collections for environmental stories. Then, after you've learned all you can get involved with local groups that work on these issues to help protect the environment
9. Hold an "Unwanted Seedling and Seed Giveaway" at your local farmers' market or community garden. Contact local garden clubs, community gardeners, and your friends and neighbors who garden and ask them to help you collect and distribute these to your local community. You can make up flyers and publicize at the farmers' market or community garden ahead of time and can even have a seed or plant exchange as part of the event.
10. Get your children involved. By giving their old toys and games to other children who could make use of them, older children learn two lessons: One is about giving to others, and the second is about reusing and recycling instead of throwing things away.
11. Cook a special Earth Day meal. Plan a menu that uses locally produced foods, is healthy and has minimal impact on the environment. Favour vegetable and bean products, as these use less resources to grow than mass-farmed meat. If you still would like meat, look for locally produced, organic meat. Try and have organic food completely. Decorate the table with recycled decorations made by you and your friends.
12. Save Water. While brushing your teeth or washing your hands, turn the water off when not in use. Turn the water off when you are brushing. If you are washing your hands, turn the water off when you are scrubbing your hands with soap. Install a grey water system in your home. Recycle water from the house for the garden. Take shorter showers every day from Earth Day on. Plant native plants. They use less water because they're used to the local conditions, while imported plants often need water levels that are much higher.
Have an event that you think is great and we did not list? Send it to us at harlemworldinfo@yahoo.com or post it in the comment section below.
From via Grow NYC
Related Articles
---