---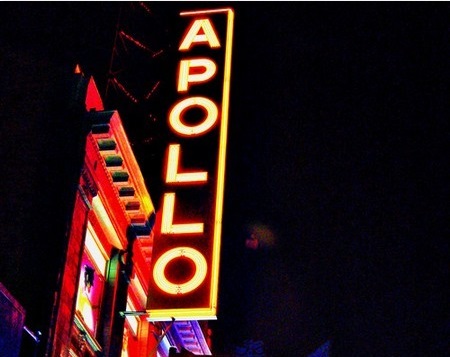 The Apollo Theater today announced details for its largest fundraising event – Apollo Spring Gala 2015. The star-studded benefit concert will feature diverse performances by celebrated artists who have all previously graced the Theater's stage, and that reflect the its commitment to providing a platform for all musical genres.
Performers include pop-funk and dance musician/producer, Nile Rodgers who will headline the event along with his pioneering disco-funk group CHIC; Grammy-winning R&B singer/songwriter, Ne-Yo; Grammy-winning singer/songwriter Rosanne Cash; R&B singer, Luke James; celebrated South African a capella trio The Soil; and up and coming rock singer, Kimberly Nichole. The Spring Gala will take place on Monday, June 8 at 7pm, and proceeds will support the organization's artistic and community programming. Tickets for the event are now available.
"The Apollo Theater has always been a place for opportunity and growth as well as the home for diverse musical styles from Jazz and R&B to Rock and Hip-Hop," stated Jonelle Procope, President & CEO of The Apollo Theater. "The Theater continues to be a constant in changing the face of popular music and culture here in Harlem and across the world. Many of the world's most legendary artists have not only graced this stage, but were nurtured and developed at the Apollo in the beginning of their careers. We continue to be an important springboard for up-and-coming artists through programs like Amateur Night and Apollo Music Café."
Each year at the Spring Gala, the Apollo recognizes a corporation for its outstanding philanthropy and community leadership. This year's recipient of the Corporate Award is The Madison Square Garden Company. Executive Chairman James Dolan will accept the award on behalf of the organization.
The Theater will also honor the Ford Foundation with the Percy C. Sutton Civic Leadership Award in honor of its many years of leadership and service to the Apollo. Darren Walker, President of the Ford Foundation, will accept the award on behalf of the Foundation.
The Apollo Spring Gala begins with red carpet arrivals followed by the gala concert and awards ceremony with Music Director Ray Chew (Dancing With The Stars). The evening will also include a post-performance party with a lounge created by celebrity event planner and Apollo board memberBronson van Wyck.
2015 Apollo Spring Gala Co-Chairs include: Anna Chapman & Ronald O. Perelman, Sonia & Paul Jones, Robert K. Kraft, Carolyn & Mark Mason, Laura & Richard D. Parsons, Karen & Charles Phillips and Deborah Roberts & Al Roker
Gala Vice Chairs include: Kristin Dolan, Daisey Holmes, The George Lucas Family Foundation, Josh Sapan, Brian Sweeney, and Christine Taylor
Gala Committee include: Al Jazeera America, American Express, Bank of America Merrill Lynch, The Blackstone Charitable Foundation, Jim Carter, Citi, The Coca-Cola Company, Disney, The Estée Lauder Companies Inc., JP Morgan Chase & Co., Gayle King, Morgan Stanley Urban Markets Group, New York Life, News Corp, Nancy and Alan Schwartz, Debra Shriver, Tawana Tibbs and Bruce Gordon, Time Warner Cable, Time Warner Inc., Bronson van Wyck and Janice Savin Williams and Christopher J. Williams
Tickets for the 2015 Spring Gala are now on sale. To purchase Gala tickets or to make a donation to the Apollo Theater, please call 212-531-5330. For more information, visit www.apollotheater.org.  Proceeds from the Apollo Spring Gala will support the Theater's year-round performing arts programming, innovative education initiatives, and community programs.
Get social! For exclusive photos, updates and more, use hashtag #APOLLOGALA and follow the Apollo Theater:
About the Performers
Nile Rodgers has a unique history with the Apollo, having served as part of the house band in the 1970's. In a career which spans over 40 years, Rodgers has written and produced chart-topping songs from CHIC's "Le Freak," and "Good Times," Madonna's 1984 "Like a Virgin," to Daft Punk's recent smash hit "Get Lucky," co-written by and featuring Pharrell Williams. This year Rodgers & CHIC announced the title of their first new album in nearly 25 years, It's About Time, set to be released in June 2015. The lead single "I'll Be There," dropped in March of this year.
R&B hit-maker Ne-Yo who has penned #1 hits for Beyoncé and Rihanna, as well as chart toppers for Mary J. Blige, Usher, Kanye West, and many others. The famed musician performed at the beginning of his career on Showtime at the Apollo, in the 90's.
Legendary singer and songwriter Rosanne Cash is making her second appearance at the Apollo—the chart topping Americana music artist, who draws from country, blues, folk, and pop, was featured on Elvis Costello's Sundance Channel television seriesSpectacle: Elvis Costello With…, which was filmed at the legendary Theater in 2008. Cash's latest studio album, The River & The Thread, won three Grammy Awards this past February.
Contemporary R&B singer/songwriter Luke James has co-written songs with artists such as Chris Brown, Justin Bieber and Britney Spears. The Grammy nominated artist, who performed for Amateur Night at the Apollo early in his career, was chosen as the opener for Beyoncé's The Mrs. Carter World Tour.
Self-proclaimed "rock ballerina," Kimberly Nichole's performance and style has captured the attention of Pharrell, Christina Aguilera, Quincy Jones, and Valerie Simpson, from the legendary duo Ashford & Simpson. This will be Nichole's first time performing on the Apollo Mainstage, but she is no stranger to the Apollo. In 2013, the musician performed as a headliner of Apollo's Music Café, the Theater's signature series

.
The Award- winning South African a capella trio The Soil,

known for their Kasi Soul blend of rhythmic vocal bass lines, beat-boxing and sublime harmonies, first performed at the Apollo in 2013 as part of the Theater's Africa Now festival, celebrating contemporary African music.
For more information, visitwww.apollotheater.org.
The Apollo Theater gratefully acknowledges its Spring Gala Sponsors: MacAndrews & Forbes Incorporated , The Madison Square Garden Company, Infor, The Kraft Group, AMC Networks, BNY Mellon, Cablevision, Hearst Corporation and Macy's and Bloomingdale's
Related Articles
---