---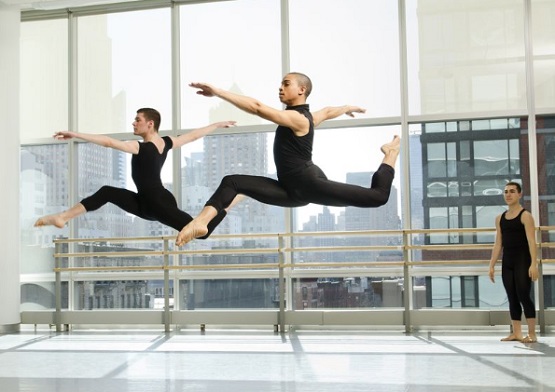 As Black History Month draws to a close, the Ailey spotlight moves from Times Square to the Ailey Citigroup Theater. Throughout February, Alvin Ailey American Dance Theater soared above Times Square in a Morgan Stanley "Lights on Broadway" salute, and New Yorkers and tourists alike were encouraged to #JoinTheDance and remember that #MSGivesBack. The campaign in the "Crosswords of the World" highlighted Ailey's status as "Cultural Ambassador to the World," and recognized the organization's six decades of "celebrating the African-American heritage and the modern dance tradition," and its offerings of "performances, training, and education programs that enlighten all."
Alvin Ailey's mission of celebrating our common humanity will spring to life as the talented young dancers of Ailey II take the stage at the Ailey Citigroup Theater March 14-25. Renowned for merging the spirit and energy of the country's best young dance talent with the passion and creative vision of today's most outstanding emerging choreographers, the second company of Alvin Ailey American Dance Theater returns to New York for an exciting two-week season. Led by Artistic Director Troy Powell, these talented young dancers will prove why "there's nothing like an evening spent with Ailey II" (The New York Times). Audiences will have the opportunity to see "the next generation of dance" in a diverse range of works, including three striking 2017-18 season premieres: Darrell Grand Moultrie's Road To One, about embracing the journey; Juel D. Lane's Touch & Agree, exploring love, commitment, and identity; and Renee I. McDonald's Breaking Point, an intense work about being pushed to the limit. Click through for the Ailey II New York Season press release.
New Yorkers of all ages and levels have the rare opportunity to learn from Troy Powell, when he leads a one-night-only Ailey Extension Horton Workshop on Wednesday, March 7 at 6pm, just a week before the second company's New York season. Powell was selected by Mr. Ailey himself to receive a scholarship to The Ailey School, before joining Ailey II and later Alvin Ailey American Dance Theater, and eventually becoming only the second person to lead Ailey II. Participants will learn movement based in the technique created by Alvin Ailey's mentor, Lester Horton, which is the foundation for many classic Ailey works – including his signature masterpiece, Revelations. Designed to expand Alvin Ailey's life-long commitment to bring dance to everyone, Ailey Extension classes and workshops impart the rich history of Ailey's signature style, which changed the perception of modern American dance around the world. Visit aileyextension.com for more information.
For dancers who are passionate about becoming a part of the Ailey legacy, The Ailey School will hold auditions around the country, including in New York on Sundays, April 8 & 15 (scholarship audition). A pre-audition Horton Workshop Class also takes place at the Ailey Studios on Friday, April 6. Ailey II serves as a bridge between The Ailey School and the professional dance world, and is comprised of the most talented students from the elite training program. For more information and to register to audition, visit The Ailey School website.
Black History Month may be coming to a close, but Alvin Ailey's pioneering legacy lives on through Ailey's performances and programs that serve people of all ages and backgrounds year-round. For more information on Ailey happenings, visit alvinailey.org.
Photo credit: The Ailey School's Horton Class.  Photo by Kyle Froman.
---