---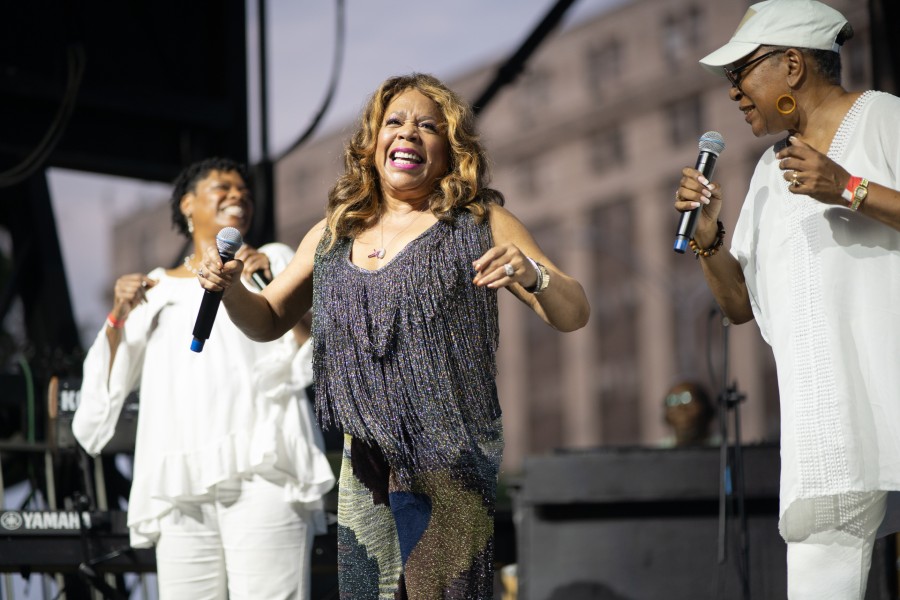 The 15th Anniversary Lincoln Park Music Festival, Newark NJ's "best-kept secret" continues the city's rich history of Gospel music in an outdoor "Black Church revival style" experience.
The historic downtown neighborhood of Lincoln Park (named after President Lincoln in the 1800s), was home to Sarah Vaughn who cut her singing chops at Mount Zion Baptist Church, sold out gospel concerts at Lincoln Park's Newark Symphony Hall and in modern times the annual Gospel In The Park night at Lincoln Park Music Festival, which has featured legends Donald Malloy, Cissy Houston (The Drinkards), Rev. Milton Biggham, Joshua Nelson, and The Clark Sisters.
The recent 15th Anniversary festival kicked off its week of free outdoor concert series with "Gospel In The Park" featuring Provenance Music Group who stunned the crowd with a surprise pop-up from Grammy-nominated R&B legend Valerie Simpson of the supergroup Ashford & Simpson, formed with her late husband Nick Ashford.
In those years Simpson returned to her Gospel roots – formed at Harlem's White Rock Baptist Church.
As one-half of the American husband-and-wife songwriting-production team and recording duo of Nick Ashford and Valerie Simpson ("Ain't No Mountain High Enough", "You're All I Need To Get By", "Ain't Nothing Like The Real Thing", "Found A Cure", "Solid", "Is It Still Good To Ya?"), Valerie Simpson was inducted into the Songwriters Hall of Fame in 2002 and, with Nick Ashford, recipient of The Rhythm & Blues Foundation's Pioneer Award, ASCAP's Founder Award, and the Grammy Trustee Award.
Provenance Music Group is an internationally renowned gospel music ensemble that has shared the stage with a myriad of noted performers and with rising celerity and captivated live audiences through their nationally broadcasted television appearances in Newark, NJ; London, UK; Barbados; Japan; and Bobby Jones Gospel In DC.
The 15th Anniversary Lincoln Park Music Festival's "Gospel In The Park" night was hosted by Rev. Kevin E. Taylor, ofUnity Fellowship Church NewArkand former BET Networks producer/showrunner (Lyrically Speaking, Access GrantedandNotarized: Top 100 Videos of the 20th Century) and recently elected City of Newark NJ Councilwoman At Large Rev. Louise Scott-Rountree, daughter of renown entrepreneur Louise Scott.
Councilwoman At Large Rev. Louise Scott-Rountree grew up in Newark's landmarked and historicKrueger-Scott mansion.
Lincoln Park Coast Music Festival
The annual Lincoln Park Music Festival (LPMF) is the largest music experience rooted in traditions of the African American and Afro Caribbean diaspora in the tri-state region.
LPMF has expanded into an audience of 50,000-60,000 international attendees that comes together, over two weekends, to experience multiple genres of music including Gospel, Jazz, House, Hip-Hop, Rhythm & Blues, Reggae, Dancehall, Soca, Kompa and of the Latinx/Hispanic diaspora, as well as film, tech and music business education.
Lincoln Park Coast Cultural District (Non-Profit, 501c3)
The Lincoln Park Coast Cultural District, Inc. (LPCCD) is a non-profit organization actively engaged in the practice of economic development through Creative Placemaking.
Its mission to plan, design and develop a comprehensive arts and cultural district in the Lincoln Park neighborhood of downtown Newark.
LPCCD's main arts & culture programs are the annual Lincoln Park Music Festival, Lincoln Park Music Speaks citywide humanities initiative, the Lincoln Park Jazzy Soul music series, the Lincoln Park Sustainable Living Community Podcast and the public art initiative Lincoln Park Gallery Without Walls.
For more information about Lincoln Park Coast Cultural District and its 15thAnniversary Lincoln Park Music Festival, connect with @LincolnParkCoastCulturalDistrict and @LincolnParkMusicFestival on Facebook; follow @LincolnParkMusicFestival and @LPCCD on IG; and @LPCCD on Twitter.
Photo credit: courtesy of Lincoln Park Coast Cultural District.
---