---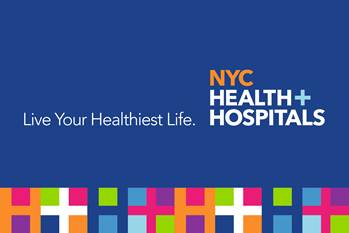 The New York City Health and Hospitals Corporation will now be known as NYC Health + Hospitals as part of a new brand strategy that unifies its more than 70 patient care locations in the five boroughs and represents a transition to a wellness-focused health care leader that provides essential services to 1.4 million New Yorkers every year.
The change is designed to help redefine the largest public health care system in the country as it embarks on an aggressive campaign to attract new patients, expand primary care services in underserved communities, increase membership in its low-cost health insurance plan MetroPlus, and grow revenue to preserve its mission.
"Our mission to care for all, without exception, has not changed. But our promise to New Yorkers has evolved. Our new brand graphics symbolize a true evolution as we transition from a hospital-centric corporation to a health care delivery system focused on providing an exceptional patient experience and building healthy communities," said NYC Health + Hospitals President Dr. Ram Raju. "Our new logo unifies us, but most importantly, it celebrates our diverse workforce and what our staff does every day to empower New Yorkers to live the healthiest life possible."
"The Board of Directors unanimously supported this change to turn the page on 'HHC' and better represent the goals of new leadership, with an emphasis on health care in communities as opposed to sick care in hospitals. We are very excited about our new brand and how it celebrates our skilled and dedicated workforce," said NYC Health + Hospitals Board Chair Lilliam Barrios-Paoli.
With the rebranding, New York City's 11 public hospitals, long-term care centers and dozens of community based health centers will also modify their names and adopt a new logo to identify under the system's new graphics standards. The abbreviation "HHC" for Health and Hospitals Corporation will be phased out across the system and the word "corporation" will be no longer used.
Facilities in Manhattan will be known as:
NYC Health + Hospitals/Bellevue (formerly HHC Bellevue Hospital Center)
NYC Health + Hospitals/Metropolitan (formerly HHC Metropolitan Hospital Center)
NYC Health + Hospitals/Harlem (formerly HHC Harlem Hospital Center)
NYC Health + Hospitals/Carter (formerly HHC Henry J. Carter Specialty Hospital & Nursing Facility)
NYC Health + Hospitals/Coler (formerly HHC Coler Rehabilitation and Nursing Care Center)
NYC Health + Hospitals/Gouverneur (formerly HHC Gouverneur Health)
NYC Health + Hospitals/Renaissance (formerly HHC Renaissance Health Care Network/Sydenham Health Center)
The public health system began to introduce the new logo and graphics standards to its 42,000 employees this week with brand celebrations at many of its patient care locations. The implementation of the new brand will be a gradual, multi-year process and a grassroots effort to build employee and community-based brand ambassadors. All the brand graphics were developed in-house.
Rebranding the health system is one of numerous restructuring measures and new initiatives underway that support the "2020 Vision" expansion plan Dr. Raju announced in April 2014. The plan seeks to increase the number of patients using the system to two million annually, double membership in MetroPlus Health Plan to one million by the year 2020, and emphasizes improved patient experience to achieve those goals.
"The new brand standards are not just simply cosmetic changes on an old package. They signify a real transformation that is happening from the inside out in New York City's essential health care delivery system," Dr. Raju added.
Recent accomplishments and new initiatives that support the goals for 2020 include:
MetroPlus Growth – Extended the health plan to 800,000 government employees and dependents this October; offered it as the most affordable plan on the NY State Health Exchange; will expand to Staten Island by January 2016.
Expand Access to Care – As part of the city's "Caring Neighborhoods", the health system will build five new primary care centers and expand another six in high-need areas starting in 2016; expected to serve more than 61,000 new patients.
A New Focus on Ambulatory Care – Reorganized its large network of ambulatory care centers and in January 2015 secured federal health center designation, which will yield an additional $30 million in annual reimbursement.
Leadership in Health Care Reform
Became an active player in the state's Medicaid Reform process by building the city's largest Performing Provider System (PPS) organization, OneCity Health, with potential to bring in $1.2 billion to transform the delivery of care.
The health system's Accountable Care Organization achieved superior quality scores for patient care, reduced Medicaid spending and secured incentive bonus payments for its physicians
A New Organizational Structure – The health system's 25+ year old, bureaucracy network configuration will be eliminated and replaced with a new administrative and leadership structure for three new service groups: Inpatient, Ambulatory and Long-Term Care.
Focus on Patient Experience – A new patient experience improvement plan developed from the ground up with staff input from throughout the health system will be completed by early 2016.

Developing the Workforce – Will reorganize the Human Resources operation to build a true Talent Retention and Recruitment program. Created training program to prepare new and younger generation of leaders to manage facilities with a focus on patient experience. Over 20 senior leaders and 1,600 middle managers currently being trained.

Rebuilding for Resiliency – Secured $1.6 billion FEMA grant to repair, protect and rebuild Sandy damaged public hospitals.

Strategic Partnerships – Established collaboration with CareConnect, the provider-owned health plan of Northwell Health (formerly North Shore-LIJ), to include the health system's 11 public hospitals in the plan's network.
Visit us at nychhc.org and stay connected on facebook.com/nycHHC or Twitter @hhcnyc.
No related posts found...
---