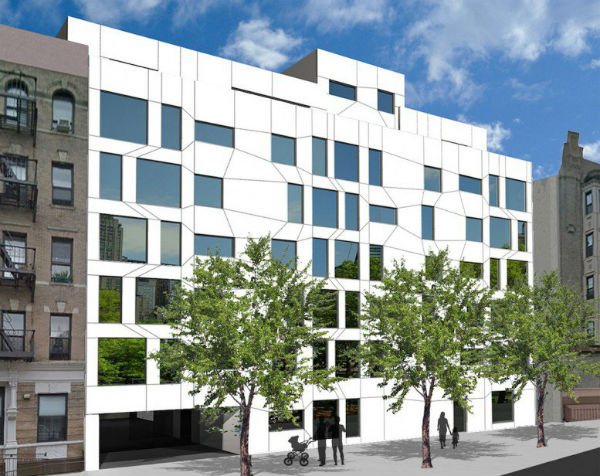 Passive house construction is expensive, but condos built according to the energy-saving standard are becoming more common throughout New York City. Rentals, however, are still few and far between.
Definition of Passive Housing:
A Passive House is a building, for which thermal comfort (ISO 7730) can be achieved solely by post-heating or post-cooling of the fresh air mass, which is required to achieve sufficient indoor air quality conditions – without the need for additional recirculation of air.
Up in the Hamilton Heights section of Harlem, Synapse Development is working on the city's first market-rate rental building designed to meet passive house requirements.
The seven-story development at 542 West 153rd Street topped out yesterday between Broadway and Amsterdam Avenues, and PR reps sent along some construction photos. Known as Perch Harlem, the eco-friendly building will have 34 one- and two-bedroom apartments. Rents will start around $2700 for a 525-square-foot one-bedroom and $3700 for an 800-square-foot two-bedroom.
---
Become a Harlem insider - Sign-Up for our Newsletter!
---
The facade will feature irregularly-shaped, white panels and varying sizes of triple-paned windows. The actual cladding on the facade will be made of EIFS, a relatively inexpensive material that mimics stucco, finished with limestone.
Like most passive house buildings, an energy recovery ventilation system will help keep the temperature consistent. ERVs eliminate heat and humidity from incoming fresh air in the summer, and in the winter, they transfer heat from outgoing to incoming air, heating a building in a more efficient fashion than traditional forced air systems or PTACs. Synapse CEO Justin Palmer explained that tenants will also be able to take advantage of a more traditional mini-split system, "but hopefully people will only need the HVAC system on really hot or really cold days." 
And in a new rental aiming for the top of the market in Harlem, residents will expect to set the temperatures in their own apartments, he added.
The rents will probably be the highest in the neighborhood, but the area has few, if any, new construction rental buildings. A few large, attractively renovated one-bedrooms in the area have similar asking rents.
Apartments will feature stainless steel appliances, in-unit washer/dryers, and kitchen cabinets without VOCs (volatile organic compounds, which are typically found in wood sealants). The building will also have a lounge, landscaped roof deck, storage, and a gym. Renters with cars will be able to park in an 18-space lot behind the building.
Architect Chris Benedict is responsible for the design, and this isn't her first passive house project. She designed the first two affordable, passive house rental buildings in the city, at 803 Knickerbocker Avenue and 424 Melrose Street in Bushwick.
Synapse started construction in January 2015, and they hope to finish work in June.
Photo credit: 1) 542 West 153rd Street, rendering by Chris Benedict. 2) 542 West 153rd Street, photo via Synapse Development. 3) An ERV unit being installed at 542 West 153rd Street. 4) Typical living room at 542 West 153rd Street.
Related Articles
---
VIDEO
---
"Dr. Harry Delany is a renowned Harlem born and raised surgeon, the son of the great jurist and civil rights leader, Hubert Delany...." This monthly post is made in partnership with Harlem Cultural Archives.