---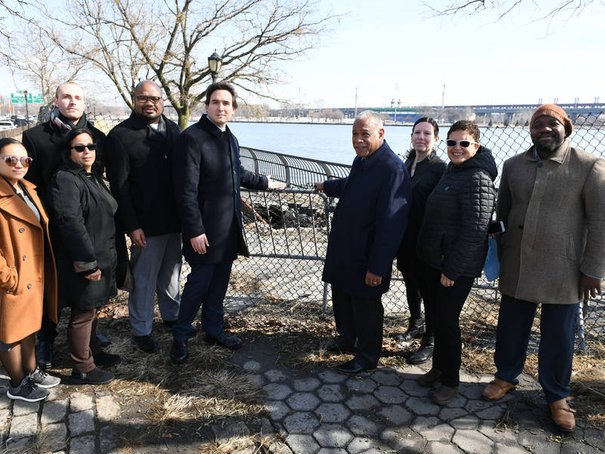 New York City is dedicating an addition $75 million to complete and repair sections of the East River Esplanade in Harlem, the Upper East Side and Midtown, parks officials announced Thursday.
The funding will supplement previous pledges the city has made to close current gaps in the esplanade and make the entirety of Manhattan's coastline accessible to the public, officials said. Officials announced the new funds at a run-down section of the Esplanade near East Harlem's Thomas Jefferson Park reports Patch.
"Thanks to Mayor de Blasio's continued commitment to addressing waterfront needs, we are able to continue the extensive work of bringing our beloved East River Esplanade into a state of good repair," Parks Department Commissioner Mitchell Silver said in a statement. "New York City is hundreds of years old and much of the work we are doing here fixes vital infrastructure so that for decades to come we can enjoy our Esplanade, greenway, and public piers."
Three esplanade projects will benefit from the new $75 million allocations, city officials said:
The section from East 114th to East 117th streets will receive $15 million;
The section from East 90th to East 94th streets will receive $16 million;
The section from East 62nd to East 63rd streets will receive $22.3 million.
The projects are still in the design phase and the scope of work includes rehabilitating existing portions of the esplanade and construction new portions, city officials said.
East Harlem City Councilmember Diana Ayala said Thursday that the investments will help "revive a beloved staple in the East Harlem community." Ben Kallos, who represents the Upper East Side, added that portions of the esplanade have been neglected for so long that they crumbled into the East River.
The remaining $21 million will be allocated following esplanade site inspections conducted by the Parks Department and the city Economic Development Corporation.
Photo credit: Parks and city officials announce $75M in new funding for fixes to the East River Esplanade. (Courtesy NYC Parks Department).
---