---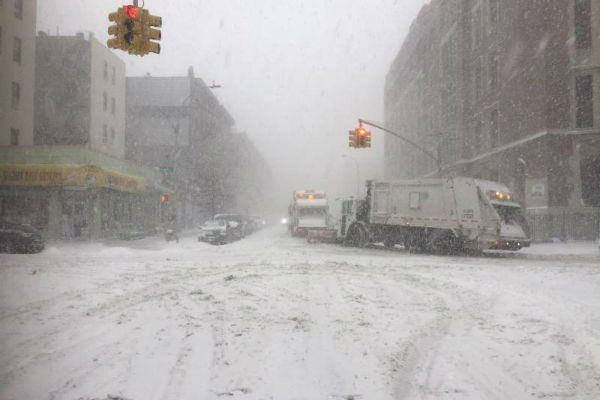 The New York City Department of Sanitation is in "here we go again" mode for the city's fourth major storm this month. A nor'easter is projected to dump as many as 16 inches of snow on the city Wednesday and the National Weather Service has declared a winter storm warning will go in effect at Midnight Tuesday and end Thursday morning.
The Department of Sanitation is readying nearly 700 salt spreaders and more than 16,000 plows to battle the storm Wednesday, commissioner Kathryn Garcia said in a press conference Tuesday afternoon. The Department of Transportation, Department of Environmental Protection and Parks Department will also assist in efforts to keep city roads and sidewalks safe.
"We hope it does not turn out to be as severe as upward projections" Garcia said Tuesday.
Department of Sanitation plows will be running on 12-hour shifts Wednesday, Garcia said. Heavier snow is expected to start falling Wednesday, but salt spreaders will be called in as soon as precipitation is observed, which could be as early as Thursday night. The department has more than 220,000 tons of salt on hand for the storm.
New Yorkers and commuters should use mass transportation instead of driving on Wednesday, NYC Emergency Management Commissioner Joseph J. Esposito said Tuesday.
"We want to get out to the public there is potential here," Esposito said. "We could have whiteout conditions."
Wednesday evening's commute is expected to be the most dangerous time to be on the road, Esposito said Tuesday. City officials were still waiting to hear from the Metropolitan Transit Authority on any planned transit changes, Esposito said during Tuesday's press conference.
The Department of Transportation announced Tuesday that alternate side of the street parking regulations will be suspended citywide on Wednesday and Thursday. Payment at parking meters will remain in effect during the storm, the department announced.
---