---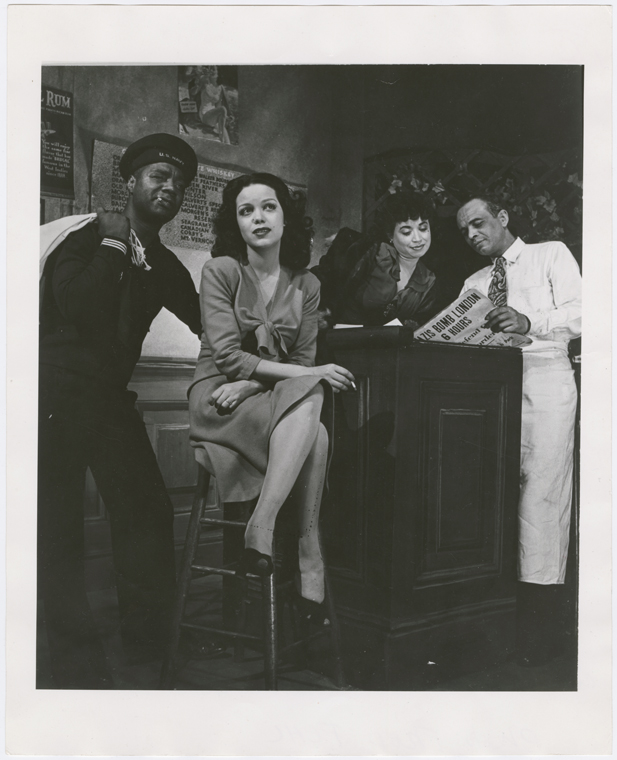 Mei Tei Sing, Curator of The 75th Anniversary of the American Negro Theatre, describes the significance of the theater's groundbreaking radio program which is featured in the exhibition:
In September 1945, our American Negro Theatre (ANT) became the first theatrical company to present a radio program. Titled "New World A-Coming," the series aired Sunday afternoons for 30 minutes and was designed "to promote the universality of scripts, characters and performing talent." It was produced by and in cooperation with the City-Wide Citizens' Committee on Harlem and Ted Cott in association with ANT co-founder Abram Hill, as well as WNEW production manager Jack Grogan.
Typically, actor and ANT member Canada Lee was the host/narrator of the series, which featured guests such as Tuskeegee Airman Virgil Richardson, playwright Eugene O'Neil, and contralto Marian Anderson. The musical opening for the series was composed by the Duke Ellington Orchestra.
Popular dramatic  episodes reflected political and racial concerns through true-life acccounts of experiences within the African-American community, such as social life in 1940s Harlem, black U.S. soldiers on leave who weren't allowed entry in public spaces,  discrimination in the workplace, and other issues during the Jim Crow era. Through representations of everyday life in the black community, the series highlighted the significant political and racial concerns of its time.  In addition, it included classical dramatizations—from William Shakespeare's Romeo and Juliet to Charles Dickens' Scrooge and operatic productions.
Learn more about our exhibition, The 75th Anniversary of the American Negro Theatre. And listen to an excerpt from "A New World A-Coming, which is featured in the exhibition, below:
Photo credit: Scene from the Broadway production of the American Negro Theatre's "Anna Lucasta," featuring (left to right) Canada Lee, Hilda Simms, Alice Childress and Alvin Childress, 1944.
Related Articles
---