---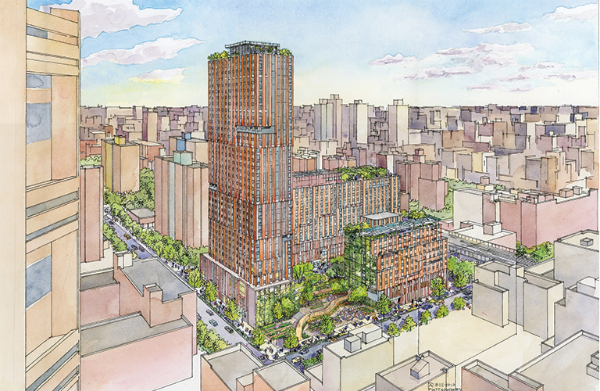 6sqft reports that Despite Mayor de Blasio's success meeting his affordable housing goals, East Harlem has fallen behind.
City Selects Development Team For Mixed-Use Affordable Project In East Harlem Mayor Bill de Blasio's administration has selected Jonathan Rose Companies and L+M Development Par…Feb 7 2017harlemworldmag.com
As 6sqft recently reported, out of the 21,963 new units added in 2016, just 249 were built in East Harlem, prompting the city to expedite the construction of 2,400 affordable units there over the next few years. A large chunk of this will come from Sendero Verde, a massive, mixed-use development that will bring 655 affordable rentals to the block bound by East 111th and 112th Streets and Park and Madison Avenues. Back in February, Jonathan Rose Companies and L+M Development Partners released a rendering from Handel Architects of the 751,000-square-foot project, but now CityRealty has uncovered an entire batch of drawings from the firm that detail how it will be the country's largest passive house project and weave together the residences, a school, supermarket, and four community gardens, all surrounding a multi-layered courtyard.
According to CityRealty, "The project was awarded through the city's SustainNYC program, which seeks to create affordable residences without compromising design quality." To that end, when Jonathan Rose was selected by the city for the project he said, "Our goal is to create a complete community… not only housing but services for all the residents. We hope this block will be a real model of transformation, not only for the new residents who live there but for the whole neighborhood."
In addition to the aforementioned amenities, the site will host a YMCA, job training center, 85,000-square-foot DREAM charter school, space for the local non-profit Union Settlement, restaurant, and preventative health care facility run by Mount Sinai.
Related articles
Related Articles
---