---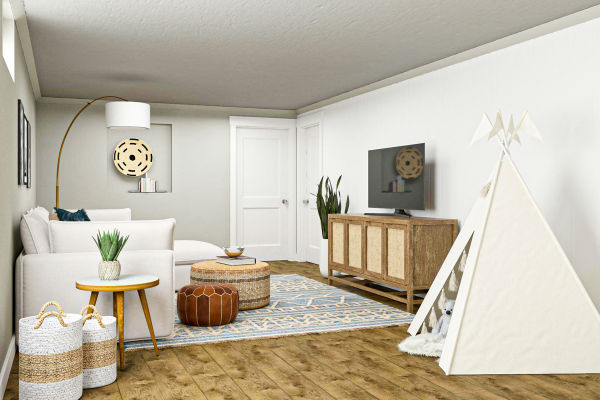 The pandemic has changed nearly every facet of our lives, and this is especially true for parents.
The online interior design company Modsy recently published a Covid-Inspired Design Trends Report analyzing how COVID-19 has changed the way parents (and their kiddos) are using and interacting with their homes, how parents' home design priorities have changed, and the family-friendly home design trends are on the rise.
"One of our favorite ways to kid-zone a living space is to set up a play tent off to the side of a room to clearly define an area that's all theirs. The bonus is that you can also easily use it to store stuffed toys, games, and books when it's not in use for a quick solution that keeps everyday clutter contained," says Alessandra Wood, Modsy VP of Style.
The report analyzes Modsy's internal data, a survey of 2,000 US patents, and Google Trends data.
Some other high-level insights in the report include:
The percentage of Modsy customers designing a nursery in June 2020 was 40% higher than the 2020 average. And sales in the baby/kids product category grew 60% from June 2019 to June 2020. Does that mean the COVID-19 baby boom is real?
The pandemic made 60% of parents realize their home was disorganized, and parents were more likely to have undertaken DIY home or room design projects during the quarantine (77%) than non-parents (57%).
At 40%, parents were more likely to choose flex spaces as the biggest factor to consider when designing a room, compared to non-parents (35%). Likewise, parents were also more concerned with hygiene and sanitation (28%) as the main priority in home design compared to non-parents.
In addition to nurseries, Modsy has also seen a rise in designs that incorporate spaces for home learning. According to the survey, 72% of parents said if they redesigned their child's current bedroom they would incorporate a school/homework space.
Alessandra Wood, VP of Style at Modsy, says: "Parents are using their homes in overdrive. The word shelter has never felt more appropriate for our spaces which provide just that while also acting as full-time offices, schoolhouses, movie theaters, and our new favorite restaurants. Because we're using our homes for nearly every need, and we're spending much more time in them than usual, we need a lot more from our surroundings. Our spaces must be multi-functional and be able to adapt to changing needs throughout the day."
As many states and regions continue to face school closures and hybrid learning, Modsy has workshopped four expert, kid-friendly design tips for incorporating a home learning space into any space.
Make an open work station. Window nooks are perfect as they can be replaced with a slim desk for a window work workspace. This could be the designated spot for homeschooling, video-chatting for remote lessons, and everyday studying.
Partitions make all the difference. For a seamless and functional layout, try a low bookshelf as a separator in open spaces.
The communal classroom. Repurposing a large dining table that lets you and your kids spread out their homework is key.
Set up a hallway study zone. Replace your console table with a work area for two in a narrow hallway. Ideal for those that can't make the living room and dining space work for homeschooling.
For more insights, check out Modsy's Covid-Inspired Design Trends Report.
Photo credit: A kid-friendly Modsy living room design render.
---