---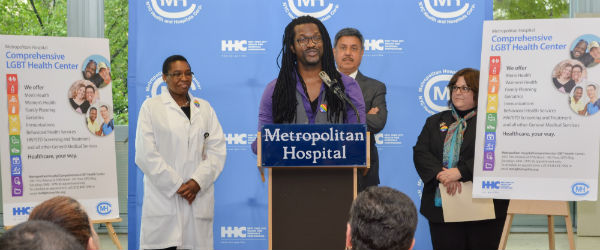 Christopher Leo Daniels, patient talks at from the Comprehensive LGBT Health Center at 1901 First Avenue at 97th Street  in East Harlem , New York.
Mr. Daniels talked about his positive experience receiving culturally sensitive and respectful health care at the new clinic.
HHC's Metropolitan Hospital Center in East Harlem will announce the opening of its new LGBT Health Center, which aims to better serve and remove barriers to care for New York City's lesbian, gay, bisexual and transgender populations.  The LGBT Health Center will provide specialized and comprehensive primary, preventive and specialty care by professionals who are trained to manage the health care and social needs of the LGBT community.
Joined by Dr. Nadia Duvilaire, Medical Director of the Metropolitan Hospital Comprehensive LGBT Health Center, HHC President Dr. Ram Raju, and Meryl Weinberg, Executive Director of Metropolitan Hospital Center at the launch of the hospital's Comprehensive LGBT Health Center.
Patients and families can contact 212-423-7292 or metlgbt@nychhc.org for more information or to schedule an appointment.
---