---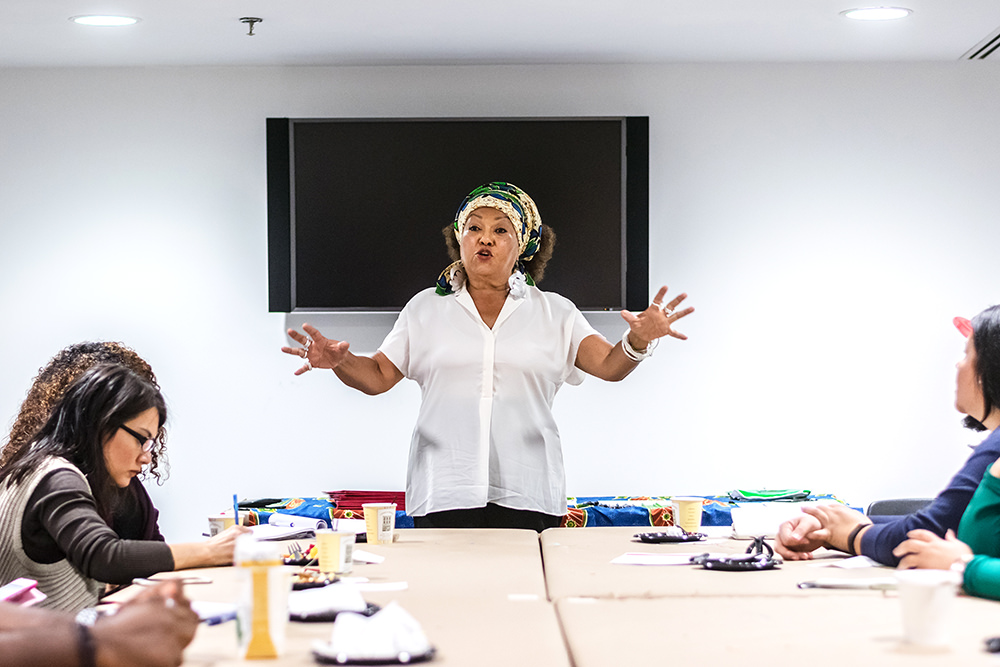 The Board of Directors of the Caribbean Cultural Center African Diaspora Institute (CCCADI) issued the following statement welcoming interim executive director Margarita Rosa; saluting Dr. Marta Moreno Vega for 40 years of commitment as executive director and welcoming her into new role:
"For over 40 years, the Caribbean Cultural Center African Diaspora Institute (CCCADI) has presented empowering programs that link the creativity and brilliance of the African Diaspora with communities here in New York City and abroad.
Today, we invite you to salute our founder Dr. Marta Moreno Vega as she transitions from executive director into a new role as advisor to the Board of Directors.
As founder and President, Dr. Vega established CCCADI globally as a leading institution that documents, celebrates, and presents the cultural traditions of Africans in the Diaspora. She has grounded her life's work in the powerful experiences of people of African descent, developing cultural institutions that affirm their impact on the world stage. She has created a legacy of international advocacy and institution-building, and is recognized globally for her contributions as a respected scholar, producer, activist, educator, author, professor, and Yoruba priestess.
Thanks to Dr. Vega, CCCADI is able to embark on our next phase of growth with a solid foundation and a bright future. Recently, we secured a significant grant from the New York Community Trust to engage with the Support Center for Nonprofit Management to assist CCCADI during such an important time. This gift of support is a testament to the strengths and impact of our Center, and further highlights the institutional commitment from a respected funder such as The Trust to ensure that CCCADI continues to exist and thrive into the future.
The Support Center has helped us identify Margarita Rosa, Esq., a trained Interim Executive Director, as our new leader. A lawyer and organizational leader with over 30 years of experience in both the public and nonprofit sectors, Ms. Rosa will provide critical leadership during the next year as we prepare for our next Executive Director. She recently served as Executive Director of the Grand Street Settlement in NYC, serving over 10,000 New Yorkers annually through early childhood education, after-school programs and support for adults of all ages. Margarita was also appointed by Governor Mario Cuomo as the first Latina, the first woman, and the youngest person at the time to serve as the Commissioner of the New York State Division of Human Rights. She has led and managed several organizations and has overseen strategic planning, programs and services, budgets, facilities, fundraising, government and community relations, donor cultivation and retention, and Board development. We are confident Margarita's presence will ensure success for years to come.
In addition to Margarita's vision and experience, we hope you will share our confidence and trust in CCCADI's dynamic and experienced staff, including Deputy Director Melody Capote, who has worked at CCCADI for over 30 years in the area of development, government relations, human resources, and programs.
This exciting phase marks a period of expanded energy driven by our Board of Directors committed to advancing the Center's mission and vision of celebrating and uniting African people and our traditions throughout the Diaspora. With the current social and racial justice movements making huge impacts across the globe, our work continues to highlight the inextricable connection between culture, art, politics, and justice.
With our new home, your home, on 125th Street anchoring us back in our community, we look forward to another 40-plus years of celebrating our traditions in a safe and culturally rich environment filled with inspiration, intellectual engagement and creativity.
Forward ever,
CCCADI Board of Directors"
---