---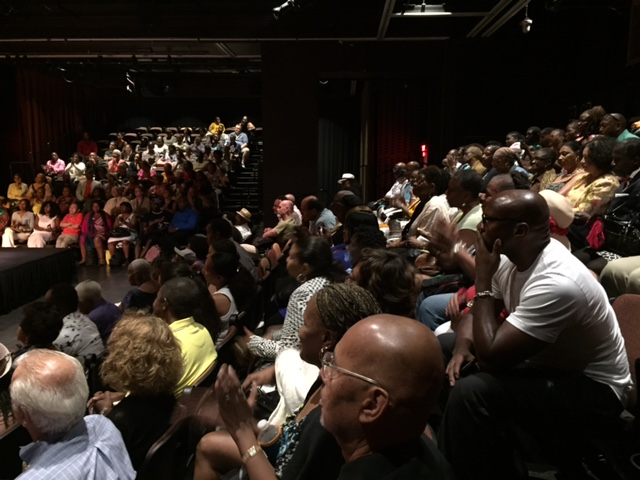 On Monday, October 22, 2018, at 7 pm EST, New Heritage Theatre Group will present a Complimentary Celebrity Staged Reading of Lorey Hayes and Robert Crear's "The Dragonfly Tale."
The reading will take place at Williams Institutional CME Methodist Church, 2239 Adam Clayton Powell Jr Blvd, at 132nd Street, New York, NY 10027, as part of October's Domestic Violence Awareness month.
Faith and trust in God to heal lives sets the stage for this powerful multi-award winning play. Inspired by a true story, "The Dragonfly Tale" is a two-act drama laced with laughter and light-hearted moments that examines victimization, public scrutiny, and personal accountability.
1964. In a small Texas town, still reeling from the Kennedy assassination, a Russian immigrant and a World War II Veteran risk their lives and freedom to help a young Black Boy and his mother escape the devastation of domestic violence. It is the story of spiritual and emotional warfare that unearths the depths of human courage buried in us all.
Lorey Hayes Co-Writer /Director is a multi-award winning playwright and television, film and stage actress. She has starred in leading roles on and off Broadway, in London, England and Regional Theaters with such talent as Kevin Bacon, Samuel L. Jackson, Isiah Washington, Viola Davis, Morgan Freeman, Jimmy Smits, among others. Watch for Lorey in NCIS as Teta Gayflor; as Sonia Morris in The Last Ship, and as Virginia in the upcoming feature #Message from a Mistress. She is featured in the film Dream Girls with Jamie Foxx and stars in Mike Estime's new web series All For Love. Some of her award-winning plays include: Haiti's Children of God, finalist for the Princess Grace Award and The Tragedy of the House of Thunder (Set in 202 B.C.) nominated for three AUDELCO Awards. Hayes has written several films: the most recent is None So Brutal, co-written with Glynn Turman.
Bobby Crear Co-Writer Greatest passion is piano. He is also a composer, arranger, organist, creative artist, filmmaker, and master electrician. The Dragonfly Tale is his first play as told to and co-written with Lorey Hayes. It is the winner of the 2007 Alabama Shakespeare Festival's Southern Writer's Award and runner-up for the Eugene O'Neill Playwright Festival from over 800 entries. His first short film project: Story Book, Les Seduction of Eve, directed by Zadia Ife and starring Lorey Hayes, can be seen on YouTube. Bobby continues to create, design, invent and master.
The cast and team includes Chinua Baraka Payne, Roscoe Orman, Pauletta Pearson Washington (Vera Mae), Marcus Naylor (Clemmy June), Lisa Bostnar (Nadine Redmond), Hristo Hristov (Malcolm Redmond), Darryl Dillard (Teddy Speede), Marie Toms (Everlyn Brown), Michael Anthony Green (Older June Bug), Voza Rivers (Executive Producer), and Debra Ann Byrd (Associate Producer/Company Manager).
The performance venue, Williams Institutional CME Church has been a part of Harlem and America's rich history. It is the former location of the historic Lafayette Theater (1912-1951); the church where Dr. Martin Luther King preached in 1958 and the place where Emmett Till's mother came to share her son's loss with the world. Currently pastored by Reverend Jermaine Marshall, Williams Institutional CME Church has hosted actor Michael Anthony Green's Shades of Truth Theater and welcomes the opportunity to support cultural institutions in Harlem.
Voza Rivers/ New Heritage Theatre Group, 229 West 135th Street, New York, NY 10030, www.newheritagetheatre.org
---