---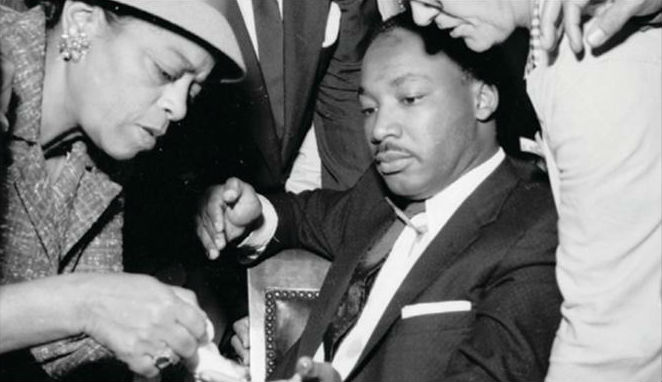 Executive Producer Voza Rivers/New Heritage Theatre Group and Shades of Truth Theatre, in association with Harlem Advocates for Seniors and Willams Institutional CME, presented the world premiere of The Day Harlem Saved Dr. King.
The play was written and directed by Michael Green to a full house of  Harlem community organizations including NAACP-Mid Manhattan Branch, Touro College, Harlem Advocates for Seniors, Lt. Joseph P. Kennedy Center, National Action Network and local residents at Harlem's famed Williams CME Institutional Church.
On Tuesday, January 15, 2019, the audience witnessed the reenactment of September 20th, 1958. 29-year-old Dr. Martin Luther King Jr., was in Harlem autographing his book Stride Toward Freedom, about the Montgomery Alabama bus boycott in front of Blumstein's Department Store on West 125th Street. A deranged woman, 42-year-old Isola Ware Curry, attacked Dr. King with a 7-inch steel letter opener, driving it so deeply into his chest that the tip of the opener rested on King's aorta, the artery that carries blood from the heart to the rest of the body. Dr. King was rushed to Harlem Hospital where an esteemed team of doctors led by Dr. Aubre' Maynard and including Dr. John Cordice and Dr. Emil Naclario and others successfully operated on Dr. King for 21/2 hours, removing the letter opener.
Performances continue Friday, January 18 through Monday January 21, 2019 at Williams CME Church, 2239 Adam Clayton Powell, Jr. Boulevard between 131st and 132nd Street. General admission is $25, Seniors and Students $18.50.
Tickets available for purchase at the door or online at eventbrite.com,
---