---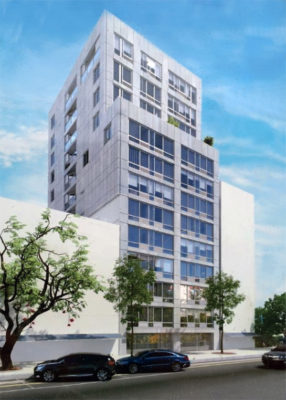 Yimby News reports that construction scaffolds conceal the grey metal panel façade of Cereza, the 13-story tower at 1790 Third Avenue in East Harlem. A total 38,010 square feet of residential space would be split between 52 condominiums, averaging 731 square feet per residence. A 246-square foot ambulatory facility would share the ground floor with a 3,575-square-foot commercial space that would join an existing retail strip along the block. Investors Udi Gilboa and Yoram Avner are behind the project, which is designed by IBI Group – Gruzen Samton. Danya Cebus ConstructionLLC is the main contractor.
The building sits upon a mid-block lot on the west side of the avenue between East 99th and East 100th streets, halfway between Central Park and the East River. In the 1950s, urban renewal devastated the neighborhood's dense urban fabric of turn-of-the-century walk-ups. Seven blocks on the east side of the avenue between East 97th and East 104th Street were cleared for the 14-building George Washington Houses complex.
The Victorian Gothic-styled Public School 109 on East 99th Street was among the few surviving buildings, and was recently converted into an artist housing and studios called El Barrio's Artspace PS109. The eponymous trees of the Cherry Tree Park, which sits between the former school and 1790 Third Avenue, are in blossom this time of year and lend the project its name, which means "cherry" in Spanish.
The laundromat and nail salon that previously occupied the site were shut down in the late 2000s. The mostly unused, two-story commercial building blighted the block until 2014, when Eastern Consolidated, representing owner Steven Kessner, sold the property that January for $5.75 million to Next City Real Estate. The building was bulldozed in late 2014, soon after the demolition permit was filed in June. At the time, the project was proposed as a rental building called the Austere.
The concrete structure topped out at the end of 2016, and the façade was erected over the past four months. The development is likely to be complete by the end of the year.
The building permit indicates a total construction floor area of 48,377 square feet. The ground floor, which takes up the entire lot, holds a 30-foot-wide second-story rear terrace. The lower nine floors follow the block's existing street wall. The ninth-floor setback terrace complements the roof deck.
The purchase of 8,650 square feet of air rights from adjacent 1788 Third Avenue protects south-facing windows and loggias from obstruction, and allows the building to rise to its existing size. The massing almost duplicates the form of the 12-story Art House Condominiums one block north at 1810 Third Avenue, built in 2008.

Zoning diagrams. Credit: the Department of Buildings.
Read the entire article here.
Related Articles
---