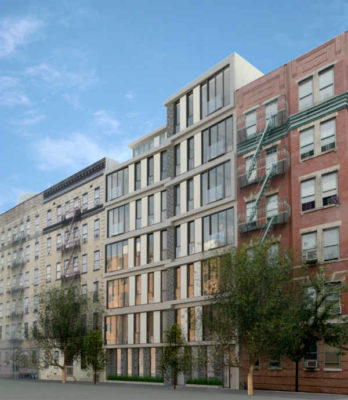 YIMBY reported on new building applications for 336 East 112th Street in East Harlem back in September of 2015. Now, with construction well underway, we have full renderings for the project, which is being designed by Tribeca-based TRA Studio Architecture.
TRA Studios says the project shifted during the design process, as East Harlem transformed into one of the most attractive neighborhood in Manhattan for new tenants. This shift meant they could design more comfortable condominium units, rather than smaller rental units.
The exterior is a simple, rhythmic blend of material and space. Half of the façade's windows appears to angled inwards, while the concrete line along the floors continues parallel to the street. It's a subtle distinction within the design that creates tension and intrigue.
The interior renderings reveal a minimalistic approach to design while remaining practical to use. There seems to be plenty of cabinet space, and space for bar seating is built into the kitchen. As for the building itself, completion is likely within the next year or so.
No related posts found...