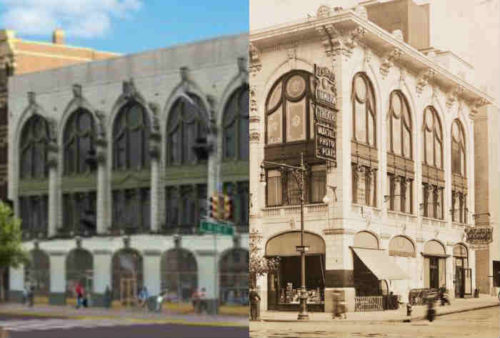 NY Yimby reports that a proposal by Todd Zwigard Architects that will go before the New York Landmark Preservation Commission later today.
It has been revealed plans to redevelop the currently abandoned Hamilton Theater, at 3560 Broadway between West 146th and West 147th Streets, in Harlem. The interiors would be gutted to make way for commercial space on floors two through four, and retail space on the first floor, combined with major alterations and additions to a connecting structure.
The decorative aspects of the façade will be left unaltered, while the connecting brick building will receive some alterations. Larger windows will be installed along its Northern and Southern sides, as well as an addition to unite the two structures on all four floors.
Renderings reveal that the original awning will not be replaced, and the theater's signage on the site's 146th street corner will be mimicked with a slimmer and less ornate sign with the name, 'Hamilton' written in a Helvetica-like font.
It is undeniable that the current structure is in a state of disrepair. The iconic brickwork and ornamental design have darkened from built-up dirt.
---
Become a Harlem insider - Sign-Up for our Newsletter!
---
While permits have not been filed for the project, the design does appear to increase square footage significantly and make the building more functional. The LPC's say will determine whether construction can proceed on the current submission, or if plans will have to be updated.
No official completion date has been announced.
Photo via 3560 Broadway, rendering by Todd Zwigard Architects.
Related Articles
---
VIDEO
---
"Dr. Harry Delany is a renowned Harlem born and raised surgeon, the son of the great jurist and civil rights leader, Hubert Delany...." This monthly post is made in partnership with Harlem Cultural Archives.